In the center of Europe in the year 1516 sits a small unassuming country.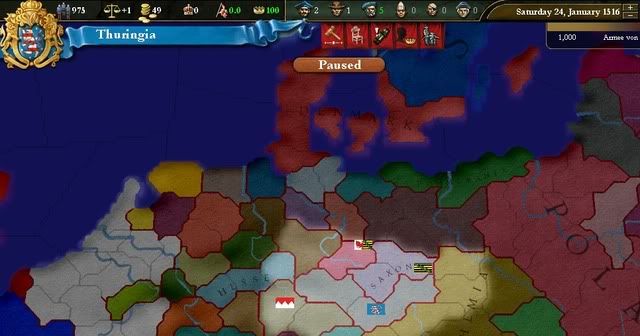 In a time of war, it's nice and peaceful.
In a time of fools, it's ruled by the qualified.
(7/7/6, same with the heir)
Being nestled in the Holy Roman Empire provides all the defense she needs while keeping technology humming along.
She also likes shopping, art, and cuddling by a warm fire.
But Thuringia is destined for greater things. Though everything appears
Normal
, it is well-known that luck is
Random
. The dawn of the Renaissance means it's time for change. Thruingia will become known for Quality, Innovation and Freedom. And if the Imperial Crown proves impossible to wrest from the talons of Austria, then Thuringia may be forced to unite Germany in a confederated republic to stand against all enemies.
And of course, if it all goes belly-up, we'll run for the New World and set up shop there.
The Thuringian ideal.