There'll Always be an Angevin
The first Provence AAR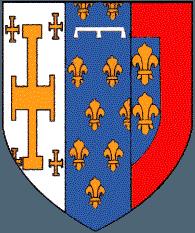 Chapter 1: 1419 - 1422
Peaceful Neighbours
​
The House of Anjou was a ubiquitous family, with a finger in the pie of just about every royal line in Europe at some point or other. France, Lorraine, Naples, Sicily, Aragon, Hungary, Austria, Poland... Whenever a crisis arose in any royal succession, the cry went up sooner or later, "We could always have an Angevin!". And sure enough, as likely as not there would be an Angevin, lurking in the shadows of the royal genealogy, ready to leap out and claim yet another throne.

Louis III d'Anjou had become the comte de Provence by more straightforward means - he was the son of Louis II d'Anjou, comte de Provence, and no-one could argue with that. He was also duc d'Anjou, giving him lands in the province of Maine; King of Naples, though not everyone accepted that, least of all Joanna II Queen of Naples; and King of Jerusalem, an unlikely title conferred on his ancestor Charles I of Naples by the Pope in 1296.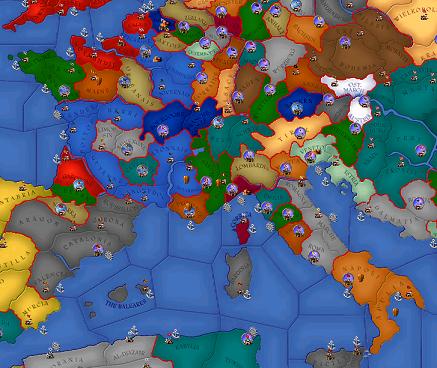 Europe in 1419
Louis III controls Provence and Maine, but also has claims on Dauphiné, Piemonte, Naples and Apulia
(though not Jerusalem, unfortunately...)​
In short, Louis III had quite enough on his plate without being involved in a long and complicated war with his spectactularly incompetent ally, Charles VI of France. We join Louis in April 1419. Having marched west from his capital Marseille in January, he had driven the English out of the French province of Guyenne and attempted to invade the English lands of Gascogne. This had ended in failure, and as he retreated north into Poitou he received serious news from Marseille:
Messenger from Marseille:
Monsieur le comte, I bring grave tidings!
Louis III d'Anjou, comte de Provence, etc, etc, retreating from the English in Gascogne:
Yes, what is it?
Messenger:
Sire, our neighbour Amédée VIII le Paisible, duc de Savoy has declared war on us!
Louis III:
Don't be ridiculous, man. You must be mistaken - Amédée VIII le Paisible wouldn't declare war on a fly. Everyone knows how paisible he is...
Messenger:
I can assure you, monsieur le comte, there is no mistake - here is his letter. * hands over a letter decorated with a dove, some flowers and lots of little love-hearts *
Louis III:
Hmmm - it certainly looks like one of Amédée's letters... Let's see what he says: " Dear Lou, Listen I'm really, really sorry about this, but I've got this huge army and hardly any cash to spare, so I thought I'd better invade the nearest small undefended country I could find and I'm afraid that turned out to be Provence. Please don't take it personally - I hope we can still be friends again once the war is over and we've extracted a large payment from you in indemnities. Your ever-peaceful neighbour, Amédée, kiss, kiss, kiss." Hmmm - well, gentlemen, the people of Gascogne will just have to wait for someone else to liberate them from the despicable English. Right now we are going to pay Amédée VIII a visit - and we shall see how Paisible he wants to be then...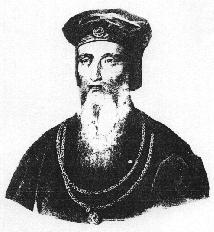 Amédée VIII le Paisible, duc de Savoy​
So Louis marched his small but courageous army eastwards once more, intent on dealing with Savoy, despite the fact that news reached him a month later that the despicable English had laid siege to his northern city of Le Mans. A second Provencal army, freshly recruited in Marseille, immediately went to the aid of the Bourbonnais army which was already besieging the city of Torino in Piemonte. Of course, when Louis arrived outside Torino in September he immediately took command of the allied armies.

In March 1420 Le Mans fell to the English, and the following month Amédée's huge army finally got around to besieging Marseille. Things did not look good for Louis, but in October he finally captured Torino, and, when Amédée refused to hand it over, marched north to besiege him in his Alpine capital of Chambéry. With help from French and Bourbonnais troops the city fell in May 1421, and Amédée VIII le Paisible, who was discovered cowering underneath a table in his ducal palace, immediately offered to hand over his entire treasury of 52 ducats and the province of Piemonte. Louis accepted.

Now it was time to march north and recapture Le Mans from the English. Battling his way past a Burgundian army in Bourgogne, Louis reached Maine in August and defeated a small army of Bretons that were pillaging there. He then set about besieging Le Mans which finally fell in July 1422. By this time England had annexed Auvergne, and several nations had left the war, notably Burgundy, two days before the fall of Le Mans. France, Provence and Lorraine were still at war with England and Brittany. The French alliance consisted of France, Provence, Bourbonnais, Orleans and Lorraine. A detachment of cavalry newly raised in Marseille were unable to join Louis since the only route lay through Guyenne, currently under siege by 8,000 English. The comte de Provence considered what his next move should be.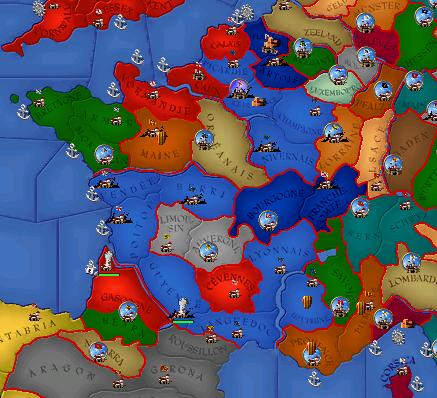 France in 1422
Cevennes is now English. We'll need to get rid of that red, it's far too close to Provencal brown...​
Last edited: