Semi-Lobster: My first reaction was that the war outcome wasn't that good, but actually it was - France taking those provinces was very important since the Paltry Scottish Navy would never have been able to get the Army across the channel without being massacred by the English Navy.
Regarding the Jameses, I'm afraid they just keep on coming - it's almost as bad as the French Louises (or however you spell the plural of Louis). Not only do they die a lot, but most of Scotland's problems seemed to stem from the fact that they almost all died
young
, leaving young children as heirs to the throne. This was a fact of Scottish history I had never appreciated before.
As for Scottish explorers being sent around the world that is coming, but later. Meanwhile...
Episode 7: 1488 - 1513
England's Demise and her Revenge
James IV was a far more popular monarch than his nerdy father. What was it that made him so popular? Perhaps it was the fact that he led his own troops in battle, or that he made great improvements to both the Army and the Navy. Perhaps it was that he encourgaed the Arts, helping to found Scotland's third University, King's College, in Aberdeen and allowed great poets like William Dunbar to flourish. More likely, it was that his one over-riding ambition was to wipe England from the face of the earth.

It was clear that France would not be of particular help against England any more, so when Burgundy declared war on France's ally Lorraine in 1488, James dishonoured the alliance and turned back to his former ally Eire.
Scots Embassy to the court of Conn II mac Énrí of Eire:
Your Excellency, I bring good news. Our glorious King James IV has seen fit to invite you into a military alliance with our large and powerful nation once more!
Conn II mac Énrí of Eire, High King of Eire:
Well now, a military alliance, is it? And what would we be wantin' to be in a military alliance with you for, just?
Scots Embassy:
Er... Well, we could defend you against your enemies that surround you on all sides, threatening your very existence!
Conn II:
Sure, and would that be England you were talkin' about?
Scots Embassy:
England, yes! We will defend you against the rabid English imperialists!
Conn II:
Well see, since you and those froggies took most of their lands, we're not feelin' that threatened by the rabid English imperialists these days. Of course, if they started takin' back their rightful territories we might start to get scared again. In the meantime, we'll just leave things as they are, will we?
But six months later an embassy from Eire arrived at James's court in Edinburgh:
James IV:
Ah, good, I hope your King has seen reason and wishes to join my alliance now.
Irish Embassy:
Well, no, it's not that exactly, Your Majesty. More like he's invitin' you to join his alliance.
James IV:
What! But that's preposterous! How could Eire be the leader of the alliance?
Irish Embassy:
Well, that's easy, Your Majesty. Sure, we do the invitin' and you do the acceptin'. There's nothin' could be simpler!
James was furious but he realized that, because he stood to gain much more from the alliance than the Irish, he would have to accept or have no alliance at all. So the stage was set for the next war, and as soon as the truce with England ended in Oct 1493, James declared it.

The Scottish Army invaded Anglia, defeated the small English force defending it, and besieged London. The armies defending England's other three provinces then converged on London but were beaten one after another in rapid succession during November 1493. The following March Scottish reinforcements arrived and in November 1494 London fell.

It was Cardiff's turn next, and the Scots arrived there in December. The siege was long and bitter and the city did not fall until June 1497, by which time revolts had sprung up in the Midlands, Bristol and Wessex. The Scottish Army spent the remainder of the year dealing with the unauthorized revellers, and then they defeated a small English army in Kent before besieging Canterbury. That town fell just five months later and Plymouth was besieged in July 1498.

Finally Plymouth was captured in December 1498, England was completely under Scottish control, and King Henry VII was forced to hand over Wales, Cornwall and Kent to Scotland. The English were not to be beaten so easily, however, and over the next few years a widespread guerrilla war was fought in the normally peaceful English countryside. Heavy metal bands working from bases in London began to wreak havoc in the recently occupied provinces, reducing many a peasant to a catatonic head-banging state with their deafening open air concerts.

Meanwhile, James continued with his campaign for a closer entente with the Irish. Suitable gifts were shipped regularly across the Irish Sea, and in September 1500 James was ready to pop the question. The new Irish High King, Domhnall XII Clárach, was invited to a top level summit in Edinburgh.
James IV, King of Scotland:
Well, it's very good of you to come King Domhnall.
Domhnall XII Clárach, High King of Eire:
Oh, but it's a rare treat to get away from Dublin for a while, sure.
James IV:
Yes, I daresay it is. Well, I won't keep you guessing what it's all about. You'll no doubt have noticed that we now control virtually all of Great Britain, and London will be ours pretty soon, too. I thought it only right to allow you the chance to share in Scotland's power and glory at this historic moment.
Domhnall XII:
Well, that's very generous of you, I must say. What was it to be, then? More of those lovely gifts you've been sendin' us inexplicably over the last few months?
James IV:
Oh, even better than that! You can now have the honour of being our vassals!
Domhnall XII:
Vassals is it? And what would that mean, just?
James IV:
Well, our armies will of course be able to roam freely through your territory, and you'll have the privilege of paying us half of your annual income!
Domhnall XII:
Well, that sounds just grand, so it does. And what about the benefits?
James IV:
Er... those are the benefits.
Domhnall XII:
Right. Well, I think I'm gettin' your drift here, and I think if it's all the same to you we'll just forego the privilege for the moment. Sure, but it was grand of you to ask, though.
A few years later, in 1503, James seemed to lose his mind completely and married Margaret Tudor, daughter of the English King Henry VII. Royal physicians were summoned to examine him, but he did not appear to be showing any other signs of One-Year Temporary Insanity, that sad affliction all too common among reigning monarchs. Relations with England reached an all-time high of 0 before they began to slump into negative figures once more.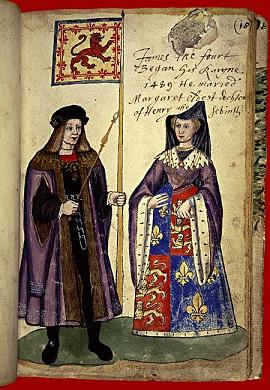 James marries Margaret Tudor - what was he thinking of?
Two years later, in 1505, James suddenly came to his senses again and, although he remained married to Margaret Tudor, he made up for his inexcusable friendliness towards England by declaring war on his father-in-law, Henry VII. This time the war was short and the ending was sweet. London was besieged in April and the English capital fell the following January. Henry VII quickly accepted James's generous peace offer: the full annexation of England by Scotland.

James rode back to Edinburgh to be hailed as a national hero. Forgotten now were the feeble achievements of such former worthies as William Wallace and Robert the Bruce. Not only had the Scots conquered the whole of Great Britain, they now inherited maps of parts of the New World, along with a small colony in a place called Bas St-Laurent, and a trading post nearby called Manicouagan. Not only that but they now owned a large and powerful navy.

The other thing that the Scots now had was a Rather Bad Reputation. Over the past century they had fought no less than eight wars with the English, of which four were considered unjustified by the international community. James was beginning to feature in satirical cartoons all over Europe, portrayed as a cruel megalomaniac, greedily gobbling up his neighbours. Which was fairly accurate.
Wars between Scotland and England and provinces gained by Scotland

1424-27 Northumberland
1432-33 Yorkshire
1443-46 Lancashire
1456-58* Lincoln
1473-77* Bristol, Midlands, Wessex
1483-88 -
1493-98* Wales, Cornwall, Kent
1505-06* Anglia, Bas St-Laurent, Manicouagan

* War declared by Scotland without a casus belli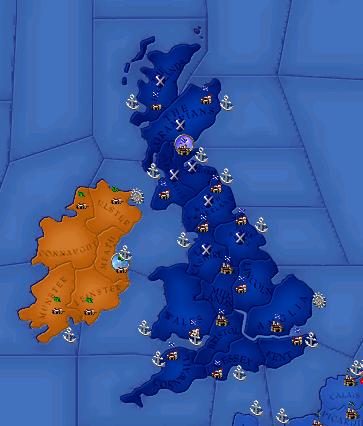 Great Scotland in 1506
The question now facing James IV was what to do next. He had been toying with the idea of somehow annexing Brittany, but France had beaten him to it in 1502. Eire were giving him the cold shoulder, no doubt at least partly because of his rather bad reputation, so bringing that Celtic nation into Greater Scotland by peaceful means seemed at best only a distant dream. The Scottish Army was fully occupied dealing with the English heavy metal bands who had now gone underground but still continued to wreak their havoc, so the only really obvious place to expand was in the New World.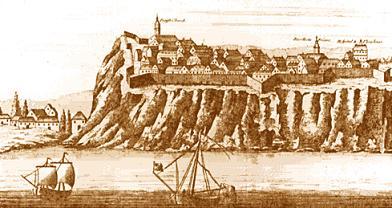 Scotland's new colony in Bas St-Laurent
During the years 1506-08 colonists were sent over the ocean to build up the new colony and trading post, but then James realized that due to Scotland's drive towards an innovative, open-minded society, its citizens were not that interested in going forth to distant lands and imposing Scottish culture and religion on hapless natives wherever they might be found (England had of course been an exception to this). Thus the new drive towards narrow-minded Scottish imperialism was begun.

Meanwhile another opportunity for expansion seemed to present itself in 1510. Burgundy, which now consisted solely of the province of Flandern, and had no allies whatsoever, issued a trade embargo against Scottish merchants. A reconnaissance trip revealed that not only did Burgundy have no allies, they also had no army. It seemed too good to be true!

The Scottish Army was loaded aboard Scotland's recently acquired navy, and shipped over to the Coast of Holland. Scotland declared war in December 1510, whereupon English guerrilla bands in London and Canterbury immediately began assaulting the populace with ruinous heavy metal music. It was also discovered that, though Burgundy had no army they did have a navy, which was even larger and more powerful than Scotland's and quickly defeated the Scots off the Coast of Holland.

Landing back in Lincoln, the Scottish Army marched south to deal with the English headbangers in London, only to be all but annihilated by them in May 1511. Meanwhile Burgundy had lifted their trade embargo, and James decided to abandon his ambitions of continental conquest for the time being, paying Burgundy 25 ducats for peace in July. The Scottish Army was then hastily rebuilt, to try for a second time to deal with the English headbangers, this time with more success.

In September 1513 King James was out riding at a place called Flodden Edge in the Cheviot Hills of Northumberland, when he was suddenly set upon by an angry mob with the words "Status Quo" embroidered on their denim jackets. James tried to tell them that he was quite fond of the Status Quo himself, but it soon turned out that the Status Quo they were interested in was that which had existed in 1419, that is, when Scotland's border stopped at Northumberland.

James, the greatest national hero Scotland had ever known, perished under their vengeful blows and his body was never recovered. His son, named James surprisingly enough, was only a babe in arms, so his widow, Margaret Tudor, became Regent and to their utter dismay the Scots found themselves being ruled by an Englishwoman. The name of Flodden would for evermore be remembered by the Scots as a place of utter humiliation.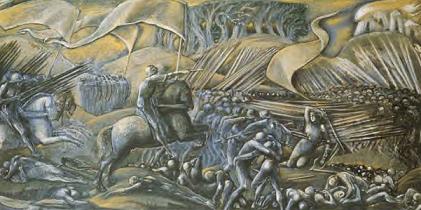 Painting of the incident at Flodden, done by an Englishman who was under the delusion that it was in fact a major military victory for the English
Last edited: