Happy Hogmanay everyone!
stnylan: I agree - the campaign continues...
Semi-Lobster: As you'll see, the Irish aren't being terribly co-operative. I hope I don't have to resort to more - er
persuasive
methods...
Stroph1: Glad to see you're getting into the Hogmanay spirit there!
Mr T: Thanks for your encouragement. Crichton, of course, like all the Scottish nobility, was well-trained in deciphering this kind of thing. Part of keeping the peasantry happy and all that
.
jwolf and ladyfabia: I didn't realize that Foix was an EEP innovation, although now that I come to think of it, I hadn't ever seen it before. They currently have two provinces in SW France.
Machiavellian: You can say that again! But as Judas Maccabeus points out, there does seem to be a slight inconsistency between the troubles that Nippon and Scotland have to battle through in what were on the face of it very similar political situations.
Well, without further ado, here comes the Hogmanay 2003 Edition of "The Wind in the Heather":
Episode 4: 1449 - 1460
Bad Boy James
James's main ambition was to seize more English lands, and to this end he kept a close watch on both England and France, as well as strengthening the defences of Edinburgh in case it should have to withstand a siege while the Scottish Army were enjoying themselves somewhere down south. In 1450 France annexed Savoy, while England was preoccupied with domestic problems such as the rebellion led by Jack Cade.

However James was also concerned to make Scotland into a great cultural nation. He continued to encourage innovation in the realm and in 1451 Glasgow University was founded, Scotland's second university, the first being that of St.Andrews, founded in 1411.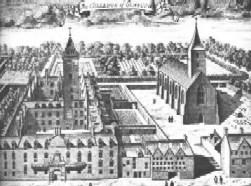 The new university in Glasgow
James's main threat were not the English, in fact, but the unscrupulous Scottish nobility, who had grown used to wielding more power than was good for them in the absence of a reigning king. John MacDonald of the Isles had been taught a lesson in toeing the line in 1450 but it was the Douglases who posed the main threat, since they had undisguised ambitions to the Scottish throne.

In 1452 William, eighth Earl of Douglas, was invited by James to supper at Stirling Castle. The King's intention was to persuade the Earl to cease his plotting with John of the Isles and other unwholesome elements, such as the English. When diplomacy failed the King turned to a more direct approach and stabbed the Earl to death.

In case he had not made his point clear enough, he then confiscated all the Douglas lands and razed their castles to the ground. The remnants of the Douglas family fled to Brittany where they continued to plot against James. All this caused great instability in the realm, but at the end of the day the rest of the nobility took the hint and settled down as good loyal citizens.

Meanwhile, James was still looking for a chance to go to war with England, but he faced two problems. Firstly, no-one else was currently abusing the English, so a war was somewhat riskier. Secondly, Scotland no longer had a justifiable cause to go to war against England. Of course, the Scots argued that England's very existence was a crime against humanity, but unfortunately the international community were not in unanimous agreement. In 1456 he held a council with his trusted advisors, the former Regent Sir William Crichton and Bishop Kennedy of St.Andrews.
James II of Scotland:
Well, chaps, we're well scunnered here and no mistake. How are we going to rid the world of England if we don't even have a casus belli against them any more. Last time I looked we had two!
Bishop Kennedy:
Ah, Your Majesty, how the tides of fortune ebb and flow! Never mind - perhaps the English will declare war on us instead?
Sir William Crichton:
Hah! The Sassenachs are scared witless of our invincible army! In three wars they have only beaten us in one single battle. I would not hold my breath waiting for a declaration of war from them, Your Majesty.
James:
Then what are we to do?
Bishop Kennedy:
If we were allied with France...
James:
France? Have you noticed the French going to war against England recently? Those froggies are losing their touch when it comes to England-abuse. We are better to stick with the Irish while Meath remains in English hands.
Crichton:
Then there is only one thing for it, Sire! Declare war on England without just cause. Do you imagine that the people of Scotland will revolt against a decision like that?
James:
You're right, Sir William - henceforth you shall be known as "Crichton the right 'un"! Give orders to raise 6,000 extra horse for the Paltry Scottish Army. We are going to war!
So finally in November 1456 James declared war. A small English force in Lincolnshire was quickly defeated and Lincoln was besieged by the Scots. As usual the Irish invaded Meath and laid siege to Dublin, while the English sent small armies to besiege the Scottish towns of Lancaster and York.

In April 1457 Lincoln was captured by the Scots, whereupon the English lifted their sieges and marched south once more. The Scottish Army swept into the Midlands where they defeated the English five times in the space of a month. Two more battles were won in Lincolnshire, before London was besieged in June. The English mounted one half-hearted attempt to break the siege, which was unsuccessful. Meanwhile Scottish reinforcements were riding south from York, defeating another English army in Bristol on the way before they joined the siege of London.

By May 1458 the usual Burgundian expeditionary force had arrived on the scene and were besieging Lancaster, but London fell in October and the Scottish Army quickly rode north and drove out the invaders. At this point Henry VI sent his first ever sensible peace offer. Lincoln would go to the Scots, Dublin to the Irish, and all his gold (84 ducats) would be handed over. James, having had to deal with a corruption problem the previous year, was running out of money, and moreover the French had still failed to take advantage of the war to attack the English themselves. He therefore accepted Henry's offer and the English said goodbye to two more provinces.

Of course the Scottish Army, not to mention the English peasantry, had been disappointed by the businesslike progress of the war, and the sad lack of Rock Festivals, but the people of Lincoln now settled down to enjoy the pleasures of permanent Scottish occupation, with regular Hogmanay ceilidhs and Barr's Irn-Bru for all.
Cedric, a Lincolnshire farmer:
Well, Will, they do say as we've been made part o' the Kingdom of Scotland now.
Will, another farmer:
Well that's good news, in my book. Better'n bein' all caught up in them there Wars o' the Roses an' such.
Cedric:
An' maybe we can 'old some Rock Festivals of our own now - you think we'll be allowed to do that, Will?
Will:
Oh I don't see why not, Cedric. We jus' need to learn 'ow to play them outlandish instruments.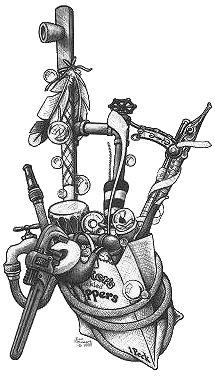 A typical outlandish Scottish instrument
In September 1459 France finally went to war against England again. This was a major conflict, setting France, Foix, Castile, Brittany, Luxembourgh and Helvetia against England, Burgundy, the County of Holland and Hannover. Incidentally, the Hundred Years War had officially ended in 1453, but nobody seemed to have noticed that detail.

James decided that it would now be better to be part of the French alliance instead of being allied with Eire, whose chances of abusing England further were somewhat diminished now that they had taken Dublin, especially as they had no navy. He did offer the Irish the chance to be his vassals, however, but they refused, and he began to watch for a chance to dissolve the alliance.

Then in August 1460 tragedy struck. Whilst observing a routine "peace-keeping raid" on an English border castle, James was standing beside a cannon, wondering where on earth it had come from when Scotland were still only at land tech 2. The cannon, presumably realizing what a crass anachronism it was, suddenly blew itself up. The King was killed instantly. The throne passed to his nine year-old son, James III, but it was his wife, Marie of Gueldres, who first took the reins of power.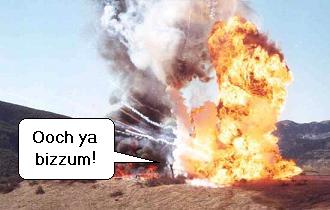 The tragic death of James II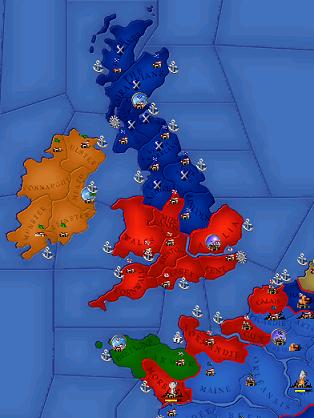 The British Isles in 1460
Last edited: