The Wind in the Heather - a Scottish AAR
Scotland 1419, version 1.07 with EEP, Normal/Normal
"Scots wha hae wi' Wallace bled,
Scots wham Bruce has aften led,
welcome to your gory bed -
Or to victorie!"
Robert Burns
Episode 1: 1419 - 1427
The Incompetence of a Regent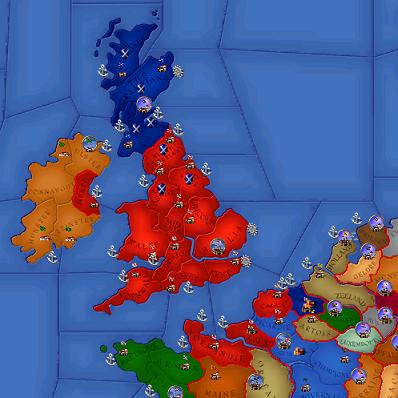 Scotland and her neighbours in 1419
In 1419 Scotland was a kingdom without a king. Or rather, she had a king, James I, but he was unfortunately being held in London, a prisoner of the hated English. Scotland was being ruled by his uncle, the Duke of Albany, who was quite enjoying this state of affairs and was in no hurry to have James back.

The English were meanwhile fighting a bloody war with France, attempting to hold onto their French territories. In March 1419 Aragon joined this conflict on the side of France, making England's task that much harder. Albany formed his own alliance with Eire, hoping to grab some English territory for himself.

The following year the Duke of Albany died and for some inexplicable reason his son Murdoch became regent in his place, a man widely regarded as being totally incompetent. Murdoch himself believed otherwise however and he decided to prove his case.
Murdoch Stuart, Regent of Scotland:
So - it's incompetent they call me, is it? Well, I will show the people of Scotland the measure of my incompetence. We are going to war against England!
Chief Advisor:
But Sire! The English have vast armies and lots of money to raise more - we have but 9,000 men in the Royal but Somewhat Paltry Scottish Army, and that is all we can support!
Murdoch:
Yes, but you are forgetting that the Paltry Scottish Army is under the brilliant leadership of my own brother Buchan!
Advisor (checking game data on Buchan):
Hmm - 3/2/3... Not that brilliant, Sire.
Murdoch:
Just wait and see! The Paltry Scottish Army will prove invincible, I am sure of it! What's more, it may have escaped your notice, but those vast English armies are presently far away in France, fighting to defend their ill-gotten gains there. Now is our moment to land a well-aimed kick in England's proverbial butt!
And so, in January 1424 Murdoch declared war on England, and his Irish allies gladly joined in. Buchan led the Paltry Sottish Army into Northumberland and besieged Newcastle, while the Irish attacked Dublin, in the hopes of driving the hated English out of the Emerald Isle once and for all. A few days after the Scots arrived outside Newcastle, the first English counter-attack arrived in Edinburgh, in the form of an ambassador from Henry VI, the young English King.
Murdoch:
So, what's it to be? I take it you have come to offer us Northumberland? And perhaps Lancashire and Yorkshire thrown in for good measure?
Ambassador:
Indeed not, you snivelling Scottish ratbag! I have come to offer you back your cousin James I, rightful king of Scotland, who is now old enough to rule for himself. All we ask in return for this generous gesture is the piddling sum of 200 ducats.
Murdoch:
Well, I must say that's very generous. You think I want to pay 200 ducats for the privilege of handing over power to some snotty-nosed kid? You can tell Henry this from me. Our glorious army is on its way to London to take our king back for nothing!
Ambassador:
Very well, you barbaric ape - I will deliver your message, and I can assure you that Henry and his court will enjoy the joke immensely!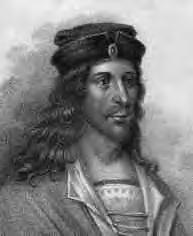 James I, Rightful King of Scotland
But when Henry received news of the hammering his armies were receiving at the hands of the Paltry Scottish Army, he somehow didn't seem able to raise a laugh. Four times Buchan defeated the English, before overwhelming numbers forced him back to Edinburgh in May 1424 to recuperate. By October the Paltry Scottish Army had been restored to its normal level of paltriness and the English, evidently thinking that the Scots could be considered Officially Defeated, had headed south once more. Insolently, Buchan returned to Newcastle and began another siege.

The English only mounted one counterattack this time, which was of course defeated, and Newcastle fell to the victorious Scots in September 1425. Buchan marched on and besieged York, while a large English army gave him a wide berth and, marching through Lancashire to Northumberland, began an attempt to recapture Newcastle.

By April 1426 York had fallen to the Scots, while the English had still made little progress against Newcastle. Buchan continued south, laying waste to the rich farmlands of Lincoln and arrived at the gates of London in May. By now the English were sending desperate peace offers of large amounts of gold, but Murdoch's orders were to accept nothing that did not include territory. Finally, in May 1427, London fell, and wild Scotsmen rampaged through the streets for several days, having a wonderful time.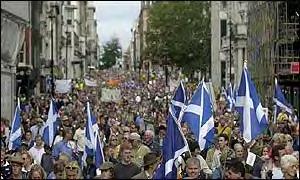 The Paltry Scottish Army enjoying some R&R in London
Henry immediately made peace, handing over Northumberland, which his incompetent army had still failed to recapture. Reluctantly, the Paltry Scottish Army was persuaded to leave the pleasures of London and head back north. In July Buchan arrived back in Newcastle, where he was met by his brother Murdoch.
Murdoch:
Well, my brother, you have certainly done us proud! So - where is our cousin, the rightful king of Scotland?
Buchan, slaps his forehead:
Oh drat! I knew there was something I was supposed to do in London! How could I have forgotten? I guess it was all that looting, pillage and rape that drove it clean out of my mind...
Murdoch, with a discreet wink:
Oh dear, you incompetent fool! How could you forget such an important matter as bringing back our king! That means I will have to continue ruling Scotland as regent, I suppose.
Buchan:
Gee, I'm really sorry. I feel like a real dunderhead!
Murdoch:
Oh, don't chastise yourself. These things happen. In brotherly magnanimity I think I can forgive you this time. But don't let it happen again!
Buchan:
Oh, you're too kind! I promise I won't forget the next time...
Murdoch:
And now I'd better get back to my royal - oops, I mean regent's court in Edinburgh, to continue with my so-called incompetent rule.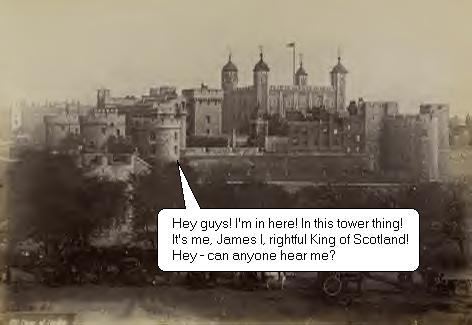 James tries to get rescued during the Scots' occupation of London
And thus was the pride of England humbled by Scotland's Paltry Army and their Incompetent Regent. It seemed like a promising start to the game...
Last edited: