Antwerpen, July 8, 1438

In the back of a cathedral, behind ranks and files of pews, a young man sat at a table across from an armored man-at-arms whose shield bore a coat of arms consisting of two red St. George's crosses on white and two red lions rampant on yellow. Although the man tried to appear friendly, the lad, who had only seen fifteen summers still squirmed under his gaze.
"What is your name, lad?" the man-at-arms asked the boy.
"Andreas, son of Dannel, sir," he replied, his voice shaking from fear.
"And why are you here, Andreas, son of Dannel?"
Andreas remembered and rehearsed the reply his mother had taught him. "To renounce my heritage and become a good, law-abiding son of Utrecht, sir."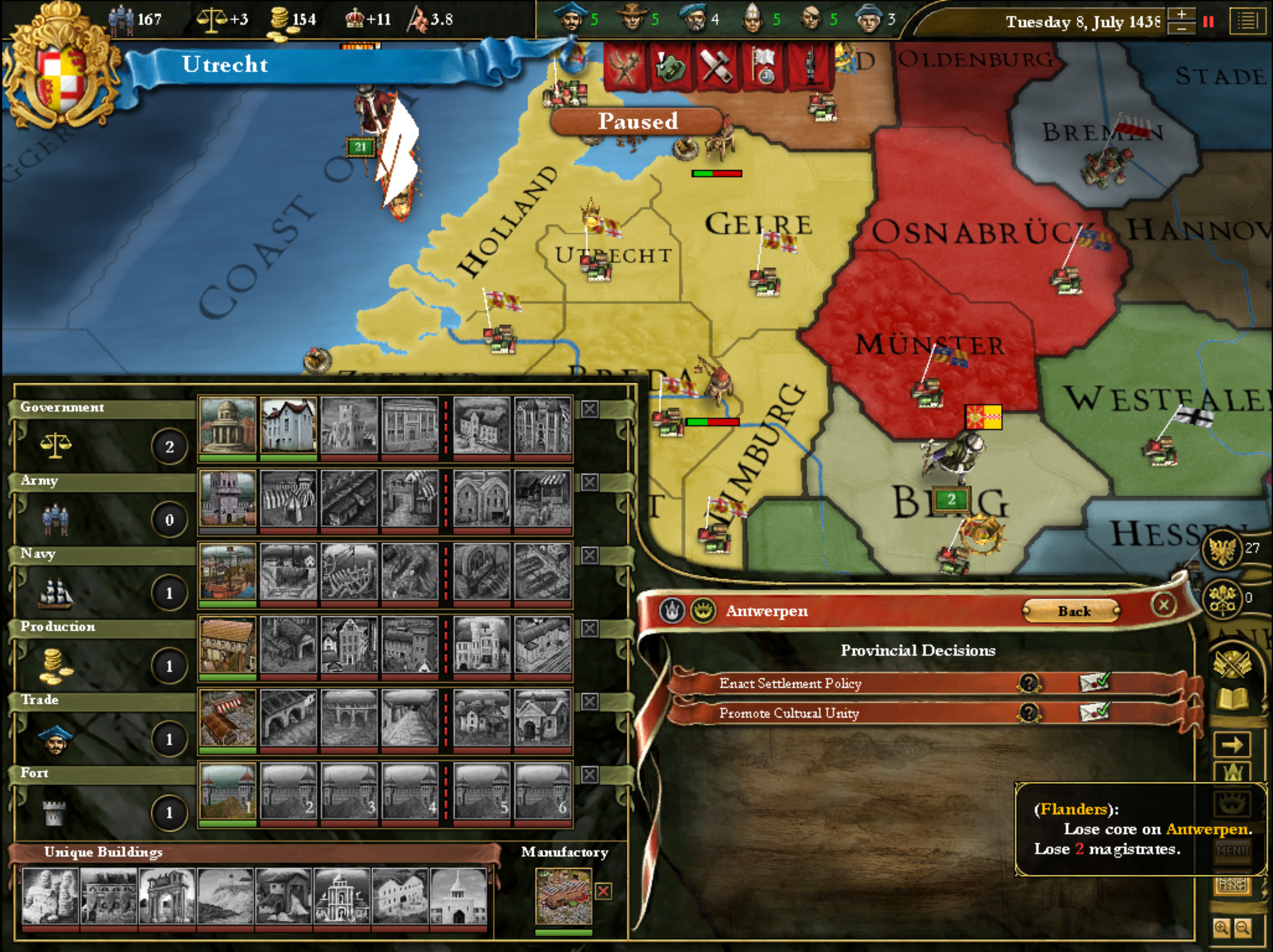 The soldier nodded. "If that is so," he said, "then recount to me the history of the Prince-Bishopric of Utrecht, from the War for Gelre to the present."
Andreas stiffened. This was going to be tricky. He recalled the history lessons his mother had given to him, in the days before the Utrechtian armies had come to Antwerpen and liberated it from the Burgundian oppressors. Satisfied that he had what he needed, he forged onward.
"Prince-Bishop Frederick III declared war on Gelre to liberate its people and to restore the word of God to the realm, but he died in battle fighting the Gelrian allied forces before he could complete his God-given task. His mantle was taken by His Grace Rudolf I.
"Prince-Bishop Rudolf, known as Rudolf the Warrior, finished the reconquest of Gelre, forcing their monarch to swear allegiance to Utrecht as a vassal. When the people of Holland began to chafe under the rule of the Burgundian monarch and longed for reunification with the Dutch, they formed a separate country of Holland, but Utrecht invaded their tiny realm, seizing the city of Amsterdam and the lands around it, and forcing the monarch of Holland-in-Zeeland to swear allegiance to the Utrechtian realm. Brabant, who had come to the defense of Holland, saw its puny army overwhelmed and its entire realm annexed to Utrecht, despite the backlash from the citizens of the provinces of Brabant and Limburg. Upon his death, the title of Prince-Bishop was taken by His Grace Johan VI.
"When the foolish ruler of Gelre refused to pay his monthly tribute to Utrecht, Prince-Bishop Johan VI oversaw the forceful incorporation of Gelre into the Utrechtian realm. His Grace Arnold III succeeded him after his death.
"Prince-Bishop Rudolf II, known as Rudolf the Schismatic, sought to extend his influence in the Holy Roman Empire by subjugating Cologne. This venture was successful, as not only did Cologne become an Utrechtian vassal, but Aachen and Liège began to pay tribute to Utrecht as well. Rudolf then attempted to improve relations with the Pope, but the five delegates sent to Rome fell on deaf ears, and so Rudolf declared the Statute in Restraint of Appeals, giving the Prince-Bishop of Utrecht full authority to spread the Word of God in the Utrechtian realm. Upon his death, His Grace Frederick IV took the title of Prince-Bishop of Utrecht.
"Prince-Bishop Frederick IV is our savior. After passing the Dissolution of the Monasteries Act, which banned any monasteries from holding assets which amounted to greater than a certain sum, he led the Utrechtian army against the oppressive Duchy of Burgundy, to liberate us Antwerpeners, who were crying out for relief from the oppression of the foreign Franks. He succeeded not only in wresting Antwerpen from Burgundy, but also in convincing Burgundy to renounce long-held claims to the province of Gelre. It is thanks to his actions that we are here today." Andreas finished his speech, smiling slightly at his accomplishment.
Utrecht and surrounding areas after the war with Burgundy. Cologne, Aachen, and Liège are Utrecht's vassals (I like to call them my Vassal Passel) and Lorraine is a Burgundian vassal. Note English North Germany.
The man-at-arms visibly relaxed. "Good work, son of Dannel, but you forgot one thing. What of the Breda Experiment?"
Andreas blanched. He had completely forgotten about it! He racked his brain, trying to remember what it was...Ah! It was a venture by one of the prince-bishops to create a major center of trade in the city of 's-Hertogenbosch...it had failed drastically...but which man was the culprit?
He suddenly remembered a phrase his mother had once used about the Experiment, and almost laughed.
"Of that travesty we shall never speak."
The man-at-arms smiled. "Excellent. You are free to go, Andreas of Utrecht."
Smiling broadly at the recognition of his new sobriquet, Andreas rose from his chair and walked back down the aisle of the cathedral, passing the queue of eager Antwerpeners ready for their reacculturation. Once outside in the streets of Antwerpen, he broke into a run, and sprinted back to the small house he shared with his parents. He opened the door to find his mother standing there, waiting for him.
"Mother! I've done it! I am a proud Utrechtian now!" he exclaimed.
"Oh, son! I am so proud of you!" she cried back, embracing her son, who stood almost a foot taller than her.
Andreas smiled and allowed his mother to reach a hand up and tousle his hair.