Second Lieutenant
59 Badges
Update IV - January 1, 1938-May 1, 1938
The very first country eliminated is one that was already totally occupied. When everyone was forced into peace, all occupied territory remained in the hands of the occupied. So this country was really pretty well doomed once war began once more. And that country is the African nation of Cameroon, who had been occupied by Benin-Sahel.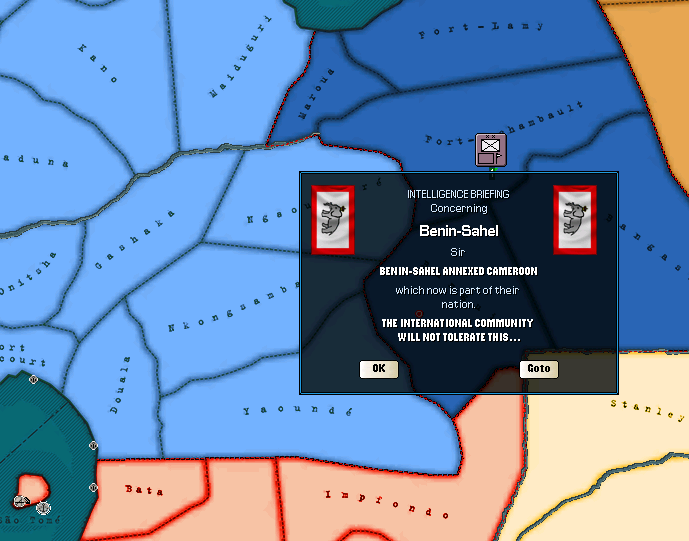 Up next is Luxemburg, who by virtue of being surrounded by France was spared invasion for most of the game. But that had to come to an end, meaning the 20 units that France had surrounding it the entire game can now go do something useful.
El Salvador is the next unlucky contestant. American forces, continuing on their march through Central America, beating up on all the bigger, smaller countries who don't have any army. And I was wrong in the last update, for some reason the US hasn't annexed Guatemala yet, even though they occupy it.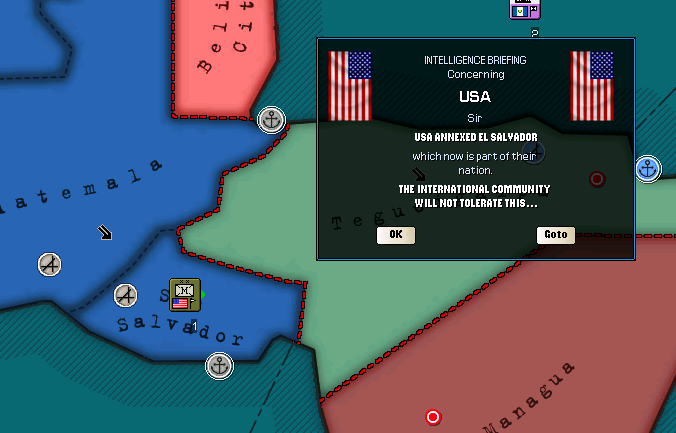 Tiny Sierra Leone managed to hold on thus far, but Benin-Sahel, the country with a cartoon elephant on its flag finally got around to annexing them, and getting dangerously close to Conakry, the capital of Guinea
Now that everyone is at war, the British are doing what I had been hoping after they annexed Egypt, and advancing into the Middle East. First up is Palestine, whose conquest opens up the entire Middle East to that fearsome one infantry division currently in Jerusalem.
Here's something interesting I discovered when Lebanon went and attacked Syria. Somehow France annexed Syria, despite no units in the area. So I'm guessing that there is some sort of event or something that annexes it to France, similar to the Chinese warlords and the Nationalists.
Back to Central America. Unfortunately for me, the next couple annexations are done by the US and UK, but not back to back so I have to write one of these for each one. Those inconsiderate AIs. Anyways, As expected, Honduras is next up on the eliminated list.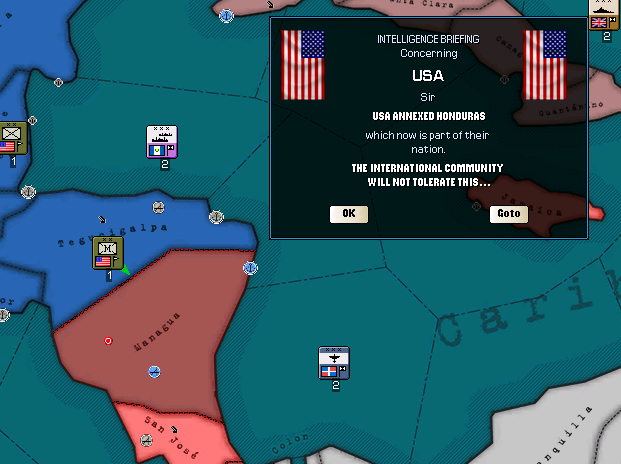 And so to Africa for the United Kingdom, who have finished off Sudan, which they were already in the process of doing before I messed with everything. So I just delayed Sudan's ultimate demise.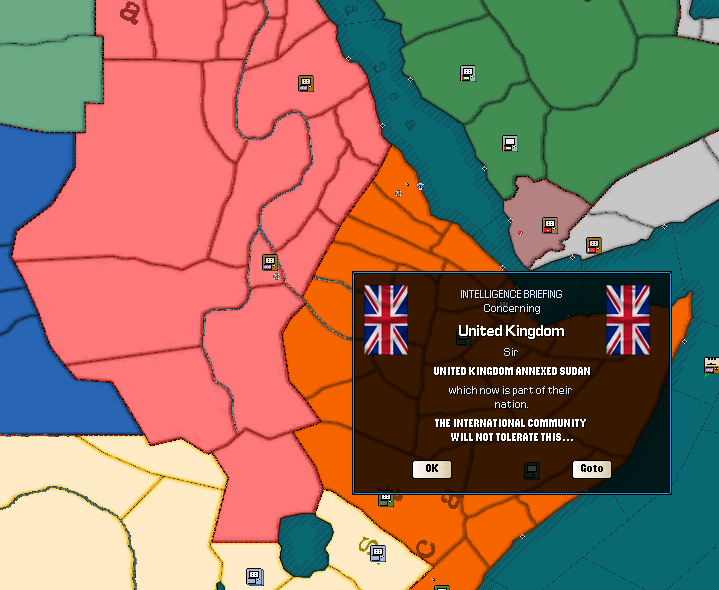 And here comes Nicaragua, annexed by, surprise, surprise, the United States. But at the very least they will soon be to Panama where they will meet up with Brazil.
I must say, the Dominican Republic might just be my favourite AI in this game. They're strategy is just so insane that it works. If you gave them a bigger army they would probably somehow conquer the US. But in this case, we will have to settle with Panama, the last straggler in Central America.
With their army not just standing around any more keeping on eye on those Luxemburgian troublemakers, the French were free to invade the Netherlands, who after a fierce struggle were finally eliminated by Zombie Napoleon.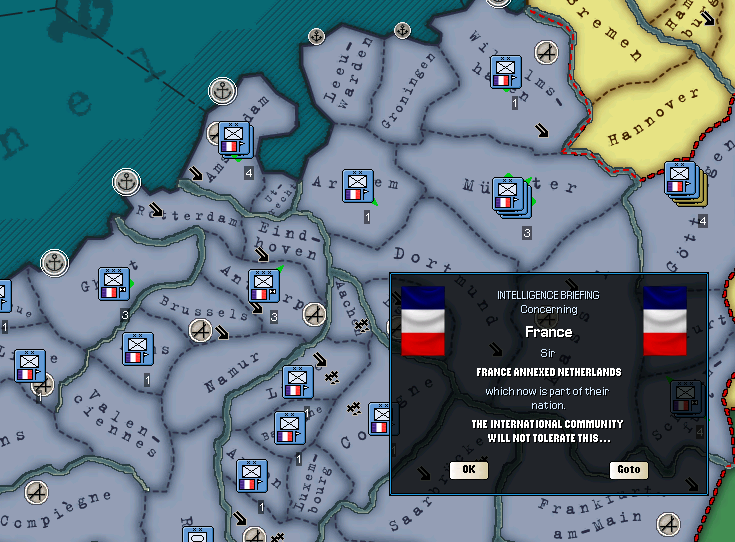 Just like Sudan, Norway's fate was delayed a bit while I tweaked things around. And with the French army redeployed and the Poles actually having to fight for themselves, Norway lasted longer than it would have in that case. They get #62, but they did beat out Sweden.
Over in Asia, the Chinese have taken out the last of the warlords, Xibei San Ma. Russia vs China looks like it could be interesting, though I think those Russian units are doomed, as they are bound to be cut off from supply due to the stretching out of Russian supply lines across Asia.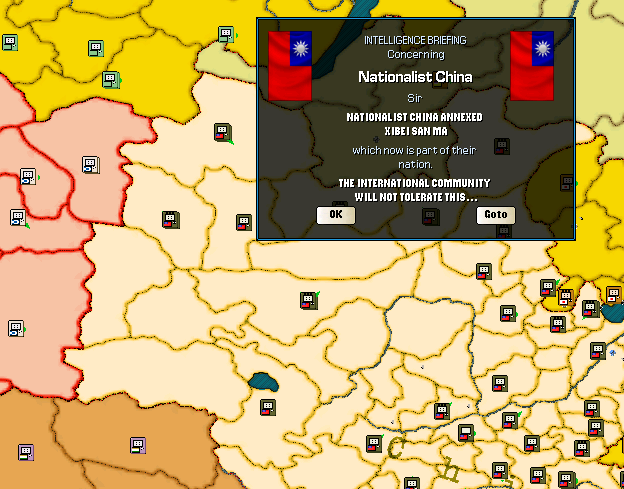 The UK was finally kind enough to annex two countries in a row, so now I can double them up. First up is Libya, completing the UKs North African collection. And to expand on their domination of the continent, the British also conquered Guinea. With the rest of Africa busy fighting each other, it looks like the British might soon by sole owner of the continent.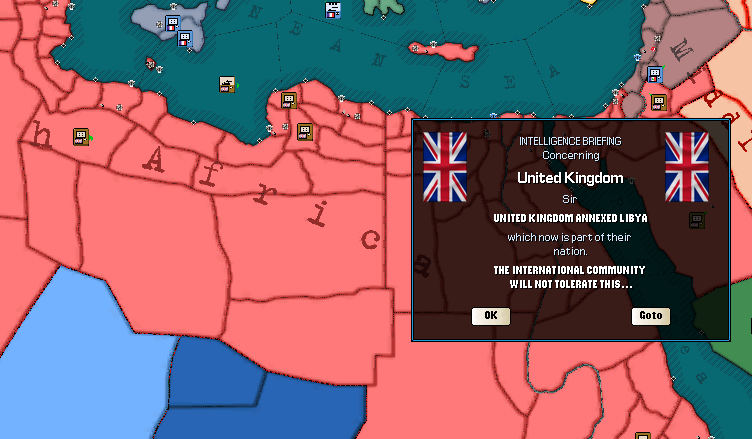 While Russia's Asian expedition is looking to be marching to its doom, their European counterparts are doing quite well for themselves. Deciding that the quickest way to reach Poland was to simply march through Latvia, they simply went that route. Though while watching this battle I felt like humming the Benny Hill theme, as the Latvians would just run from territory to territory while the Russians chased them in circles.
Amazingly lasting all the way until 57th place is the country that started this all, tiny Bhutan. Thanks to the fact that they live on a mountain and the Indians couldn't be bothered to declare war on them before. But that has all changed, and so India was more than happy to deal with those trouble makers.
And lastly for this update, we head back on over to the Middle East, where the same thing that happened to Syria happened to Lebanon, and they were annexed back to France, even though it was the British and Iraqis that did everything.
And so now, time for a continental overview. Like always, Europe has been the busiest. Iberia is turning into a mess, with the French invading the north, and the Spanish and Portuguese producing a comedy of errors, with neither able to take out the other, France is also marching into Austria, Poland, and Yugoslavia, and would appear to be on a crash course with Russia, who is marching into Poland and Romania. The British continue to dominate North Africa, and reinforcements have arrived in the Middle East to help them steamroll the competition there. Southeastern Europe is just an absolutely mess with the Czechs, Hungarians, Austrians, Yugoslavians, Poles, and Turks scrambling things up so ridiculously that I can't even describe it. Azerbaijan appears to be defeating Persia, while Turkey is making a march into Turkey. And Finland is just trying to hold on.
In Africa the only major changes are that the British are advancing into Ethiopia and have also reinforced South Africa and are advancing against Rhodesia. Aside from that, the others are still pretty much the same.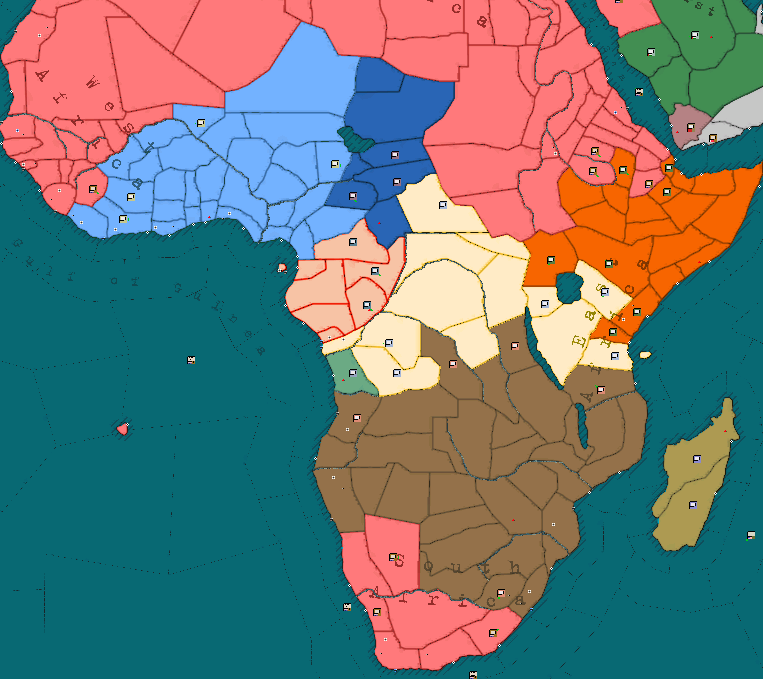 In Asia, the Japanese remain strong, having begun an advance into Manchukuo and the Philippines. Gains in China have remained about the same, having gained some in the south, but lost some in the north. That is more attributable to new fronts for Japan elsewhere than to Chinese strategy. Thailand had invaded Malaysia, though its still too early to call a winner there, while Thailand is being invaded by Indochinese forces retreating from the Japanese. India is pushing back the Russians, who are in great danger of being cut off by Turkmenistan and the Transural Republic. Persia is pretty well doomed, with Russians from the east and Azeris from the north.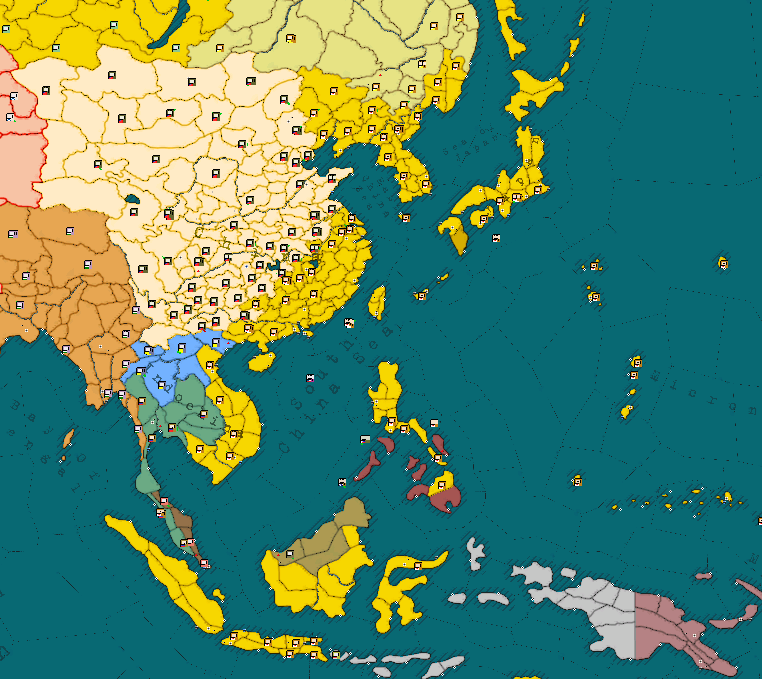 In South America, the tide appears to be turning for Brazil. Argentina is invading southern Brazil, while Chile is invading Argentina, while Brazil and Chile invade Peru. And with the US having taken Costa Rica and Panama from the Dominicans, they are about ready to launch an offensive into the continent.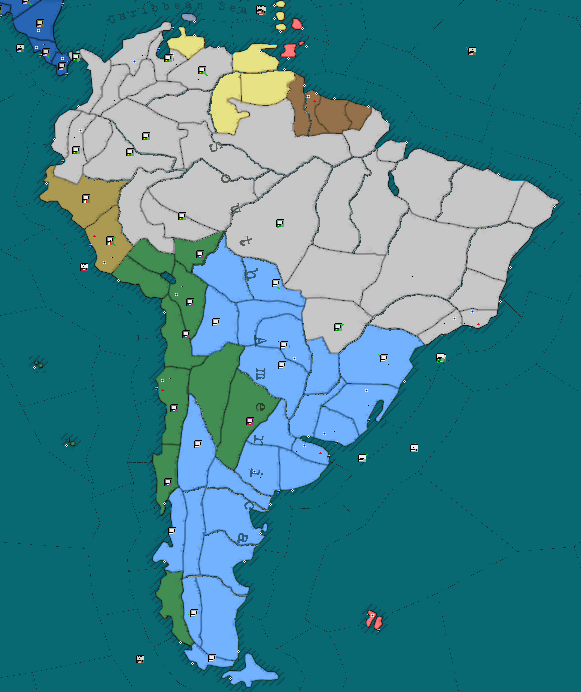 North America is pretty boring, what with the US just making a few gains into California. Though with California's weak army, I would expect them to lose a lot more soon.