Second Lieutenant
59 Badges
The Ultimate Showdown
Here's a question for you. What would happen if you had every guarantee everyone else's independence and had two random countries declare war on each other? How would the dominoes fall? Who would end up fighting who? Who would emerge as the ultimate victor? Well thats what I'm here to find out.
Here's how it works. I've modded the game a bit, so that in theory the declaration of wars should cascade across the globe and bring pretty much everyone to war with everyone else. Here is what I have changed.
All alliances are dissolved. Commonwealth, Axis, Comintern, Japanese, and Chinese alliances are gone.
All puppets set free.
All armies, navies, and air forces have been deleted. Countries now have to rebuild everything.
Every country has guaranteed the independence of every other country.
USA has become USA, CSA, Texas, and California
Soviet Union has become Russia, Byelorussia, Ukraine, Georgia, Armenia, Azerbaijan, Kazakhstan, Uzbekistan, Turkmenistan, Tajikistan, Kyrgyzstan, Transural Republic, Siberia, and Primorsk.
Egypt made independent.
For the fun of it I released Indochina.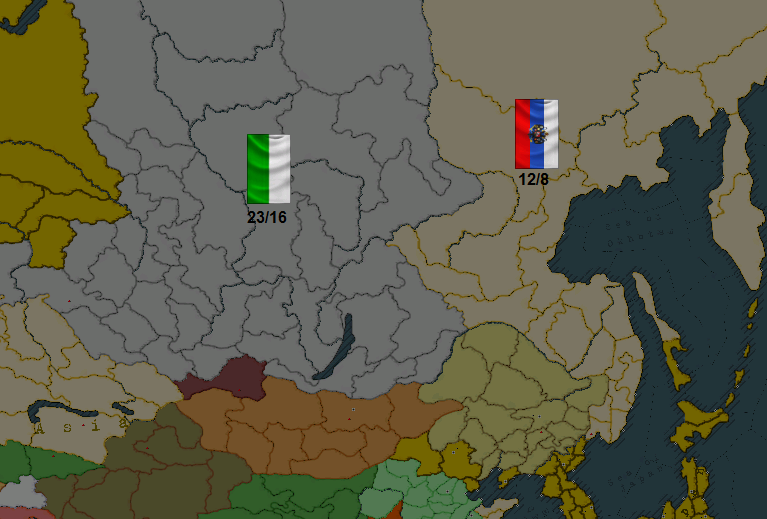 So feel free to make a prediction on who you think will come out victorious.
To start it all off, those notorious Bhutanese warmongers declare war on Nepal.
The Scoreboard:
1)
.
.
.
19)Angola
20)Transural Republic
21)Manchukuo
22)Brazil
23)Peru
24)Rhodesia
25)Turkey
26)Benin-Sahel
27)Hungary
28)California
29)Portugal
30)Chile
31)Indonesia
32)Oman
33)Philippines
34)Congo
35)Persia
36)Azerbaijan
37)Yemen
38)Poland
39)Yugoslavia
40)Turkmenistan
41)Spain
42)Guyana
43)Iraq
44)Sarawak
45)Czechoslovakia
46)Somalia
47)Austria
48)Finland
49)Equatorial Africa
50)Malaysia
51)Nepal
52)Jordan
53)Indochina
54)Lebanon
55)Bhutan
56)Latvia
57)Guinea
58)Libya
59)Xibei San Ma
60)Norway
61)Netherlands
62)Panama
63)Nicaragua
64)Sudan
65)Honduras
66)Syria
67)Palestine
68)Sierra Leone
69)El Salvador
70)Luxembourg
71)Cameroon
72)Egypt
73)Ukraine
74)Liberia
75)Italy
76)South Africa
77)Georgia
78)Canada
79)Costa Rica
80)Armenia
81)Ethiopia
82)Turkey
83)Tunisia
84)Algeria
85)Siberia
86)Mongolia
87)Ecuador
88)Byelorussia
89)Mozambique
90)Mexico
91)Sweden
92)Bolivia
93)Yunnan
94)Pakistan
95)Primorsk
96)Morocco
97)Denmark
98)Switzerland
99)Texas
100)Tibet
101)Shanxi Clique
102)Sinkiang
103)Paraguay
104)Estonia
105)CSA
106)Belgium
107)Afghanistan
108)Saudi Arabia
109)Tannu Tuva
110)Guangxi Clique
111)Venezuala
112)Haiti
113)Albania
114)Uruguay
115)Kazakhstan
116)Tajikistan
117)Burma
118)East Africa
119)Bulgaria
120)Nigeria
121)Uzbekistan
122)Kyrgyzstan
123)Communist China
124)Colombia
125)Germany
126)Mali
127)Gold Coast
128)Romania
129)Lithuania
Update I - January 1, 1936-January 1, 1937
Update II - January 1, 1937-June 1, 1937
Update III - June 1, 1937. January 1, 1938
Update IV - January 1, 1938-May 1, 1938
Update V - May 1, 1938-July 1, 1939
Update VI - July 1, 1938-January 1, 1939
Update VII - January 1, 1939-July 1, 1939
Update VIII - July 1, 1939-January 1, 1940
Update IX - January 1, 1940-July 1, 1940
Update X - July 1, 1940-January 1, 1941
Last edited: