Very old guard
Super Moderator
Moderator
149 Badges
Apr 20, 2003
30.007
1.190
The true history of the house von Habsburg​
Schönbrunn Palace​
Vienna, Schönbrunn Palace, February 3rd 1764
Hauptman (captain) Karl-Friedrich von Lenzburg was waiting anxiously in one of the halls of Schönbrunn Palace. Why he had been called to the Palace was unknown to him, had he gone to far in his honesty and bluntness ? His criticism about the lost war against Prussia hadn't been mild, and now he was going to pay for that.
But then, why order him to come to the Palace ? Why not have him simply arrested and thrown into prison ? They could easily do that, he didn't have many friends, and none of them was influential enough to save him from Imperial wrath.
Sure, he was from noble birth, but when his father died, his eldest brother got the entire estate, and told him that he better find a job of his own, cause he wouldn't financially support his 'not good for anything' younger brother like their father had done.
It was true that for the outsider it seemed that Karl-Friedrich hadn't done anything useful yet in his life, he had mostly spent his time reading and studying books, old documents and ancient maps. He wanted to become a great scholar and historian, not a very common career for a young nobleman. So when he left his family estate at the age of 20, his abilities were rather limited.
There was only one option left for a poor young man of noble birth, and that was to join the army. An army that had just lost the War of the Austrian Succession against Prussia, resulting in the loss of the rich province of Silesia. And now 14 years later, after another defeat, Karl-Friedrich was a veteran who had fought in several battles, like that of Leuthen and Kunersdorf.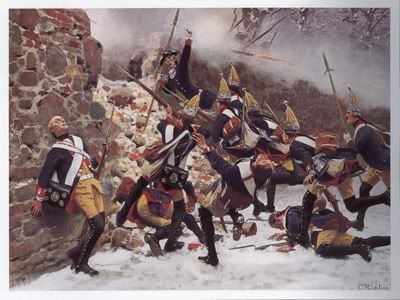 The battle of Leuthen​
Then he saw a chamberlain approaching him.
'Hauptman von Lenzburg'
'Yes'
'Follow me, please. Her royal highness the empress wants to speak to you'
'The empress ?'
'Yes, now follow me'
The chamberlain walked rather fast and Karl-Friedrich had trouble keeping up with him, they walked through halls, hallways, chambers, anti-chambers all richly decorated when the finally stood before the doors that sealed of the personal quarters of the Imperial family. The chamberlain knocked on the door and opened it and then turned around and said, 'Hauptman von Lenzburg, her imperial highness.' He bowed and then slowly walked back, backwards.
Karl-Friedrich, stepped into a magnificently looking hall, and on the end of that hall there sat Her Imperial and Royal Highness Maria Theresa von Habsburg, Princess Imperial and Archduchess of Austria, Princess Royal of Hungary and Bohemia.
Maria Theresa von Habsburg​
'Hauptman von Lenzburg, your highness'
'YES, we know who you are, we have called for you, you know.'
'Of course, your highness.'
'Come forward man, we hate to be talking to you on the other side of the hall !'
'Yes, your highness.'
'Hauptman von Lenzburg, we have heard a lot about you, you don't seem to have a very high regard for us or our generals. You have called us relics from an age gone by !'
'Your highness, I wasn't referring to your highness, honestly I was talking about .......'
'Yes, yes, we know what you were talking about and your already famous for your honest bluntness, that is the reason we have called for you.'
'Your highness, I can explain what I meant, if I could .....'
'Hauptman von Lenzburg, please close your mouth for a second and listen to us.'
'Yes, your highness.'
'Hauptman von Lenzburg, as you know, we the von Habsburg are an old and distinguished family who have ruled the Holy Roman Empire for centuries, but now after our latest defeat against Prussia. Our people begin to ask themselves on what grounds we claim that title, why not give that upstart. king of Prussia, Friedrich the imperial crown.'
'But he is a Protestant, your highness. He can't be Holy Roman Emperor.'
'Since the empire has never been Holy or Roman, most of my people don't seem to think that, that is a problem.'
'But the von Habsburg have the more ancient rights, your highness, I know that because I have studied history.'
'Yes that is why, we have called you here, the history about our family is well known.'
'Uh, do you want me to tell you the history of the house von Habsburg, your highness ?'
'No, we already know our history, but what we want to know is, what is true about our history ? How did we acquire all those lands and titles ? That is why we have called for you, you are going to rewrite the early history of the house von Habsburg.'
'But, why me, your highness ?'
'Because of your honesty, hauptman von Lenzburg. If we give this assignment to someone else we know that they will try to flatter us and tell the stories prettier then they are. We want to know the truth !'
'The truth can be a dangerous thing, your highness.'
'We know, that is why you will only report directly to our Grand Chamberlain and to no one else.'
'A honourable task, your highness. But how should I go about ?'
'Your family estate is close to our ancestral home in Aargau, you can start there and maybe even visit your own family.'
'I don't think my brother will be pleased to see me, your highness.'
'We have one more task for you, hauptman von Lenzburg.'
'And that is, your highness ?'
'As you know, the people have already started calling Friedrich II of Prussia, Friedrich 'the Great' but in our distinguished old family there has never been a ruler who earned the name 'the Great' we want you to study our ancestors and come of with suggestions who of them might be called 'the Great''.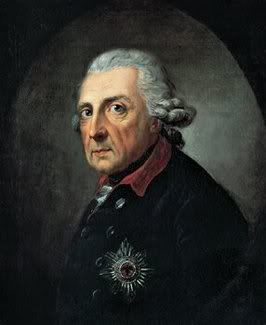 Friedrich II 'the Great' of Prussia​
'But I thought you wanted to know the truth, your highness ?'
'You will have to find a way to solve both tasks, hauptman von Lenzburg ! And now leave, we hope to receive your first report as soon as possible.'
'Yes, of course your majesty.'
A chamberlain arrived and Karl-Friedrich was brought to the Grand Chamberlain, where he received a payment for his future expenses and the order to travel to Aargau in Switzerland to start his mission.​