After I accomplished my Albania – HRE run in 1.4, I never play Albania again. But recently, after a new achievement introduced in the new patch, I feel challenged to do it once more. Especially since the scorched earth cheese is not working anymore. This is an ironman 1.9.2 game.
Hope you will enjoy it
Also, sorry for the bad grammar since I'm not an English native speaker.
So, my short term goals are:
1. Survive Ottomans' invasion -
survived for now
2. Make a solid base in the Balkans - in progress
3. Enter HRE -
done
4. Invade Italy -
in progress
Also my long term goals are:
1. Become HREmperor (did it as Albania in 1.4)
2. Unite HRE (did it before as Albania) or dismantle it
3. Invade Iberia (get the achievement)
4. ??? (I'll decide it later if the game goes well)
Kings:
Gjerg Skandenberg Kastrioti (1444 - 1471)
Dukagjin I Kastrioti (1472 - ???)
We start our campaign in a dire situation, at war with the turks and outnumbered 10:1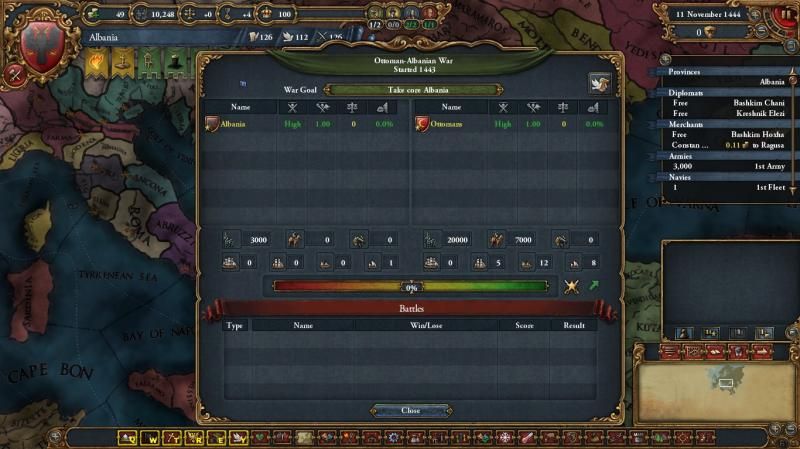 Also, our land is very poor, 1 BT with wrong religion.
We don't understand why those kebab vendors really want to annex our poor land. But, fortunately we have our brave king who will fight until death for the glory of Albania.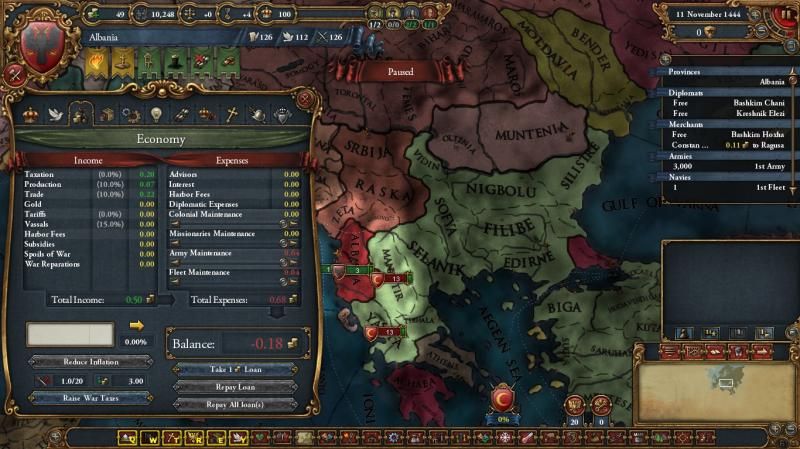 Our King talked with the council and decided to burn the city to stall the turks and lead the army to invade Bosnia in the north.
The problem is, to enter Bosnia, we need to pass through our hostile neighbor, the Serbians. Luckily, when the sentries came into contact with the Serbian's army in the border, they easily let us pass through their border. They mentioned that they would love to see the Bosnian lands burn into ashes, which is our goal.
So, we marched through the Serbian lands which are as barren as our land, but they have a rich gold mine (and we really want it to fuel our country's economy). Maybe if we survived this war with ottomans, we will try to claim this land…
The war with the Bosniaks was easy; our God King slaughtered their army like there's no tomorrow.
We also received news that a saint in our barracks healed our wounded troops. This miracle made our country slightly more stable. People are feeling safer even though we are still at war.
While sieging all of the Bosnian fortress, suddenly a messenger came from the south.
Messenger: "My king! We are almost out of time; the turks already penetrated our 7th layer of defense. We only have 5 more layers. What should we do?"
Skanderbeg: "That is indeed a dire situation. I understand. We should make haste! All troops! We are only going to annex Donji Kranji! But our war is far from over! We are going to attack Ragusa, the merchant republic!"
Army commander: "But, we don't have a valid reason to attack the my King. We will suffer stability loss again if we attack without reason."
Skanderbeg: "Are you sure? Check your book again commander! We have claim in their land!"
Commander: "When did you……do that?"
Skanderbeg: "Chaaaaaaaaaaarrrrrgggeeeeee!!!!!!"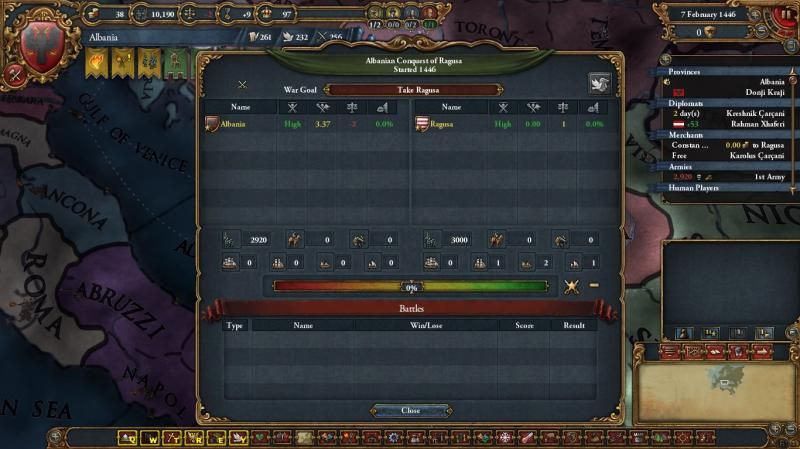 Suddenly, in the middle of the war, the king gathered all of his commanders.
Skanderbeg: "Send messenger to Albania, we are going to abandon the city and flee to Donji Kranji!"
Commanders: "....... but? Why?"
Skanderbeg: "No questions! Do it now!"
Commanders: "As you command!"
Skanderbeg: "We will not forget this humiliation, Mehmed……"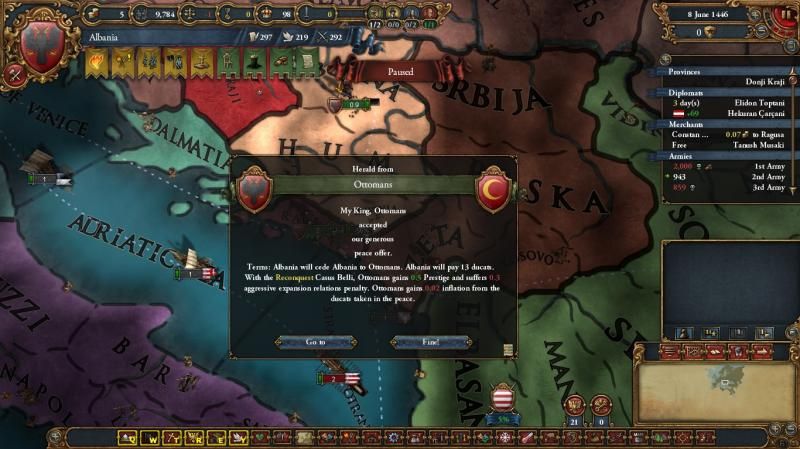 After surrendering to the Ottomans, we made Donji Kranji as our new capital. We also used the Donji Kranji castle ruins as our new home. Burnt, but it's our new home.
Meanwhile, the Ragusan already surrendered. We don't want to annex them for now. Instead, they join the realm as our vassal. For now, we need their wealth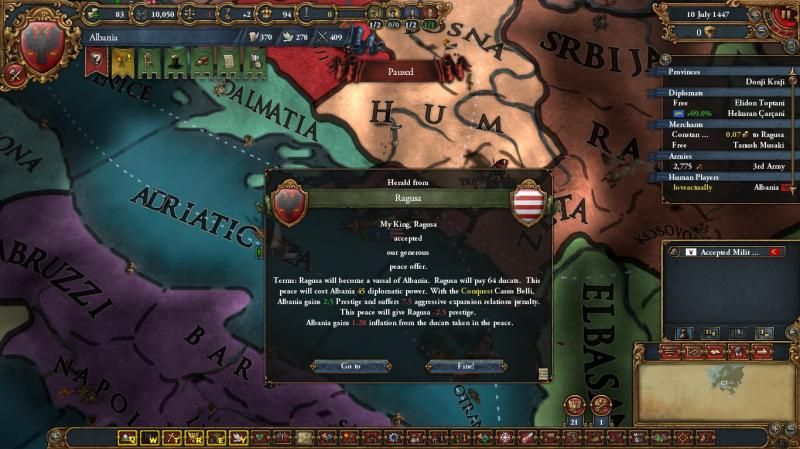 Our diplomat also successful in gaining the Holy Roman Emperor's love. The Austrian agreed to form alliance to protect both nations in the future. Although, it will be us using their help more.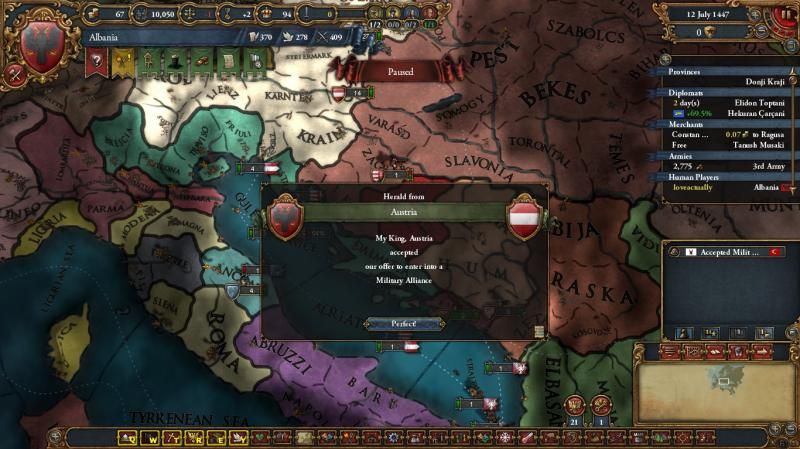 Skanderbeg: "Mehmed, I'll be back..."
Last edited: