Tàishǒu of Rìnán Commandery
47 Badges
The Sword of Dacia



The Hunt

Chapter I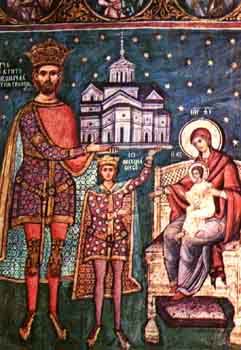 Mircea cel Bătrân and his son Mihail I
​
The dead leaves melted away into the earth underneath the hooves of the young stallion that wandered through a clearings, thickets and brush. On the horse sat a decisive and dashing looking man, not interested as in the hunt as he should have been, but rather, lost in though, his horse trudged on slowly, sensing the insecurities of his rider. Mihail then slowly turned his horse around; it's head hanging low and weary, an odd sight for usually such a proud horse.
"We will not catch anything today Octavian, I think we should turn back, the night is coming and we've not the provisions to stay out any longer." said Mihail to the man, also on horseback, behind him.
"Indeed sir, maybe some other day"
"No… no, I think this maybe my last hunt for a while, we are going to return to Târgovişte, there are much more important things right now then a few deer"
Octavian chortled,
"Deer, Turk, they'll all end up the same in the end, dead on a mantle piece",
Mihail did not respond, not with a laugh of his own or any sign of disapprovement as he was already heading back west towards Târgovişte, leaving his companion slightly bewildered behind him.
The two horsemen galloped along, across the scenic forests of Wallachia, with the orange setting sun casting brilliant, dancing, shadows through the trees of the slumbering forest.
The two finely dressed riders, had rather different backgrounds, Mihail was of the house of Basarb, and prince of the Ţara Românească, or as most outsiders called it, Wallachia. He had already proven himself in battle against the Turk several times, saving his small corner of Christendom multiple times already from the ravenous scourge of the East. He was the descendant of the great Basarb I Întemeietorul, (the founder) who had defeated Charles I of Hungary and secured the independence of Wallachia. Octavian on the other hand was a boier from the small Călăraşi, a small horse trading posts between Bucureşti and Constantinopol. He was a shrewd young man, not from a particularly wealthy, but still affluent enough, it was believed that Octavian's family where originally bakers for the royal court and had earned the nickname 'cel Brutar' for this rather then any sort of skill in the kitchen. Although he admitted, he did enjoy making bread on occasions
These two, son of a hero and son of a baker rode off into the East, not just towards Târgovişte but to glory and into history.
Last edited: