Keeping the ship on course
54 Badges
I have a dream. A dream of a united Arabia, united world of Islam! All turned to the Shia denomination, all under my rule!
They say I'm crazy, that it'll never work. They are wrong! I might not be the Sultan of the strongest and most powerful of empires, but I have ambition, and visions! What? Khorasan... you've never heard of Khorasan? Well don't worry, you will soon hear of us...
Let's take a look at our Empire before go on the Holiest war campaign ever seen.
Here I am, Aby al-Qasim "the Great", and that is my loyal friend and advisor Zîyad Khan. His job is to educate, reform and train our government, that is me and himself, to fit in the modern world. As you can see I'm quite a diplomat even though I don't want to brag at all!
Then lets see how our economy is doing.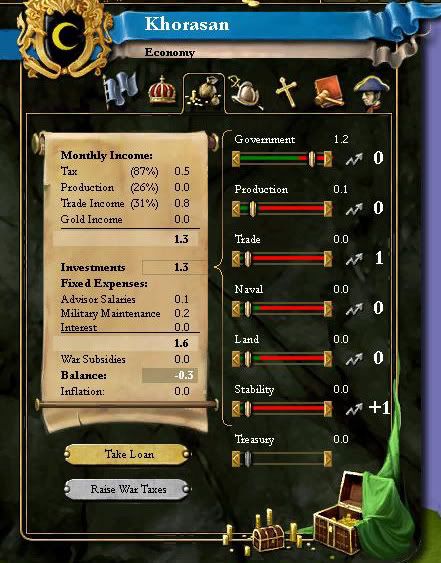 Well well well, our tax payers aren't working how they should! We'll see what's wrong with them later. But I doubt many nations can still reach the divine income of 1.3 ducats per month!
After days of discussions and pondering our government, me and Zîyad in other words, have decided to invest in government tech. Most of it will, of course, end up to the construction of my new palace, the Great Statue of Most Benevolent Government, the new ministry building and the military parade which will show our people we are everything but weak.
We also decided to move our policies a little towards free subjects as we don't have enough people to have slaves anyways.
Next I decided to improve our relations with the big neighbors... for now.

I told you didn't I! I am a real wizard in diplomacy! And they say polygamy is bad. Bah, humbug!
Now lets take a look why our income is lowish.
Everything seems to be just fine... hold on! What is this? My people are all... Sunni Muslims! Zîyad will have to explain this once he gets back from his vacat... diplomatic trip.
Well it doesn't matter yet, onwards for greater Shiite state my people!
For conquering the Muslim world we need armies.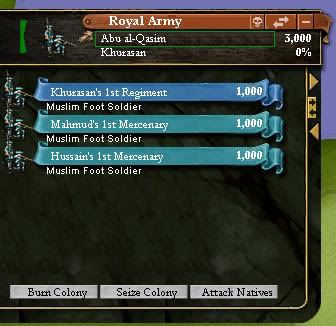 There we go, everything seems to be ok now. I will personally lead us for victories. Lets go then.
We declare war against the state of Haasa, they were crushed by our superior forces in heroic battles and the word will be spread across our nation!
After the victories I decided to name myself as the Protector of all Muslims, thus I guaranteed the independence of Oman and Najd. This might get me involved in a war soon, and that'll mean more land for us!
Now we just sit and wait... wait for the glorious tomorrow! World beware!​
Last edited: