Chapter 14
Chapter 14 (1137-44)
Crowning Glory
​
King Arnulf was now bedridden. Although he put a brave face on it, his near-fatal parchment cut sustained during the Battle of Plzen was obviously causing him constant pain. Nevertheless he continued to rule the kingdom wisely and justly, from his bed. The first thing to do after the war was of course to award titles to the most deserving of his courtiers and vassals.

First in line was his father-in-law and close friend Emich von Lenzburg, Count of Telemark and Ancona. Arnulf was anxious to do something for the old man, who was now seventy years old, and so granted him the title Duke of Ancona. This however was a big mistake. What Arnulf had forgotten was that his wife's older sister Ermengard von Lenzburg had married the Emperor Ulrich and old Duke Emich's first male heir was now Ulrich's son, the young Emperor Philipp. Of course the Duke didn't have long to live and the very next year he died and all his titles and land went straight to the Emperor.

The next task on King Arnulf's agenda was to tidy up a couple of Counties that were still at war with the Duke of Ferrara, formerly the Duke of Toscana. The Counts of Ravenna and Arborea were quickly defeated and made to swear allegiance to King Arnulf. Of course there was no question of the King going to war in person - the courageous Marshal Eckhard saw to everything.

Early in 1138, the King's Severe Injury began to give him even more trouble. Suddenly the more skeptical among his courtiers who had dared to whisper that it might all just be a sham and an excuse for the King not to go to war himself realized that they had been terribly wrong. King Arnulf really was ill. In fact he might even be near death.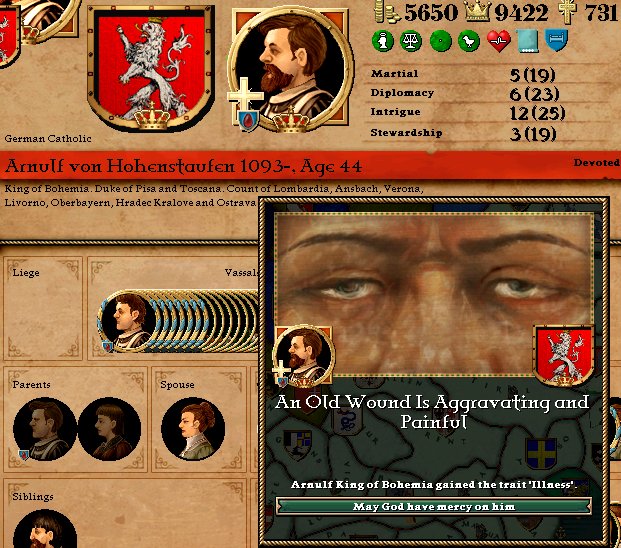 King Arnulf's prestige was still enormous, but now that he seemed to be at death's door it became imperative to use up some of his prestige claiming some key titles. For one thing he now controlled virtually all of the Kingdom of Italy, so he had no trouble usurping that crown from the Emperor Philipp. To emphasize the Italian flavour that the Hohenstaufen dynasty had now acquired he also grabbed a claim on the crown of Sicily.

In fact the upstart currently styling himself the King of Sicily was not Italian at all, and nor did he actually control any of Sicily any longer. He was the Hungarian Mátyás Árpád, and his personal demesne consisted of the province of Lecce, the stiletto heel of Italy. In July 1140 Marshal Eckhard began sailing with the Livorno Regiment towards Lecce. However, he was only a few weeks into the voyage when tragedy struck.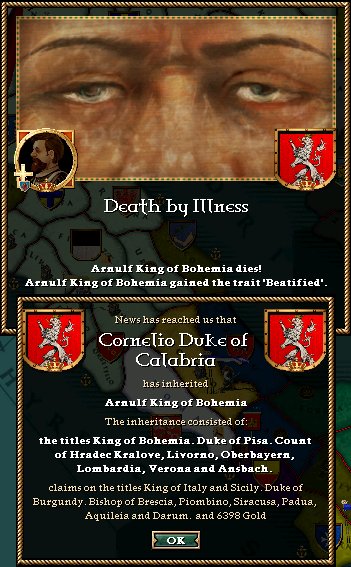 King Arnulf had stated in his will that all his worldly goods were to be left to "a deserving charity for parchment cut sufferers". Imagine his son Cornelio's disappointment when he found that no such charity seemed to exist in 1140 and he had to accept the 6398 gold himself. He did of course promise to help any parchment cut sufferers who happened to cross his path, spending a couple of gold pieces on some bandages to have ready in reserve just in case.

Far more of the vast fortune that he now found himself with was sent as gifts to King Cornelio's vassals, many of whom were momentarily of questionable loyalty, although not many were actually parchment cut sufferers. However, once they saw how generous King Cornelio could be they all soon became devotedly loyal.

In November news reached the King that Marshal Eckhard had almost reached Lecce and he quickly issued a declaration of war to the hapless King Mátyás.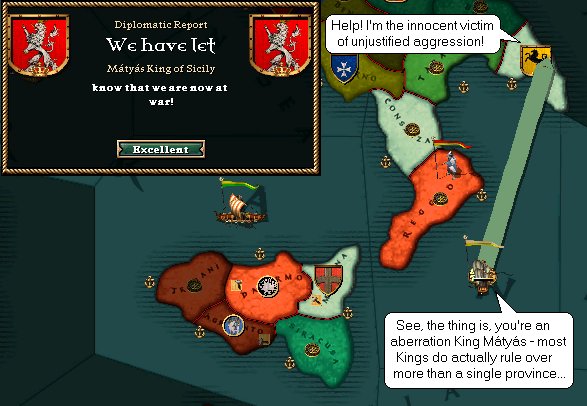 Soon reports were coming back to King Cornelio. The war was going predictably well, however Marshal Eckhard claimed to be incurring vast expenses on the treatment of parchment cuts which now seemed to be an almost daily occurrence during the siege of Lecce. Was it true, enquired the Marshal innocently, that the late King Arnulf had bequeathed funds especially for such needs? With a sigh, the King sent off a bag of gold to his Marshal.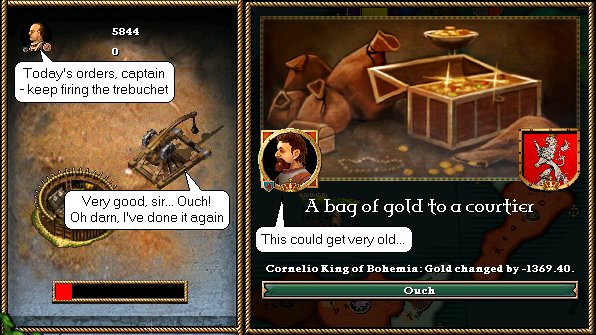 Soon after this King Mátyás surrendered and ceded his crown to King Cornelio who, being Italian, seemed a much more appropriate person to rule Sicily than a Hungarian. It was then too that it was discovered that King Mátyás had in fact had some vassals - four of them, mostly in southern England for some reason. Thus the sprawling Kingdom of Bohemia sprawled a little bit more.

The year 1141 also saw King Cornelio fighting a war on his western borders, this time against his rival the Duke of Dauphine who was at war with the Emperor Philipp. It was a trivial business for the King to raise a small army, invade and subjugate the Duke, who ceded his ducal title to the King.

By this time King Cornelio had an alliance with the Emperor, who was conveniently suffering from Realm Duress. King Cornelio faithfully came to his aid every time another vassal broke away and declared war, and it was always the King of Bohemia who managed to defeat and re-vassalize the rebels.

It was beginning to look like the whole of Europe was going to get swallowed up into the now bloated, tentacular Kingdom of Bohemia. In March 1142 another of the King's rivals, the Duke of Brandenburg, a vassal of the King of Poland, finally decided to put a stop to it and declared war. The King of Poland naturally supported him, while Duke Jaromir of Bohemia, another Polish vassal, also joined in, perhaps seeing a chance to reclaim his father Bretislav's crown from Cornelio.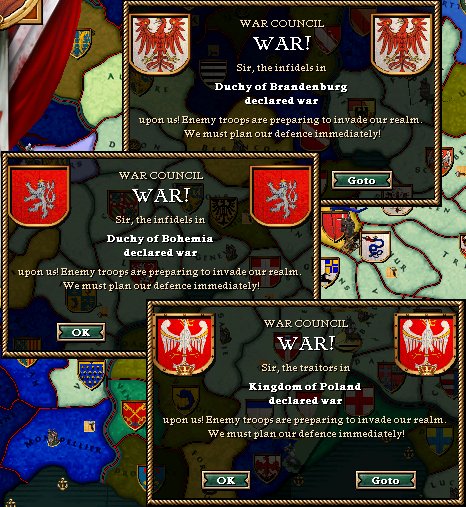 Of course, King Cornelio was not the cringing wimp his father had been. Without a moment's hesitation he pressed the Nuclear Button and soon found himself with 140000 men at his command. Many of these regiments were deemed to be too far away to be of much use - those in Norway, England, Sicily, Sardinia, etc - and were immediately disbanded. The rest all began marching towards Poland.

Within a month the Duke of Brandenburg had been defeated and had sworn allegiance to King Cornelio, however it took five more months to conquer all of Duke Jaromir's lands and vassalize him as well. Soon after this the King of Poland hastily made peace as well.

King Cornelio was now undisputed master of Central Europe. Undisputed? Well, not quite. His newest vassal Duke Jaromir was unfortunately still in a war against the King of Hungary. By this stage Hungary was not very large, and indeed neither was its King, Juliusz Árpád, who was only twelve. King Cornelio declared war, thinking to mount a quick invasion and end the war with a generous peace deal. However, he realized that he already controlled a fair bit of Hungary and could probably justify taking the young lad's crown off him.

And so the job had to be done quite thoroughly, but by August 1143 done it was. King Juliusz gave up his crown and became King Cornelio's vassal. The most significant casualty of this war was Cornelio's brother Cangrande Duke of Lombardia who died from a severe wound just before the war ended. It was his misfortune that it was not a parchment cut that he sustained, otherwise no expense would have been spared to save his life. Marshal Eckhard inherited the Duchy and so retired from being Marshal after a long and distinguished career.

Cornelio von Hohenstaufen was now King of Bohemia, Sicily and Hungary, and was also King of Italy in all but name.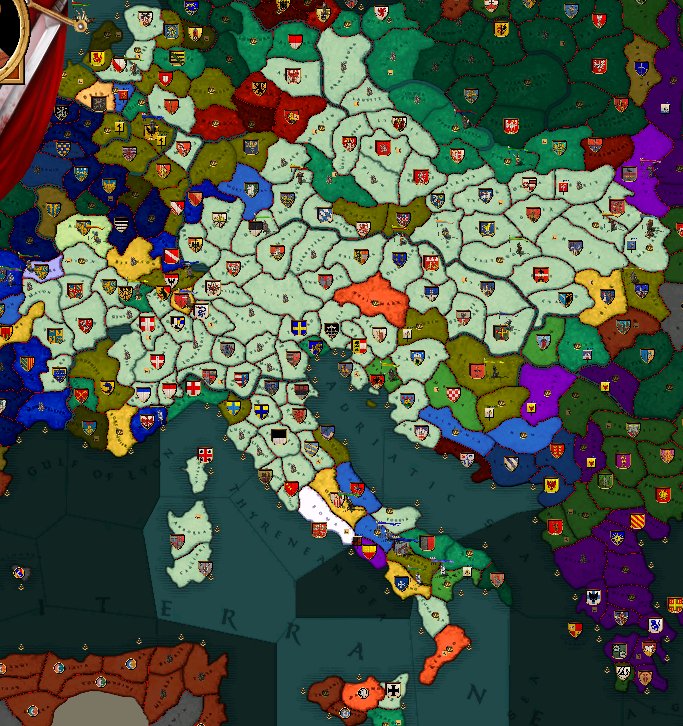 In addition to the lands shown, King Cornelio also ruled over two provinces in Spain, three in England, one in Ireland, one in Norway and one in the Holy Land. The von Hohenstaufen dynasty had indeed proved themselves. They had been crazed, they had been excommunicated, they had been cowardly, they had sustained parchment cuts, had fought wraith armies and had faced near civil war. But nothing had stopped them from proving to the world that they were indisputably the stuff of Kings.