A Hohenstaufen History
​
In real history the House of Hohenstaufen was one of the great noble families of Medieval Germany. In 1079 Friedrich von Hohenstaufen, Count of Riesgau, was made Duke of Swabia. By 1138, his descendants were on the throne of Germany, which they occupied for over a century after that. The greatest of them all was Frederick I Barbarossa, whose exploits won his family fame and notoriety. If the CK LibrAARy is to be relied on (which I realize may be a rash assumption), this great family have so far somehow escaped the ruinous clutches of CK AARland.
Unfortunately for any modern day descendants of the Hohenstaufen family who may be proud of their great and noble heritage, all that is about to change. Be afraid. Be very afraid. Your cherished family history is about to be CK AARed…
Count Friedrich von Hohenstaufen of St.Gallen woke up on the day after Christmas 1066 with a strange sense of excitement and foreboding. Somehow, quite suddenly, he knew. His family, the Hohenstaufens, were destined for greatness.

He could not say why he knew, but the knowledge filled him with excitement.

The sense of foreboding came from the additional fact that he suddenly knew without a shadow of a doubt: that the road to greatness was a dark and perilous one, and that only the strongest and most valiant would survive.





Friedrich himself was a pleasant enough chap, always ready to forgive those whom he felt had wronged him in some way, and then stab them in the back at the earliest opportunity. It seemed liked a winning combination for the road to greatness. He had probably inherited these traits from his mother, Hildegarde, a flamboyant schemer who had taught him all he knew and who now acted as his Spy Mistress.

Hildegarde von Bonngau, Friedrich's mother​
Like many a humble Count in 1066, Friedrich really only had two main concerns: cash and kids. He was not actually married yet, which gave him the opportunity of killing these two birds with one stone. He decided to begin a search for a suitable bride who had the sort of accounting skills that would boost the County's meagre income as much as possible. Tasked with this mission was his Chancellor, the stunningly ugly Kunigunde von Glarus.

Kunigunde - who suffered from classic CK Nose Syndrome​
Kunigunde, 21 years old, was not married herself, and her immediate reaction to Friedrich's instructions was to tactfully enquire as to whether he had actually considered the various options open within his own court. As these included only herself and his own mother, it was not all that tactful, but Friedrich only replied politely but firmly that yes, he had. After a moment's awkward silence, Kunigunde finally sniffed quietly (or as quietly as her copious nasal cavity would allow) and said "Oh - well, I'd better getting started with my packing then", and disappeared off to prepare for a bride-hunting tour of Europe.

Her first port of call was the distant County of Urmumu in the south of Ireland where rumour had it that there was a hotshot economic genius who was looking for a husband. Alas however, Kunigunde was too late - someone more conveniently place had apparently got there before her. Next stop was the County of Perigord in southwest France, and there she struck lucky. Marta de Mortemart was not exactly Einsteinian material but she was marginally more competent than anyone else around, and better-looking than Kunigunde, which wasn't saying much. And she was just seventeen. And just. And selfish. And she liked truffles. Best of all, her name was awesomely alliterative. What more could Count Friedrich ask for?
Marta de Mortemart, the perfect wife​
Well, as it turned out, he could have asked for a wife who actually liked him. Unfortunately the two young newly weds didn't seem all that compatible. But at least the income of the County had about doubled, which was something.

Next came the somewhat predictable visit from a papal legate, requesting that Friedrich take in a lustful skeptical bishop who was absolutely no use to the church and so was being fobbed off on some obscure next-to-unknown Count in the middle of Germany.

Friedrich made him his Marshal.

Father Otto von Venis, lustful, skeptical, martial 11 - perfect army material​
By August 1067 there was still no sign of a little Hohenstaufen on the way and Friedrich was getting seriously worried that he had made a terrible blunder in choosing his wife. But then, just when he was getting really desperate the news came: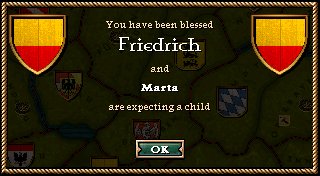 Unfortunately this seemed to make Marta even more bad-tempered and grumpy with Friedrich. In despair, the hapless Count went to his mother to seek her advice.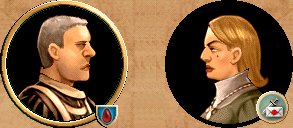 Friedrich:
I just don't get it, Mum - why doesn't she like me?
Hildegarde:
Oh, I think she could be persuaded, Freddy. You just need to find the key to her heart. That's what your father did after all - it worked for me. Heh, heh…
Friedrich:
Really? And what was the key to your heart, Mum?
Hildegarde:
Never you mind, you nosy beggar. It's the key to Marta's heart that you need to concern yourself with.
Friedrich:
Oh wait - didn't Kunigunde say something about… duffles? waffles? Something like that.
Hildegarde:
Truffles?
Friedrich:
That's it! Truffles! Whatever they are.
Hildegarde:
They're a kind of fungi that you dig out of the ground.
Friedrich:
Bleeagh. OK, so where can I find some of these… truffles?
Hildegarde:
Croatia.
Friedrich:
Croatia? Aren't there any somewhere closer than that?
Hildegarde:
Maybe in northern Italy. And Perigord, of course.
Friedrich:
Good grief - this is going to be harder than I thought. Well, wish me luck Mum - I'm going truffle-hunting.
It took several weeks for Friedrich to make the journey, but finally he arrived back home late one evening: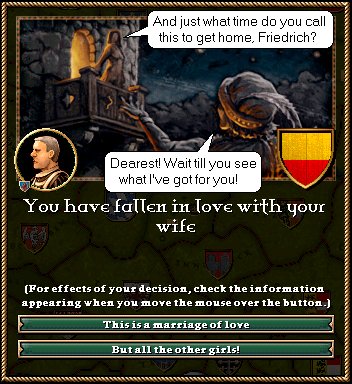 Amazingly, it worked. The bag of dirty, smelly old lumps of fungi that Friedrich had somehow managed to track down were indeed the key to Marta's heart. From that night on, it was truly a marriage of love. Needless to say, lustful old Otto, who had had his sleazy designs on Marta ever since his arrival, now took a definite dislike to the lovestricken couple. Every time he saw them it was all he could do to keep from throwing up on the spot.

Someone else we should introduce at this point is Friedrich's liege, the Duke of Swabia. Rudolph von Rheinfelden was an honourable man, for whom Friedrich had only the greatest respect. There was just one thing - Duke Rudolph was a bitter enemy of King Heinrich. The circumstances that had sparked this rivalry were now lost in the mists of time, but one thing was certain - unless something happened to change the situation, the two were on collison course for a serious showdown.




Of course, Friedrich had no personal issues with the King himself. So what would he do if Duke Rudolph did something rash like declaring war on King Heinrich? Well, being Friedrich he would no doubt find it in his heart to forgive the Duke for making such a monumentally stupid decision. Then he would stab him in the back.

By this time Marta was getting very large, and it wasn't just the truffles. The two young lovebirds spent endless hours planning together how they would adjust to parenthood and speculating about the imminent new arrival to the family. Marshal Otto spent most of this time away from the court "on urgent business" as he called it, although it mostly seemed to be conducted with giggling pretty wenches who had caught his eye. Of course, Friedrich was convinced that his beloved Marta was going to provide the Hohenstaufen dynasty (a.k.a. himself) with a much needed son and heir. In May 1068 the little mite finally emerged into the world: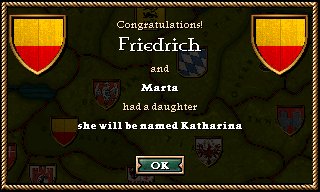 Ah well, thought Friedrich stoically, there would surely be plenty more.
Last edited: