The Sons of Balthazar
A County of Venaissin AAR
1: Aimery des Baux, 1066-93
​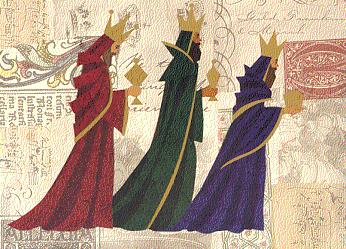 Aimery des Baux Count of Venaissin, aged 27, had just made an important discovery. He was descended from one of the Three Wise Men. He wanted very much to share this news with his Diocese Bishop, whom he felt sure would be excited by it, but unfortunately he didn't have one. He didn't have a Marshal either. In fact his court consisted entirely of women. Three women, to be precise, one of whom was his pretty, though not very intelligent wife and Chancellor, Eléonore des Baux.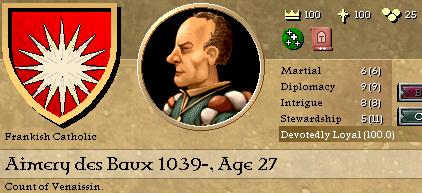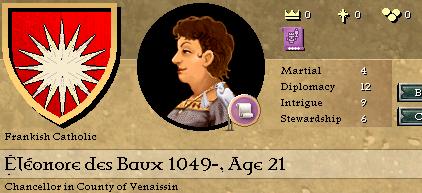 Eléonore des Baux, recently graduated as an Eminence Grise:
But how exactly have you found this out dear? The Three Wise Men lived over a thousand years ago!
Aimery des Baux, Count of the small and rather cash-strapped province of Venaissin:
Elementary my dear Eléonore - I have deduced the fact by pure Medieval Logic! Our family name is "des Baux", right?
Eléonore:
Er... that's right, dear...
Aimery:
And one of the Wise Men was called Balthazar, or as we say in Provençal, Bautezar. Des Baux, Bautezar... Well, isn't it obvious ?
Eléonore:
Um... But I thought our name came from Les Baux where we live, which comes from baou, meaning a rocky outcrop. That doesn't have anything to do with Balthazar...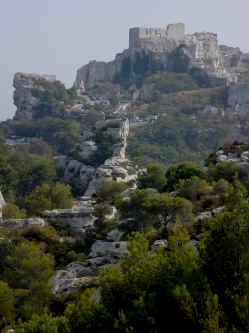 Les Baux de Provence - perched on what can only be described as a rocky outcrop...​
Aimery, with a sigh:
Trust me on this one, darling. You women just don't have minds that can cope with Medieval Logic, that's the trouble.
Eléonore:
You can say that again.
Aimery:
Anyway, the point is that, with such an illustrious ancestor, our humble family must surely be destined for greater things than simply ruling over a small and rather insignificant corner of the Kingdom of Germany. I feel sure that a great and glorious future lies ahead of us!
Eléonore:
Whatever you say, dear.
The fact was that Eléonore was not that interested in her husband and his delusions of medieval grandeur. His main interest in her seemed to be as a producer of heirs, a job which she seemed exceptionally good at, but his chauvinistic attitude left the Countess cold. Her life in the small hilltop castle of Les Baux seemed to her increasingly bleak as she was kept busy producing one child after another.

Until she met the Count of Tourraine, that is. Folques de Gastinois was youthful, debonair and totally unrelated to anyone in the New Testament, as far as he knew. When pressed he admitted he might be related to Adam and Eve. He was certainly drawn to the forbidden fruit which could be found within the Countess of Venaissin's chamber. It was there, in the arms of Aimery's wife, that he was startled one day to hear Aimery arriving back from a hunt unexpectedly early.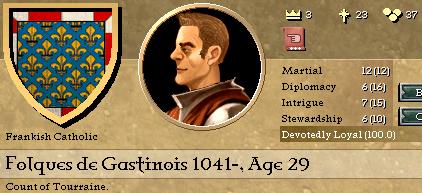 Folques de Gastinois - with a haircut most medieval women found irresistible​
Eléonore, Countess of Venaissin:
Ciel, mon mari!
[a traditional cry uttered by Frenchwomen in such situations]
Folques de Gastinois, the dashing young Count of Tourraine, dashing out of the Countess's arms:
Zut alors! What should I do, ma chérie?
Eléonore:
Quick - hide in the wardrobe!
Folques, looking around in desperation:
Wardrobe? What wardrobe?
Eléonore:
Oh darn! I did try to persuade Aimery to focus our cultural research on "Advanced Bedroom Furniture", but he insisted on "Schools" for some reason...
Folques, in a panic:
So where can I hide? Look - what about this large wooden chest?
Eléonore:
That's got Aimery's armour in it. OK, let's empty it out. There might be room for you inside...
Folques:
Listen! I think I hear footsteps on the stairs...
Eléonore:
Right, look, that's the armour out, climb in and I'll sit on top of it!
The door opens just as the Countess gets the lid shut and sits down awkwardly on the chest. There are some muffled thuds from underneath her, and a faint groan of pain.
Aimery, Count of Venaissin, entering the room:
Surprise! I had to come back early because I... Goodness, dear, still in your nightclothes at this hour? And what's my armour doing all over the floor?
Eléonore:
I... er... I was - just trying it on!
Aimery, giving his wife a strange look:
You were trying on my armour?
Eléonore:
For fun.
More muffled sounds from the chest.
Aimery:
Darling - is there someone in that chest?
Eléonore:
No! No-one at all!
Suddenly she is catapulted across the room as the lid of the chest is heaved open. Folques de Gastinois leaps out with a howl of pain clutching his finger which the Countess had accidentally jammed in the lid.
Eléonore:
That is, er... apparently there was someone in it... Fancy that...
Aimery, drawing himself up and fixing the Count of Tourraine with a withering glare:
Sir! And who might I have the pleasure of encountering in my wife's bedchamber?
Folques, still nursing his throbbing finger:
F- F- Folques de Gastinois, Count of Tourraine, at your service...
Aimery:
Hmmphh! At the service of my wife, more like it, I would say!
* turning to the open doorway *
Guards! Quickly - seize this intruder!
After that relations between Count Aimery and his wife took a turn for the worse. Eléonore was quickly locked up in prison to await judgment and Folques de Gastinois was sent away, with Aimery vowing that he would see he was punished for the monstrous insult he had committed against the House of Balthazar. One day, he swore, the lands of Tourraine would belong to the des Baux family.

Countess Eléonore would no doubt have stayed in prison for the rest of her days, if Aimery hadn't taken a fancy to another woman himself, namely Osterhild von Lippe from the Bishopric of Osnabrück. Unfortunately for the present Countess, this meant getting her out of the way, by the simple expedient of sentencing her to be beheaded. It was the end of a what had never been a particularly promising relationship.

Osterhild von Lippe tried to please her new husband, taking what she hoped looked like a keen interest in his genealogical researches, but she was not the efficient baby-producing machine that poor Eléonore had been. Aimery now had two sons and two daughters by his first wife - at least he very much hoped they were all his - but Osterhild was unable to add any more children to the des Baux family. The Count therefore found his eye caught by a series of pretty wenches, three in all over the next several years, who were able to bear him more sons, although not exactly of the legitimate variety.

One would imagine that Count Aimery's somewhat glaring double standards would have been hard to overlook, especially by Eléonore's now motherless children. It is therefore to their credit that they found it in their hearts to forgive him and to continue to treat him with respect and love.

Roger was the oldest child, and Aimery's heir. It was he who brought the renowned and crafty merchant Louis de Venaissin to Les Baux in 1075, a man whose talents were soon put to use as Steward of the Realm. Next came Lisa, Aimery's eldest daughter, followed by Aubry his second son, and last of all Melisande, his second daughter.

The following year, 1076, brought more newcomers to Count Aimery's court. They were members of the Jiminez family from Castille, who had been driven from their ancestral lands by the Moors. What was happening in Spain at this time was of concern to all of Christian Europe. In 1066 the Moors had already conquered more than half of the Iberian Peninsula.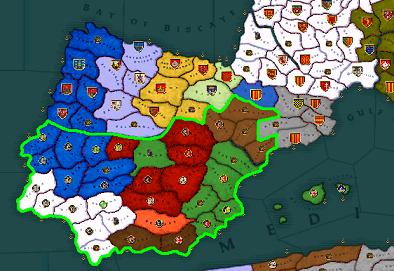 By 1080 almost nothing was left in Christian hands, save for the small but indomitable Kingdom of Leon.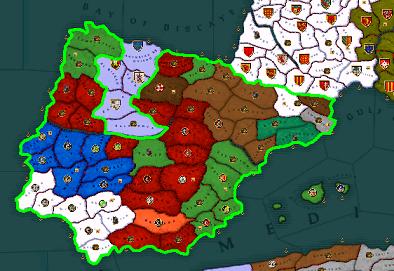 The King of France, it was said, would be able to hold back the Muslim tide should they try to cross the Pyrenees. Secretly, Count Aimery thought it might be quite nice if the King of France were called upon to do just that, since this would be the sort of situation which Aimery could take advantage of in order to press his rightful claim to the County of Tourraine.

One of the Jiminez family was particularly welcome in Les Baux. This was Garcia Jiminez, a grizzled veteran of the Moorish Wars, who took a perverse delight in pontificating about the unreadiness of Count Aimery's army. "Wouldn't stop a Moorish scimitar!" he would say laconically, prodding at the leather tunics worn by the soldiers under his command. They were the latest outfits, brought all the way from Marseille.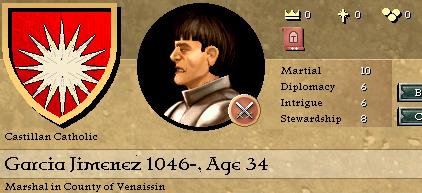 By 1083 Roger had finished his education and had turned out to be a gruff diplomat. Meanwhile the eldest of his three bastard brothers, confusingly also called Roger, but known as Roger the Bastard to distinguish him, was being eaten by intestinal worms. In 1084 Roger (the gruff diplomat) was married to Slaíne, eldest daughter of Culad of Ulaid, the Duke of Ulster. The young Irishwoman's abilities were many and varied. She quickly took over from Louis de Venaissin as Aimery's Steward. More importantly, however, because of Ulster's succession laws, she was entirely capable of giving birth to heirs to the Duchy of Ulster.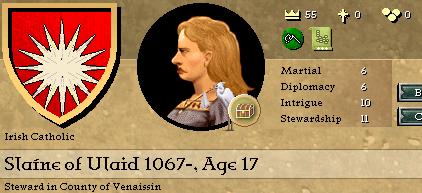 After somewhat disappointingly producing three daughters in a row, in 1087 she finally produced a son, Louis. He was third in line to the Duke of Ulster, but, as Aimery remarked dryly to his eldest son, "These things can change - there may be more than one Slaíne in the Court of Duke Culad..."

By 1087 Count Aimery had somehow managed to amass a fair amount of prestige, mainly by marrying off his children, it has to be said. Noticing that neither his liege the Duke of Provence, nor yet the King of Germany himself, had so far thought of making themselves the Duke of Dauphiné, Aimery went ahead and announced that he considered himself the rightful Count of Lyon. Possession of Lyon would allow Aimery to declare himself Duke of Dauphiné, but needless to say the present Bishop of Lyon stood adamantly in his way.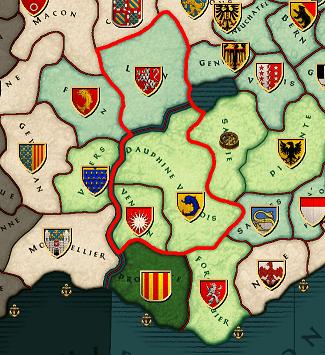 Lands regarded as part of the Duchy of Dauphiné -
the Counties of Venaissin, Dauphiné Viennois and Lyon​
In 1088 Slaíne's father Duke Culad died, leaving the Duchy to his elder son Eochu. Eochu was married, but was conveniently suffering from suicidal depression, and the des Baux family had high hopes that he would be unable to bear any sons before he got around to taking his own life. His younger brother Cellach was still a babe in arms. It was of course a rather heartless act to remove him from the scene, which is why the cruel Slaíne herself was given the task on her next visit back to Ulster. She returned to Les Baux with good news and bad news. The good news was that little Cellach had had an unfortunate accident and her own son Louis was now next in line to the Duchy of Ulster. The bad news was that the Duke's family were openly accusing Slaíne of having caused the accident on behalf of her in-laws. Count Aimery's prestige and piety took a nosedive.

A few weeks later a young Irishman was caught in the act of trying to assassinate the Countess Osterhild. Such an amateurish job, said Aimery, the fellow deserved every moment of the slow torture he was subjected to in order to find out what everyone already knew, namely who it was that had sent him.

Count Aimery's life came to an end in 1093. Some would say it had not been a particularly noble life and that the world was better off without him. Nevertheless, he was a des Baux, of the high and noble line of Balthazar, and he had undeniably set his family on the path to greatness. True, the family still ruled only one province, but the new Count Roger had claims on two more, Tourraine and Lyon, and his son Louis had every chance of inheriting the Duchy of Ulster.
The des Baux Family in 1093

Aimery (1039-93) Count of Venaissin
m.(1) Eléonore des Baux (1049-72)
╠══ Roger (1067-)
║ m. Slaíne of Ulaid (1067-)
║ ╠══ Bonne (1084-)
║ ╠══ Tiborg (1086-)
║ ╠══ Sophie (1086-)
║ ╠══ Louis (1087-) heir to the Duchy of Ulster
║ ╚══ Centule (1093-)
╠══ Lisa (106
║ m. Pardós de Lusignan (106 Count of La Marche
╠══ Aubry (1070-)
║ m. Pardós de Lusignan (106
║ ╠══ Agnès (1087-)
║ ╠══ Auspici (108
║ ╠══ Bernard (1089-)
║ ╚══ Bouchard (1092-)
╠══ Melisande (1071-92)
║ m. Roger Leofricson (1070-) Count of Chester
m.(2) Osterhild von Lippe (1037-)
(illegitimate children)
╠══ Roger (1073-87) "the Bastard"
╠══ Guigues (1067-)
╚══ Pierre (1067-)
Historical Note
The des Baux family are entirely historical, and ruled over various parts of southern France during this period. What is more surprising is that they really did claim to be descended from Balthazar, one of the Three Wise Men who followed the star to the infant Jesus. The coat of arms provided for the County of Venaissin in the game, featuring two crossed keys, à la St.Peter, I suspect dates from a later period when the Comtat Venaissin was a Papal enclave in the south of France. I have changed it to be the wonderfully absurd Star of Bethlehem, which really was the arms of the des Baux family. Aimery des Baux, however, is not historical. The head of the family in 1066 was, according to what I could find out, an eleven-year-old orphan by the name of Guillaume-Hugues des Baux. I didn't bother to change that, though.
Last edited: