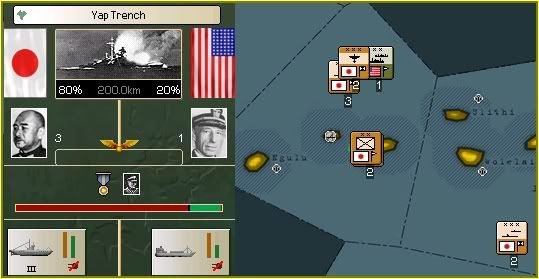 A further report reached Ozawa on March 29th. An American Transport fleet had been spotted in the Yap Trench and was probably trying to invade Ngulu. Why the Americans considered this island important was something Ozawa could not work out but the invasion would be stopped by the Submarines. This would not prevent this Transport fleet returning several times to try again as the Submarines failed to sink it. One of the two divisions from Yap was ordered to move to Ngulu to defend the island just in case any more throrough invasion plans materialised from the Americans.​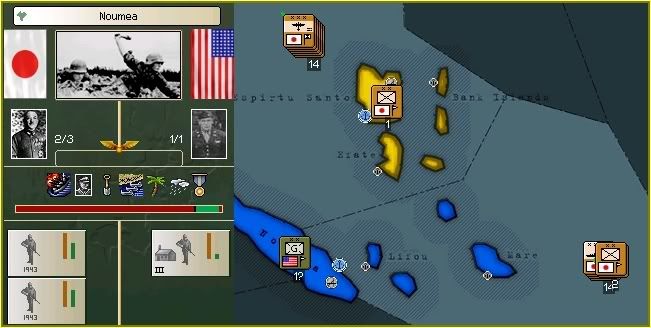 The Tactical bombers from Guadalcanal had spent the previous day bombing the garrison on Noumea to reduce its organisation prior to an amphibious assault. Yokoyama Isa led the two Japanese infantry divisions conducting this attack with support from BB Division 2. The battle was over quickly as the garrison surrendered. The bombers would return to the port of Noumea the next day to finish off the remainder of English's fleet while the troops waded ashore.​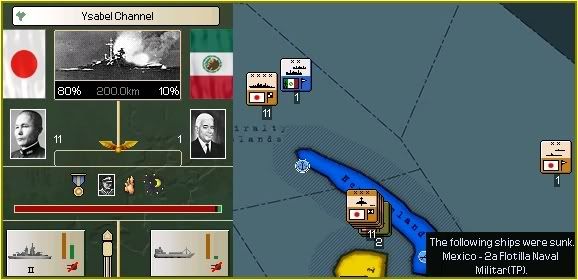 The Transport fleet that had dropped off the infantry division on New Ireland was not so fortunate as it tried to leave the port. BB Division 1 would find it during the night as visibility was good. IJN Yamashiro would sink the Mexican Transports.​
The Light Carrier and Destroyer Division still in Noumea were sunk during the early hours of March 30th which would free the bombers up for other rolls.​
0000 March 30th 1946.
Intelligence Offices. Tokyo, Japan.
Teiji Takagi had completed research into Improved Decryption Devices which would cancel the advantage the Allies had been having in this area.​
Yamashita, who was already commanding an Infantry Corps and Interceptor wing, was tasked with improving Japanese hospital systems to prevent wounds turning into fatalities. Japan would need to conserve as much manpower as possible for years to come and this small measure would help to achieve that goal.​
1400 March 30th 1946.
BB Division 1 Flagship. IJN Yamashiro, Ysabel Channel.
Ozawa was confident that the entire New Hebreides chain would shortly be under Japanese control for the first time. His attention turned further south. The forces that should have been moving into this area should have come from Australia, but the delay during that offensive had allowed troops from further north to become available first so Ozawa would use them.​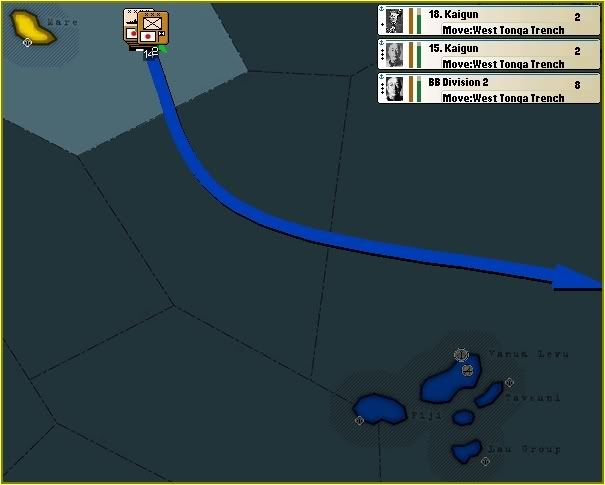 The two divisions that had captured the minor islands in the south of the New Hebreides were picked up again by their Transport ships and were ordered south towards Fiji. BB Division 2 would escort them again. Troops needed to invade New Zealand were on their way from Perth under the watchful eye of BB Division 3 but they were still a few days away. The airbase on Vanua Levu would be needed to support further attacks in this area as only the longest ranged Tactical bombers could reach this far south from Noumea once it was captured.​
2355 March 30th 1946.
Diplomatic Offices. Tokyo, Japan.
Mamoru was making sure that he had everything that he needed for the forthcoming meeting of the Cabinet with His Imperial Majesty Hirohito when his assistant knocked on the door.

"Make it quick I have a meeting to go to." Mamoru said.

"My apologies Minister Mamoru but the Soviet Ambassador wishes an audience immediately. He is being particularly stubborn about seeing you before your meeting with the Emperor."

"I guess there is always time to improve our trade agreements so long as he is quick about it." Mamoru replied as his assistant went back outside to show the Ambassador in.

"Please accept my apologies for being so forceful Minister Mamoru but my superiors were most insistant that you are made aware of certain details before your scheduled meeting." the Ambassador stated.

"I am sure you had good reason for such haste Ambassador. What is so urgent?" Mamoru asked.

The response would see the Japanese Foreign Minister late for another meeting as he searched for more information that he would need for his briefing. He hoped the Emperor was in a forgiving mood today, although not too forgiving.​
Last edited: