0300 January 19th 1946.
BB Division 1 Flagship. IJN Yamashiro, Osaka.
Air patrols had picked up Reeves and his small fleet as it entered the Mariana Trench.​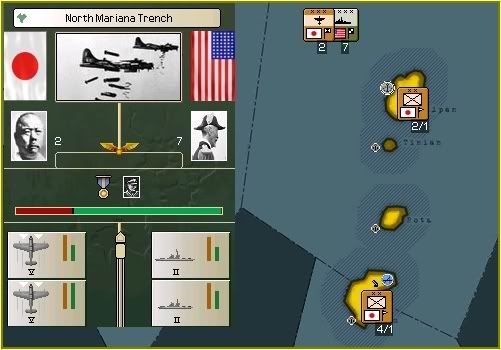 Yamashita encountered it in the North Mariana Trench and it was heading south. The only things waiting for it should it continue on towards the Yap Tench were BB Division 2 or Japan's Tactical bomber forces. Either could easily defeat Reeves and his greatly reduced fleet.​
1900 January 20th 1946.
40 Hoheishidan Headquarters. Colombo, Ceylon.
Dawn was still several hours away when Lt. General Uchiyama was awoken by his adjutant. His division was protecting Colombo which was not considered under threat and had not been for some considerable time.

"What is it?" he asked.

"Sir, there appear to be some American Transport ships off the coast and they have launched landing craft towards our positions." was the reply.

"Is that so. Let us see if the British built defences are up to par then shall we."

Colombo's sea defences were amongst the most formidable in the World. The highly mountainous region lent itself to easy defence which the former occupants of Ceylon had used to create an interlocking defensive network that was almost impossible to breach by a direct assault.

Two American marine divisions decided to see if the Japanese were asleep atop their mountain. They were not.​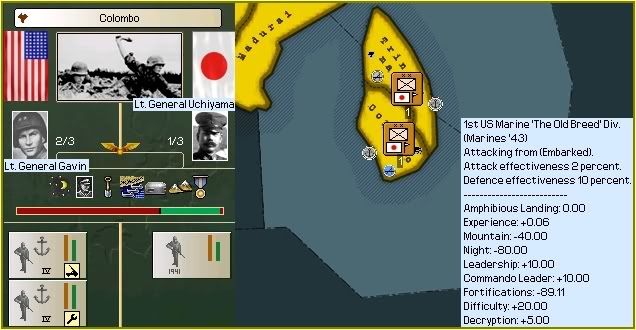 20, 000 marines began their amphibious assault without any support. Thousands would die at the base of the cliffs before the futility of their attack caused Lt. General Gavin to abandon his attack.​
0400 January 21st 1946.
BB Division 1 Flagship. IJN Yamashiro, Osaka.
The defences of Ngulu were assaulted at 0400 hours on January 21st. General Imamura again led the amphibious forces whilst General Itakagi controlled the support forces on Yap.​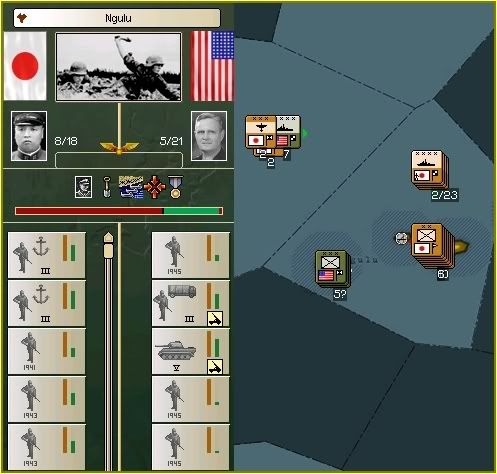 The attack would have to proceed quickly as Reeves had also been detected in the Palau Trench and he was heading for the Yap Trench. Victory would have to be achieved before his arrival or the support forces from Yap would be unable to continue to assist.

The attack looked to be going well with bombers already on the way to assist as well as BB Division 2's shore bombardment due to start shortly.​
It was not to be as Imamura and Banzai were left to continue the assault alone at 0900 hours. Clearly Reeves had arrived in the Yap Trench and would need to be forced to leave before any further attacks could be mounted on Ngulu. The marines would require several days to recover from this failed assault and would use Yap as a temporary base to do so.​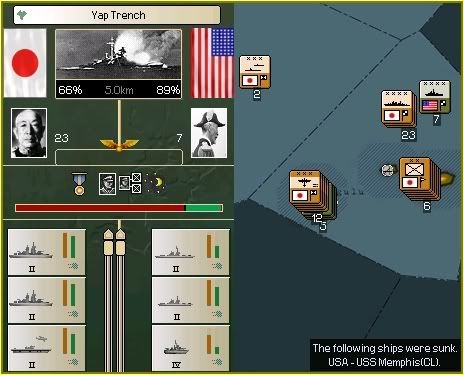 Koga's fleet found Reeves at 1000 hours and forced him to withdraw after four hours. BB Division 2 sustained only minor damage as IJN Fuso sank the Light Cruiser USS Memphis. Reeves made the mistake of heading towards Ngulu's small harbour rather than out to sea.​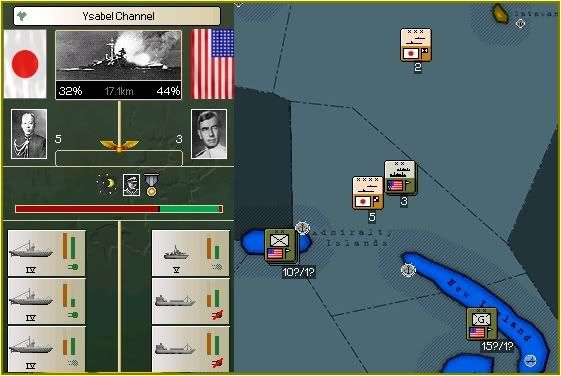 The Americans were trying to move troops from Admiralty Island when their Transport fleet was intercepted by the Submarines watching the port. As was normal no enemy ships were sunk and several Submarines sustained damage from the escorting Destroyer Division.​
Twelve of the Tactical bombers stationed on Yap altered their target from the ground forces on Ngulu to its harbour. By 1000 hours on January 22nd Reeves had lost all but one of his surface ships to them and decided to head out to sea rather than have his fleet totally destroyed in port.​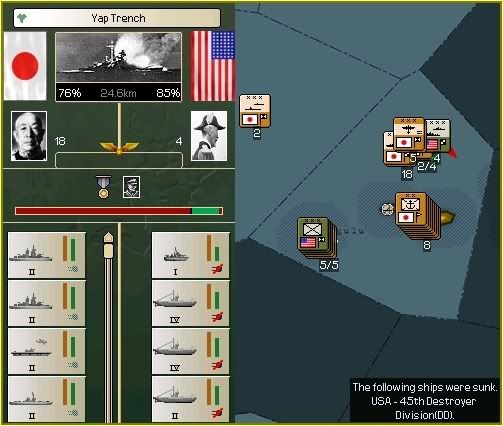 BB Division 2 knew he was coming and had no trouble forcing Reeves to return to Ngulu. IJN Fuso would sink the 45th Destroyer Division to leave Reeves with only Submarines.​