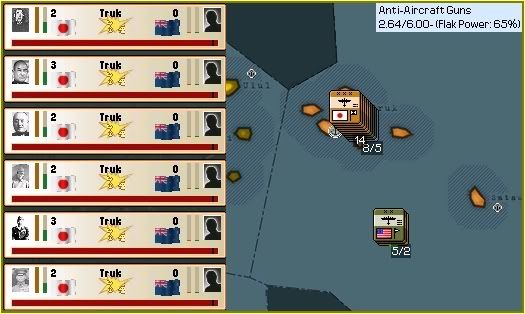 Their first target was the major anti-aircraft defence of Truk. More than half of the defences were wiped out on the first installation strike and the remainder would be knocked out over the next two days. There was no point in trying to bomb infastructure and suffer needless casualties to anti-aircraft fire if it could be avoided.​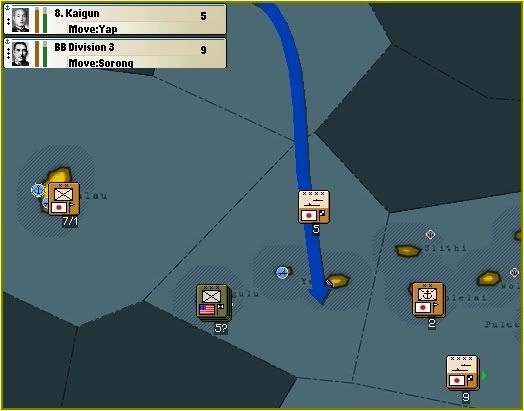 On the 24th 8. Kaigun headed south to Yap with Kasahara's troops to continue the process of reorganising while BB Division 3 headed for Sorong. The Battlefleet would be one of two fleets providing protection for the next invasions planned. Carrier Group C would be the second fleet assigned for protection.​

Ito began his invasion of Satawan at 1700 hours on December 24th and arrived on the island at 2300 hours on December 26th. No counter attack was possible with Japanese ships patrolling the strait between the two islands. Unfortunately Japanese bombers had mistaken Satawan for Truk during one of their logistical stike missions which had reduced the islands infrastructure. Additional time would be needed to rebuild this before any assault on Truk could commence. The marine forces still had a few days of recovery time before they could be used for another assault which would allow some time for repairs.

The reports Ozawa received on the current defences of Truk were almost the same as usual with the exception of a massive amount of enemy aircraft using its airbase. The Allies position on Truk was made even worse because Satawan had been its supply depot. More supplies would be needed but most of the New Zealand convoy ships had been sunk by Japanese Submarines which would result in a very limited amount of supplies reaching the island.

While Ozawa waited for his forces to recover in the Carolines he gave the orders for a new part of the Front to be opened up. The invasion plans had been made long ago and had only needed slight modifications since. Operation Obsolete began at 2300 hours on December 26th as four Japanese fleets left the port of Sorong and headed south.​
1. Kaigun, escorted by Carrier Group C, would head for the Gulf of Carpentaria where it would begin an invasion of Nhulunbuy.

BB Division 3 would escort 15. Kaigun as it headed for the Van Diemen Gulf and the province of Katherine. This invasion would be called off if the province was defended and the troops would directly invade Darwin instead once a foothold had been established in Nhulunbuy. There were eleven Close Air Support squadrons needing an airbase to support the invasion forces and Darwin was the closest.​
Ozawa had to order BB Division 1 to sea on December 29th to intercept a Canadian Transport Flotilla that was passing directly by mainland Japan. IJN Yamashiro would make short work of the aptly named Empress of Australia. The Country had lost its 'Empress' and could be losing considerably more in the coming weeks.​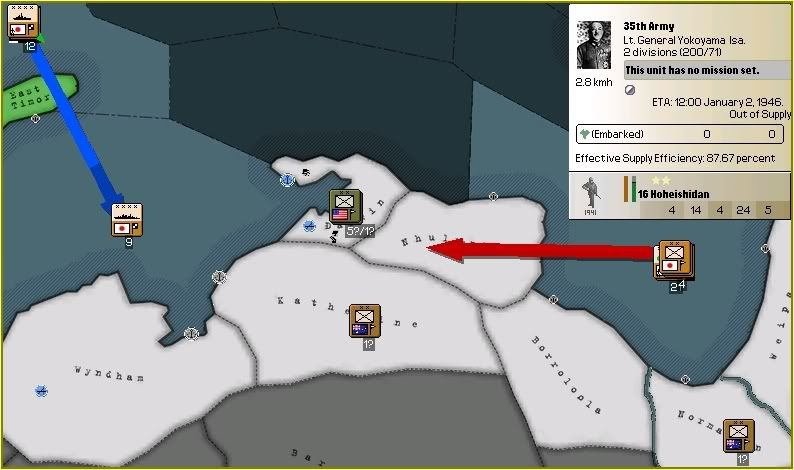 The invasion of Nhulunbuy began at 1300 hours on December 29th as Lt. General Yokoyama Isa led his veteran island defence forces ashore. The planned assault on Katherine was aborted due to the presence of a defensive force. With Japan's Tactical bombers busy in the Carolines there was no air support for the landings, which precluded any possibility of an assault against a defended region. Yokoyama Isa was due to have his troops ashore on January 2nd.​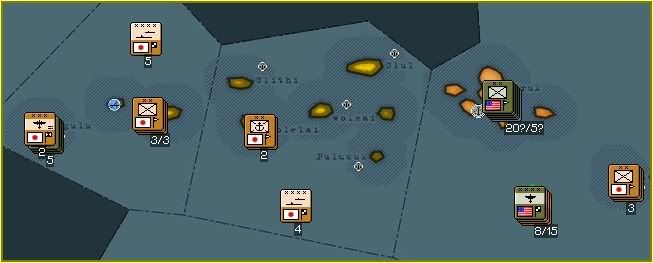 The constant bombing runs in the Carolines were now targetting both Truk and Ngulu in rotation as both islands infrastructure disintegrated under the onslaught. The islands would suffer even more before any invasion occured as the troops themselves also needed to be softened up prior to an amphibious assault. Ozawa did not wish to have to attack these islands multiple times to capture them and would ensure it was done right the first time.​