0000 June 20th 1944.
Imperial Palace. Tokyo, Japan.
"I will now begin the briefings for our various Armed Forces." Hideki continued. Not only was he Prime Minister but also Chief of Staff. "An overview of the current situation is the best way to show our current Empire and that of our enemies. I will be breaking some areas down further to highlight problems and some initial actions."​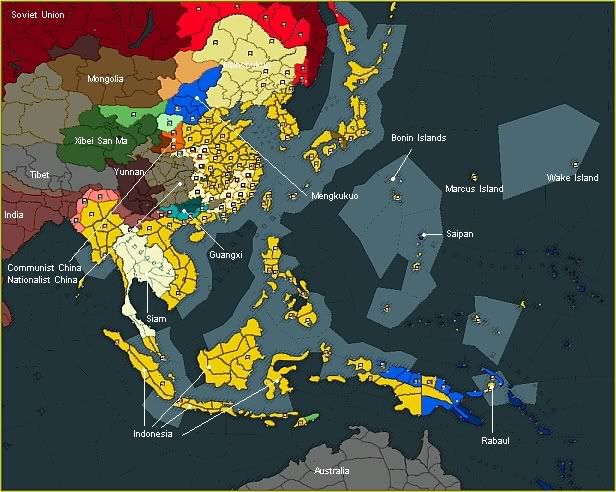 "As we can all clearly see, we control a large amount of islands as well as territory in China and Indochina. Our primary land adversary is clearly Nationalist China with the United Kingdom's presence in Indochina being a secondary concern.

Our far flung Empire has created some untenable positions due to recent American advances across various island chains. Their recent capture of Saipan in particular is of great concern. They can use its facilities as both an airbase and a port, and it is sufficiently close to the Japanese mainland that it would allow invasions almost anywhere in our territory. Saipan in enemy hands also places both Guam and Palau under threat.

Wake and Marcus Islands are now almost totally un-protectable and the forces there are likely to be attacked at short notice. Our forces in Rabaul are also hopelessly positioned and will either die fighting or need to be extracted. Truk is in a similar position with one division guarding the island.

Hollandia is also under threat of being totally lost with three divisions currently isolated by American forces. Indonesia and its many islands is currently under our full control but we have very limited forces with which to defend it.

The Philippines are fairly well garrisoned and should be safe without further reinforcements for the time being.

Our forces in Indochina are totally outnumbered and face an enemy using superior technology. The terrain is hostile, which is in our favour, but we will have little choice but to withdraw in this area.

China has a fairly large army which outnumbers our own forces. In a reverse of the situation in Indochina, our forces are superior in technology on this front.

The Soviet Union and Mongolia are not at War with us for now and are of little concern with their full fledged War in Europe.

I will now hand you over to our military specialists to discuss the current state of their forces before going into more detail about our current plans. We will begin with the the Airforce." concluded Hideki.

"Your Majesty, Gentlemen. The Imperial Japanese Airforce is in good condition throughout with all fighter and bomber wings at full strength. They are almost all requiring some upgrades which puts them at a disadvantage against any Allied aircraft." began Ushiroku Jun, Chief of the Airforce.​
"We have a large amount of interceptor squadrons and a decent amount of bombers of various types. Our Airforce is currently the largest in the Axis, but Germany's is the most modern. The Airforce is spread across our Empire and will need to be reorganised in order for it to fight more efficiently.

All Naval bomber squadrons will be rebasing to Iwo Jima with all Tactical bomber squadrons moving to Palau and Iwo Jima to conduct anti-shipping patrols.

One Interceptor wing will be stationed in Guam to provide air cover for our bombers. The remaining Interceptor squadrons will all be rebased to Hiroshima where they will be formed into four squadron wings. These aircraft will then be positioned at airbases throughout the Home islands to provide air cover for Japan as well as naval patrols around the Home islands. I do not see any immediate need for fighter cover over China as our main enemy in the region has nothing to fly against us. Basing most of our airforce on the Home islands will conserve convoys and fuel.

We need to increase our aircrafts abilities through research as soon as possible in order to be able to fight our enemies on an even footing. Nothing further from me and I will hand you over to the Chief of the Navy." concluded Jun.

"Your Majesty. Our current Naval forces are the third largest in the World behind the United States and the United Kingdom. Both of these Nations are our adversaries and possess a more modern fleet. The United States Navy is most likely to be the only fleet we face directly for the time being, with the Royal Navy occupied in Europe." Nagano Osami began.​

"The Imperial Japanese Navy is currently operating four Aircraft Carriers with more under construction and due within the next few months. We also have seven Battleships and two Battlecruisers. Almost the entire Imperial Japanese Navy is of older type vessels and we need to construct some more modern variants to be comparable with our foes. Ships take a long time to build and I do not expect any new ones to be laid down for some time.

We basically have the only Navy within the Axis and it is sorely outgunned and outmatched in most areas. We will have little option but to utilise the forces we have to attempt to repell the United States and losses will be inevitable during this process. With some luck, and support from the Airforce, we might be able to force the United States fleet to withdraw from waters close to the Home islands.

The majority of our fleet is spread throughout our Empire much like the airforce and it will be making its way back to Tokyo to be re-organised. This process will take several weeks and most ships will not head home until they receive more supplies. All waters in the Pacific are currently hostile and it is unlikely that they will all return undamaged. I will now hand you over to the Chief of the Army." concluded Osami.

"Thank you Nagano. Your Majesty, Gentlemen. The Imperial Japanese Army is operating mostly in China but is also guarding vital strategic islands in the Pacific theater." began Inanba Satoru.​

"Our German ally has a much larger army than ours and it is also more modern. Our own army is mostly infantry with a small amount of armour and some very limited special forces. We are behind in technology across our whole force when compared to the Allies. This situation is reversed in China where our own troops are superior in this respect.

One quarter of our ground forces are defending the border with the Soviet Union and these forces will be moved to fight China. We need them fighting not guarding a non-hostile border. Our own puppet states forces will be used to guard vital beach provinces to prevent any invasion by Allied troops. The last thing we need is for enemy troops more modern than ours behind our lines in China. Defeating China will be a big enough problem without this added hinderance.

The Imperial Japanese Navy will have to ensure that no such invasion can take place, although I fully understand the odds of that happening against such a numerous foe.

I have every confidence that we can defeat the Chinese, both Nationalist and Communist, but it will be slow going in the hostile terrain of China.

Indochina is going to be difficult to hold mainly because we do not have sufficient forces to stop the British. The troops we have in this area will remain and do all that they can to slow the British advance. Siamese troops will assist whenever possible.

Some of our outlying island forces will also be re-positioned to protect higher value assets than they currently do. We may lose some before they can be safely moved from their current positions. That is all from me and I will let the Chief of Staff continue the briefing on our current plans." Satoru concluded.​