0300 January 3rd 1945.
The Skies Above China.
South African Tactical bombers had become over confident and were about to receive a visit from Fukui and his four interceptor squadrons.​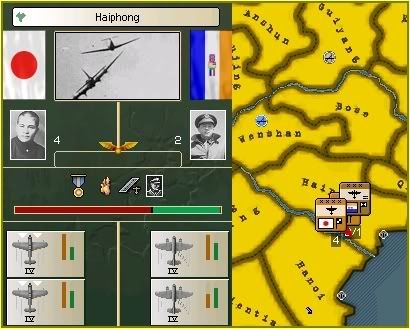 Bombing a dug in division in Haiphong was not wise with interceptors mere minutes away and the South African aircraft paid a very heavy toll for their troubles.​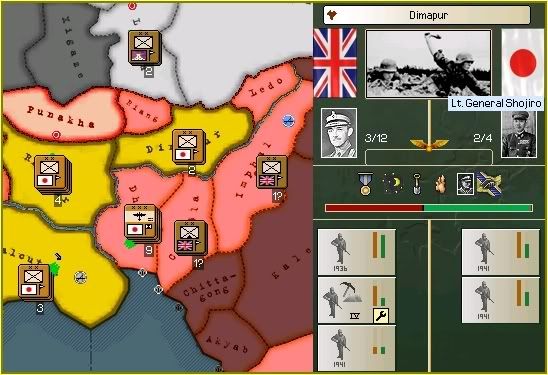 The British were detemined to try and break the land blockade of Burma as they attacked Dimapur again as soon as they had retreated to Comilla. The effects of the Japanese Tactical bombers were clearly evident as was the diversity of forces being used by the British. Lt. General Shojiro was not about to be forced anywhere by these troops.​
1800 January 3rd 1945.
BB Division 1 Flagship. IJN Yamashiro, Gulf of Martapan.
Enemy Transport ships were becoming scarce as less and less tried to run Yamamoto's blockade of Rangoon.​
There was always one foolish captain around that thought he knew better. IJN Yamashiro's guns proved fairly quickly that the enemy captain was indeed stupid.​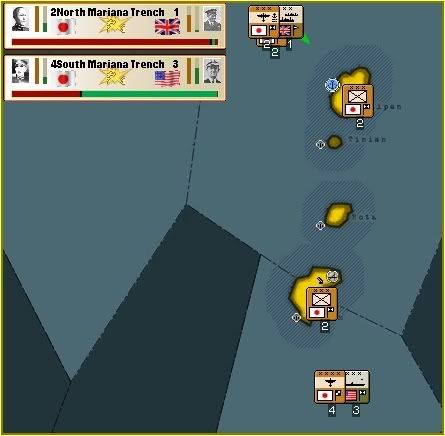 The Marianas had turned into a shooting gallery once more as the Allies tried in vain to break the deadlock. Bombers were split with one group attacking the remains of Fletcher's fleet in the south whilst Ozawa tried to sink the Transport Flotlla in the north.​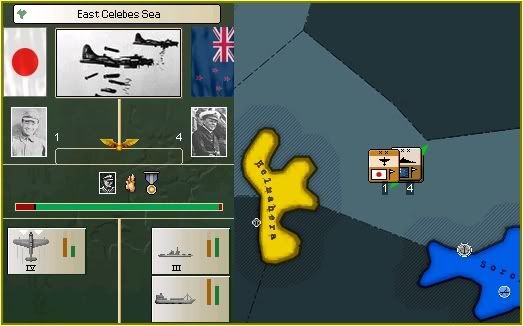 Air patrols had also resumed over the Celebes Sea with the first new contact showing three Transport Flotillas heading towards Indonesia. Wherever they were going they might want to find a better escort than one Light Cruiser.​
0000 January 5th 1945.
North China Army Headquarters. Jinghong, China.
Higashikuni's main advance into northern Burma from the east had run into a defensive division which drained the organisation of the troops more than he would have liked.​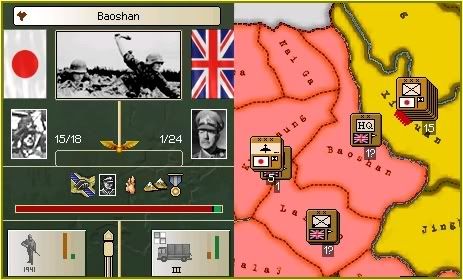 The Dive bombers were currently harassing a headquarters division in northern Burma and would not be able to assist for several hours. Even this one badly damaged headquarters division proved hard to dislodge until the bombers arrived.​
1400 January 5th 1945.
BB Division 1 Flagship. IJN Yamashiro, Gulf of Martapan.
The British tried to succeed with five flotillas where one had failed miserably. As always BB Division 1 was waiting.​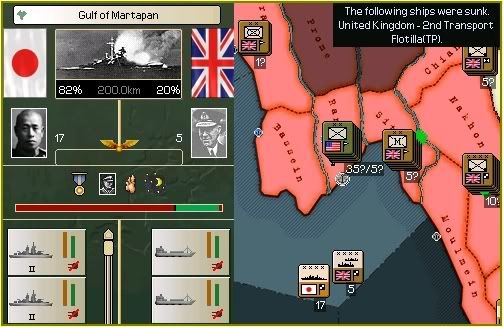 Only four made it back to harbour after the IJN Yamashiro sank the 2nd Transport Flotilla.​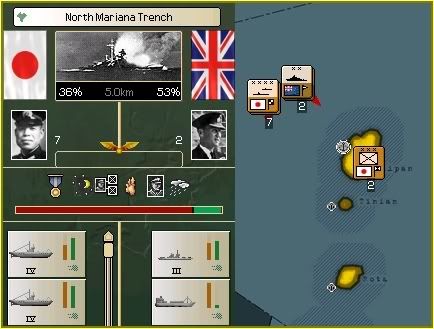 Another attempt was also being made in the North Mariana Trench. The single Light Cruiser provided adequate protection against the seemingly toothless Japanese Submarines but it would still be forced to leave the area. Three more Submarine Flotillas had been sent south from northern Japan to provide some cover for Guam, and they had assisted during this latest engagment as they transitted through the area.​
Carrier Group C had stumbled upon what was a fairly busy shipping lane for the moment as they encountered another small British fleet. IJN Zuikaku would account for the Light Cruiser HMS Sirius while IJN Hiyo sank the 25th Submarine Flotilla. Japanese Carriers seemed to be just about the ships that could seriously damage enemy Submarines.​