0200 July 21st 1949.
Africa Army Headquarters. Abadan, Persia.
Higashikuni's Army was making slow but steady progress across most of Africa but there were some problem areas where French troops were growing in number.​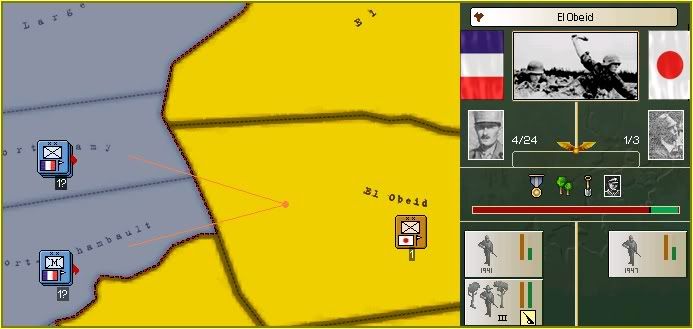 Central Africa had altered enough to give the enemy numerical superiority which led to an attack on El Obeid province which left the Africa Army Commander with no option but to order a withdraw. Itabana was currently flying in the south to cover Japanese advances in the area but he would have to move north fairly soon or the situation could deteriorate further in the center.​
0200 July 21st 1949.
Central Asia Army Headquarters. Sevastopol, Soviet Union.
The switch in attack direction by Hata at the beginning of the month was beginning to pay big dividends as his forces began to grow in numbers in the center where the Allied line had crumbled.​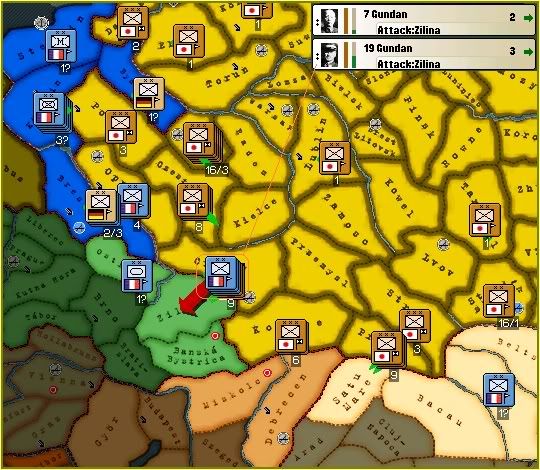 The capture of Cracow allowed six Infantry divisions to begin to move over the Czech border with more Japanese forces coming up behind them to cover their advance. Several Allied Balkan states were in very real danger of becoming part of the Japanese Empire unless the Allied Commanders could perform some miracles.​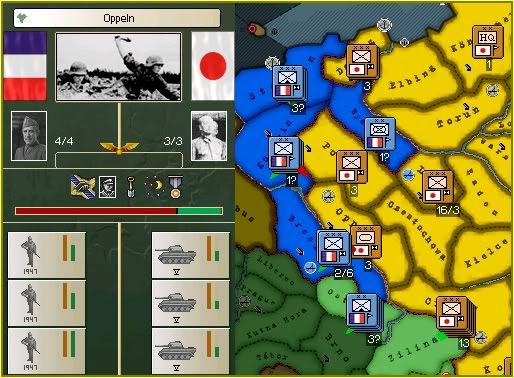 The northern flank was tested regularly as the Allies had sufficient forces to counter attack. Hoshinato's Armoured corps received orders to withdraw after it came under attack by numerically superior Allied forces in Oppeln. In general the Allies were more content to move troops south to try and cover the growing hole in their lines which left Hata feeling confident of holding along the north of his line in the long run.​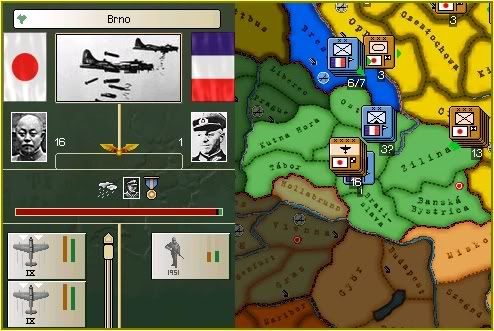 Nakajima was concentrating his attacks in the center to make sure that the hole in the line in Czechoslovakia remained open for advancing Japanese forces.​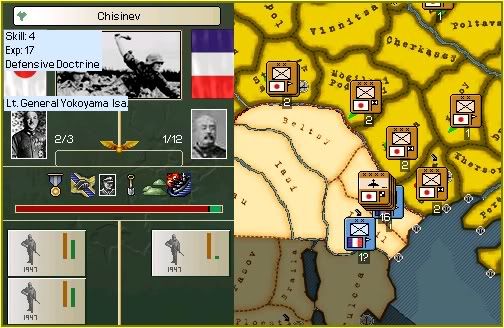 On the southern flank Shimoyama lent his support to Yokoyama Isa as he led an assault into Chisinev. The Allied southern line had collapsed much like the center which was now allowing a similar advance in this area against very limited opposition.​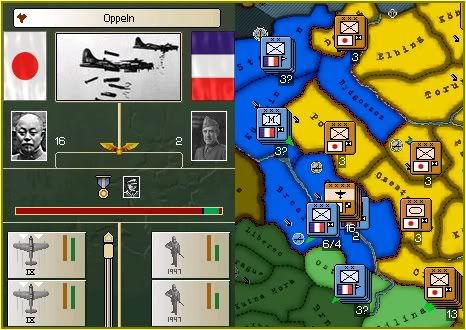 Nakajima was not only tasked with keeping the center open but also with making certain that the Allies did not break through the northern defences. His bombers had already destroyed an enemy Mechanised division further north as they switched their target to Oppeln following the arrival of Allied troops in the province. The Allies could advance into Hata's defences in two provinces now and he was happy for them to do so. Neither province had usable air defences to prevent bombing attacks after Oppeln's anti-aircraft guns had been over run during the switching of control of the province.​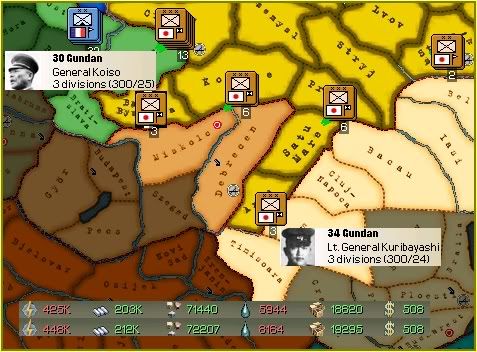 At 1600 hours on July 24th Hata received word from General Koiso who had captured the Czech capital of Banuka Bystrica. Amongst the resources liberated was a very valuable two thousand tonnes of Oil. Lt. General Kuribayashi had also advanced deep into Romania and captured Arad without any sign of enemy presence.​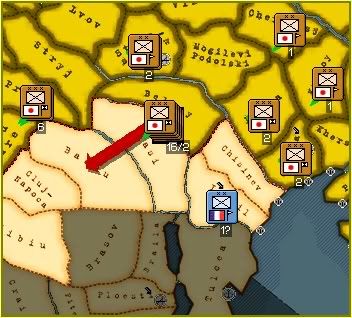 Beltsy was occupied by advancing Japanese troops on July 25th as only one enemy division remained visible to defend Romanian territory.​
0600 July 26th 1949.
The Skies Above the Mediterranean Sea.
Obata had very few ground targets in northern Africa which led to frequent anti-shipping patrols around the Mediterranean in search of Allied merchant and military ships. Unfortunately the Allies had grown angry enough at the raids to respond.​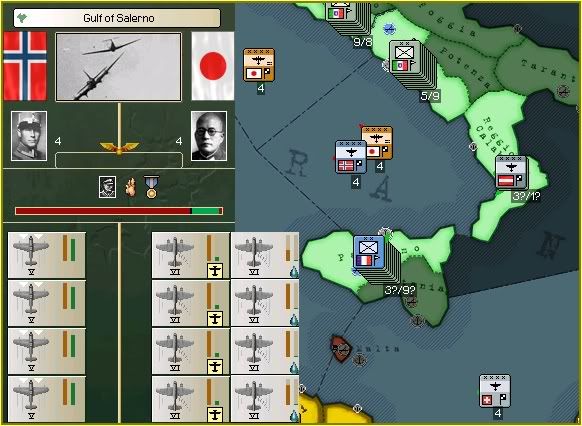 Obata's bombers could hold their own against a lot of enemy aircraft as they were very experienced but they found themselves in trouble over the Gulf of Salerno as they patrolled the Italian coast. Two hours later Obata withdrew back to his base but he had sustained enough losses to keep his own air wing grounded for some time. The other half of his air group also found itself restricted to ground support roles only as a Swiss Interceptor wing was also flying air cover over the Mediterranean to support the Norwegian wing that had attacked Obata.​
0600 July 26th 1949.
Central Asia Army Headquarters. Sevastopol, Soviet Union.
Good news continued to arrive at the Central Asia Army's Headquarters as more advances were reported in Europe.​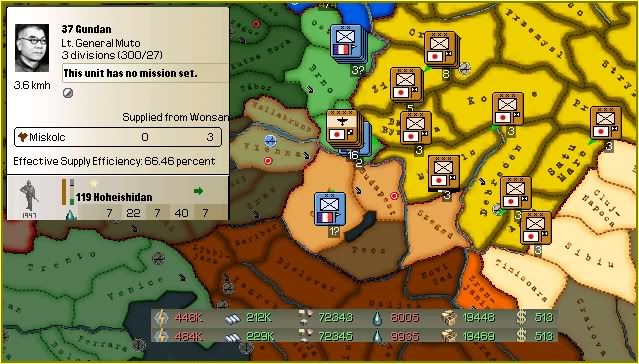 Another two thousand tonnes of Oil found their way back to Japan after Lt. General Muto captured the Hungarian capital of Miskolc. Debrecen had also fallen which provided a front line air base for Japanese bombers and interceptors which could easily cover all of Yugoslavia. There was still no sign of any response from either the Italian or Yugoslav Armies to the recent Japanese advances.​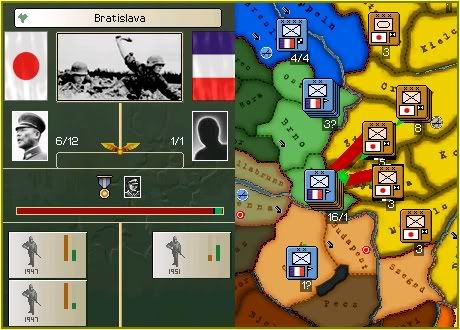 General Koiso was leading the spearhead of the Japanese advance into the Balkans and his target was Vienna. This meant going through Bratislava as it was the most direct route of march. Support from Nakajima made the task of overcoming the defences an easy one with only minimal time lost to gather enough forces to continue the advance.​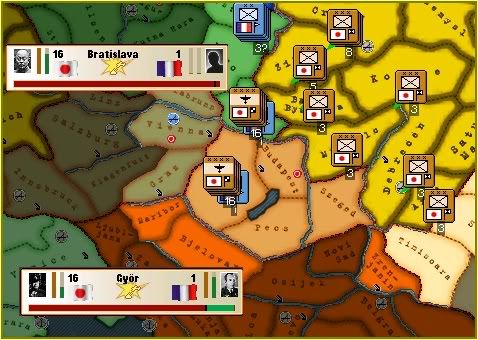 Any hope of a quick response from the Allies to block the Japanese advance towards Austria evaporated at 1500 hours on July 26th as Shimoyama moved his bomber group to Debrecen to support the advance after he had cleared Romania of enemy forces.​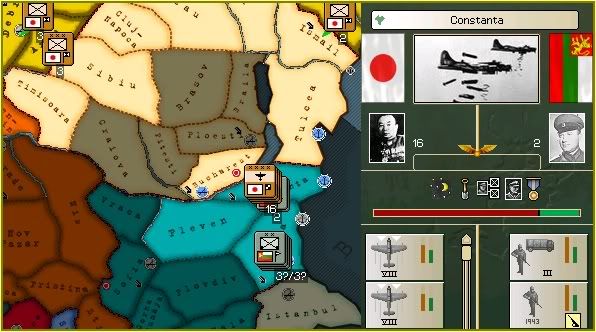 He conducted an over flight of Romania on the 27th which showed a complete lack of enemy troops anywhere in the Country. He ended up bombing Bulgarian forces in Constanta which also provided Hata with good intelligence on the disposition of Bulgarian troops along the border. No further attacks would be ordered against Constanta as it was bristling with anti-aircraft guns and the troops were heavily entrenched.​
Having arrived in Bratislava Koiso received new orders to move directly on to the Austrian capital of Vienna which was undefended. Most of the Austrian army had been destroyed in the early fighting along the Western Front and very few new divisions had been raised. Other Japanese troops were marching through Hungary to secure both Pecs and Budapest which would allow for the annexation of the Country.​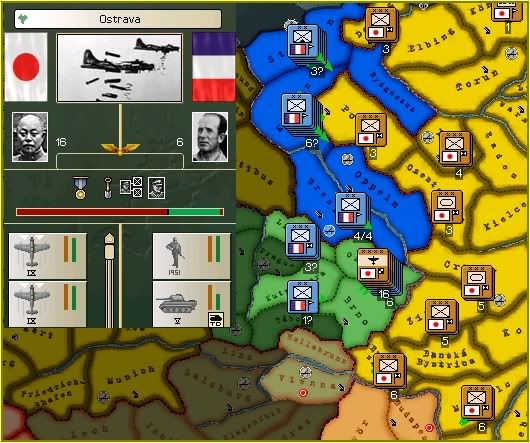 Hata still had some concerns. There was a noticable build up of Allied forces along the northern part of the front which could cause him some trouble if the threat could not be neutralised. Hata was confident that his bombers could contain these forces however. His two more major worries were the enemy Armies from Yugoslavia and Italy which were refusing to be drawn at this time.​
At 1000 hours on July 29th Budapest was captured placing more resources in the Japanese reserves. Much more important information was relayed to Hata after Shimoyama had been sent on a reconnasiance mission over Yugoslavia. The Yugoslav Commanders appeared to be more concerned with the potential threat from Bulgaria than Japan.​
0800 July 29th 1949.
Africa Army Headquarters. Abadan, Persia.
The time taken to march from one province to the next in Africa nearly always left Higashikuni's troops exhausted when they arrived at their destinations. This made them vunerable to immediate counter attack.​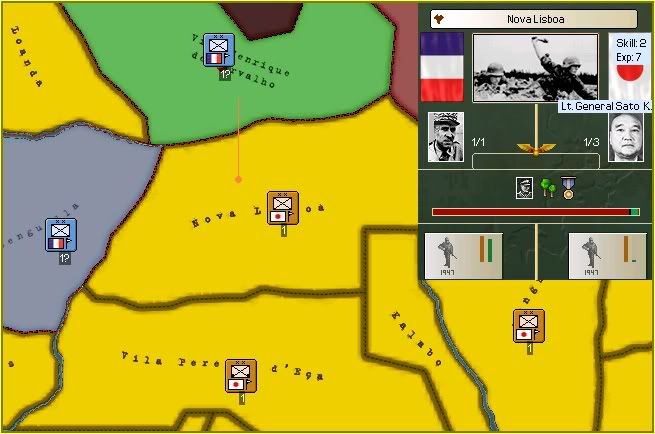 Lt. General Sato's month long march into Nova Lisboa had left his force too tired to resist any counter attack which resulted in an immediate withdraw towards Kalubo. Sato would have to try again to advance after he had marched all the way back to where he had started from.​