Update (December 1st 1946)
​
0000 December 1st 1946.
Imperial Palace. Tokyo, Japan.
"Good morning your Majesty, Gentlemen. We will get straight down to business with the Intelligence report first this month." Hideki began.

"Your Majesty, Gentlemen, good morning." began Kuniaki. "Reports are as inaccurate as ever in some cases but fairly good in some areas."​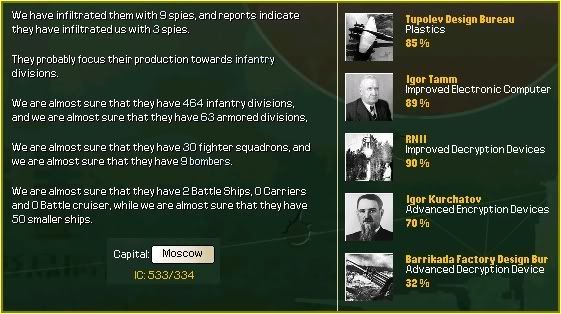 "The Soviet Union has increased its number of factories by one and has made no research advances. You will note that they are currently researching very heavily into cryptology.

Their ground forces show a loss of sixteen Infantry divisions and a gain of two Armoured. Losses have increased due to the Red Army's advance into our Close Air Support bomber range.

Airforce and Navy numbers remain more or less unchanged with a large Fighter force indicated but it has yet to have any impact."​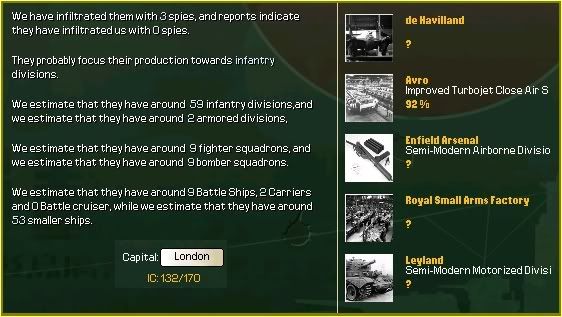 "British factory numbers show a decrease of two due to losses they sustained in India and the normal problems with resources are still present. They completed three unknown research projects and look to be completing two more shortly.

My operatives report a loss of thirty seven Infantry divisions which is completely wrong of course. They may have lost two or three but no more. Redeployments and the possible return of some forces to their native Countries could be a cause of the imbalance with the numbers. They also lost two Carriers and sixteen smaller ships which is similarly nowhere close to being correct. They did not lose any ships at all."​
"Moving on to the United States. No change to industrial output and research was completed for improved Airborne and Marine troops, the latter of which could cause us some problems in the Pacific at some point.

A small increase to both Infantry and Armour numbers is shown and is accurate as I have a large number of operatives overseeing the American's production. Two new Carriers were added to their fleet and we sent one to the bottom of the Pacific which means a net gain of one. Two smaller ships were also added."​
"Our own research went very well with three projects completing during November. I expect at least one to also finish in December which will increase the speed in which we build ships. We might possibly also conclude the research into another improved version of Dive bomber but probably not. Nothing further." Kuniaki concluded.

"Production please."

"Good morning your Majesty, Gentlemen. Nothing much has altered over the last month with shortages remaining in some areas." Ginjiro began.​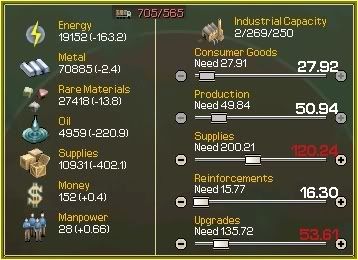 "Transport Capacity has improved fairly markedly with the previous month showing a deficit of two hundred and eight. The research into better logistics and the loss of small amounts of high partisan territory to the Red Army has reduced this to one hundred and forty with a net gain of sixty eight or roughly one third. Our forces are better supplied as a result.

Our Industrial Capacity has decreased by three due to losses in Asia which were not completely offset by gains in India. Current production includes two Aircraft Carriers, two Battlecruisers, two Light Carriers and four Fighter Escorts all of which are continous for the time being.

Stockpiles of raw materials continue their decline at various rates with Energy being the fastest falling. Oil is actually positive on an average daily basis with the large negative here due to a slight convoy mix up that caused the oil shipped to Asia to return to Japan. We have sufficient stocks of both Metal and Rare Materials for the small losses to be almost irrelevant. Supplies have increased by over 3000 tonnes during November with Oil increasing by 900 tonnes. A quiet Winter should see us able to build a large surplus of Supplies in particular so long as Minister Mamoru does not require them to trade away for Energy.

Manpower has increased by a total of three thousand giving us twenty eight thousand reserves. The need to disband other troops has not arisen so far and it may remain that way with Winter having arrived in most of northern Asia.

Reinforcement needs are slowly reducing as ships complete repairs but some are still months away from being fully seaworthy. Upgrades are ongoing with no Interceptor squadrons currently fully upgraded. A large number are closing in on that goal however, but months are still required to complete this project. Done." concluded Ginjiro.​