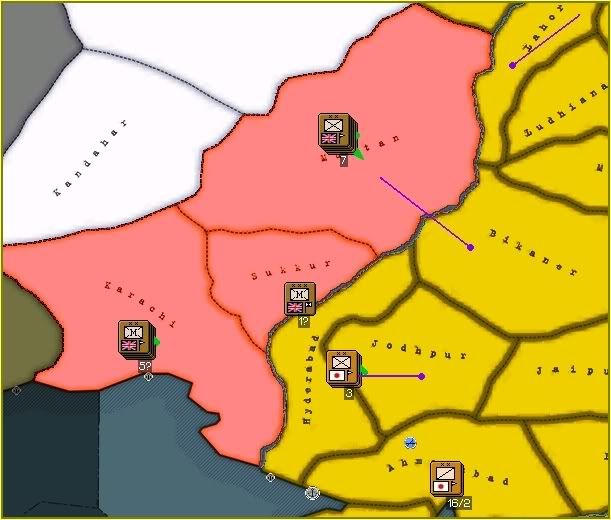 "As you can see we are currently withdrawing to a more stable defensive line with one corp moving to Lahore in the north from Sinkiang which will halt the current British advance on that province. Our forces are only two days away and will easily reach the province first. Our withdraw has made the enemy leave theirs trenches which has in turn allowed our bombers some targets which they will pursue for the next few weeks. Unfortunately the aircraft assigned here will need to remain as it is fair to assume that the Red Army will also visit India from the north. We expect to counter attack against the Allies as soon as our forces recover from their latest moves."​
"The center has pulled back the furthest and lost more territory as a consequence. We are now close to our originally planned defensive line with the forces as shown. The Red Army has made no major move against any of these forces so far as they march through the hostile terrain."​
"This brings us to Manchuria which remains the most contested area of operations. Our forces are still outnumbered by a significant margin which resulted in the loss of Harbin and Ulan Hot. Our new line of defence, which will complete once the troops that are moving back from Ulan Hot arrive in Chifeng province, allows for a very flexible counter attack position where we can envelop any Red Army forces moving into either Ulan Hot or Xinjing. Our Dive bombers in Dalian can also reach both provinces. Our other Dive bomber force is still waiting for Soviet forces to get into its range which they are in no hurry to accomplish. Once both of these bomber wings are fully engaged the enemy casualties should increase considerably.

Headquarters divisions are also indicated by the orange squares and there are currently four in this small area providing ample coverage for our forces. The most vunerable point in our lines would appear to be in the east where Soviet troops have been seen heading towards Vladivostok in large numbers. We have room to manouver in this area and can easily pull back into the mountains of North Korea if needed. Should this happen it is likely that the Tactical bombers operating over Sinkiang and Mongolia will switch to bomb this area as they can operate directly from the Japanese mainland if needed. We expect the entire region to be snow covered as the month draws to a close which should halt most offensive action. Over to Minister Osami for a Naval briefing." concluded Satoru.

"Thank you Minister Satoru. Good morning your Majesty, Gentlemen." Osami began. "All losses for the last month were American and I will cover those first."​

"Nothing major but they did lose a fair amount of the Submarine Divisions in Samoa as well as the remains of Admiral Spragues fleet. The Naval bombers operating from Fiji will be moving to Pearl Harbour as a result of the major port strike conducted yesterday by the United States Carrier fleet. This fleet contains almost all of their known Carriers and is a large threat to any of our ships. I request that we withdraw both Carrier Groups to Japan until such time as they can compete on more equal terms or the enemy Carrier strength reduces due to our Naval bombers efforts."

"Request granted but try not to get them sunk on the way home." stated the Emperor.

"Thank you your Majesty. We will allow the bombers to conduct a patrol before the fleets leave Pearl Harbour. BB Division 1 has moved to the Indian Ocean to try and prevent further landings against Colombo and to try and interdict enemy reinforcements heading to India through the Red Sea. Our Submarine picket forces have encountered nothing trying to move passed them at all and our Heavy Cruiser fleets have also not seen much of interest for the most part.

Repairs continue to our damaged ships and will increase as a result of the damage sustained by our Carriers. Manpower wise these are fairly insignificant but they do add to the total and take a long time to repair. I have nothing else to report but Minister Jun has a request I believe." concluded Osami.

"Indeed I do, thank you Minister Osami. I would like some more Tactical bombers and Escort Fighters for both them and our current squadrons." asked Minister Jun.

"Why and how many?" asked Hirohito.

"They are duel purpose your Majesty and can be used to assist in the Pacific and Asia. We are a little short on longer ranged bombers and we do need more to cover such a large area. Another sixteen should be more than enough." answered Jun.

"You wish to double our Tactical bomber force then. Minister Ginjiro do we have the manpower and production to handle such a request?"

"Maybe if we restrict the builds to serials of four your Majesty but manpower is very tight right now. It will take almost a year for the bombers and probably longer for the escorts which would spread the manpower requirements over a longer time and allow me to continue at least some upgrades but at a much reduced rate." replied Ginjiro.

"You are planning to research a newer Tactical bomber variant shortly are you not Minister Kuniaki?"

"Yes your Majesty but that research probably won't complete until the New Year." Kuniaki replied.

"No plans for escort research though?"

"No your Majesty."

"Your request for Escort Fighters is granted now, in serials of four, and your Tactical bombers will be granted once research concludes into the new model if the resources can be spared." the Emperor decided.

"Thank you your Majesty." replied Jun.

"I believe your last today Minster Ginjiro." said Hideki.

"I think so yes." replied Ginjiro. "Good morning your majesty, Gentlemen. Our Industry continues to run at full capacity with no critical shortfalls in materials yet."​
"Our Industrial Capacity is two complexes lower than last month due to a concerted bombing campaign over northern India. The damage is not particularly significant and is merely a minor nuisance. Transport Capacity has returned to its more normal number after redeployments completed in early September.

We have shortfalls in four of our resource catagories. Energy and Oil and a concern whereas Metal and Rare materials are nothing to worry much about. We know the reasons for both the problem areas and continue to try and correct these with trade when we can. We still have five months of Energy stockpiled at the current rate of decay. Oil we can obtain through negotiation rather than continuous trade if needed at the expense of Metal or Supplies if we can stabalise that situation.

Supplies are not increasing despite my attempts to do so. The only way I can gain considerable amounts would be to cut back on upgrades and production, neither of which I wish to do for the time being. The added production requirements for Escort Fighters will add to this problem but none of our troops are starving and they can have extra supplies almost on demand.

Manpower has stabalised and is constant for now with not much needed for repairs. More months like September where ground combat losses were fairly small should improve the situation further. I still have some forces I can disband if needed but I hope not to have to do so.

Reinforcements look high but are for ships and aircraft mostly and our entire upgrade cost is down to Interceptor squadrons as the Dive bombers were completed in early September. These upgrades will take several months to complete and will likely be further delayed when we conclude the next Dive bomber research."

"I would like half of my Interceptors ungraded before you move on to the next Dive bomber upgrade as they run out of fuel almost as soon as they take off until they can be completely upgraded." said Jun.

"I can do that if you wish certainly. Unless there are any other requests I think that is all from me." concluded Ginjiro.

"Thank you Gentlemen. I will take your advice and not plan a vacation in Tahiti just yet. Keep up the good work." stated the Emperor as he stood and left the meeting.​