0700 August 23rd 1946.
The Skies Above Chongyin.
Soviet Dive bombers had returned to operations over North Korea and Manchuria and were trying to inflict damage on the defenders of Chongyin province.​
Mj. General Fukui was based in Pyongyang and was scrambled to intercept the enemy aircraft. His turbojet Interceptors could reach the hostile aircraft for once and the Soviet bombers took heavy casualties as a result.

Japan's first generation turbojet Interceptors were proving to be fairly capable if anything got close enough for them to attack. Research was coming close to completion for a much more modern Interceptor which would allow these aircraft longer range and more firepower.

The Soviet airforce was in for a bad day. The interception over Chongyin was merely a starting point for the massive losses they would sustain.​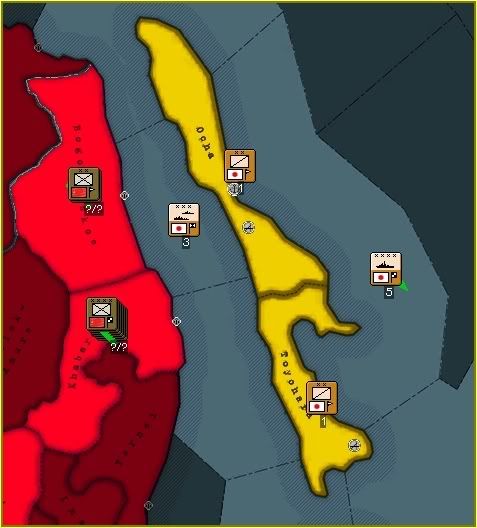 At 1100 hours Japanese Cavalry completed their invasions of both Ocha and Toyohara on Sakhalin Island. An unknown number of squadrons were destroyed on the ground by the Cavalry. Toyohara airbase also saw multiple bomber squadrons return from their attacks over Japan where they would also all be destroyed by Japanese forces. An estimate would be arrived at from tracking of the enemy aircraft. Anything from eight to twelve squadrons were thought to have been completely destroyed and the number could have been much higher.

One thing was certain. Soviet Dive bombers no longer had an airbase in range of mainland Japan.​
2200 August 23rd 1946.
North China Army Headquarters. Lanzhou, China.
The Red Army's push through Mongolia continued to gather momentum as another attack began. HIgashikuni's forces were unable to hold in this area as there were too few troops deployed.​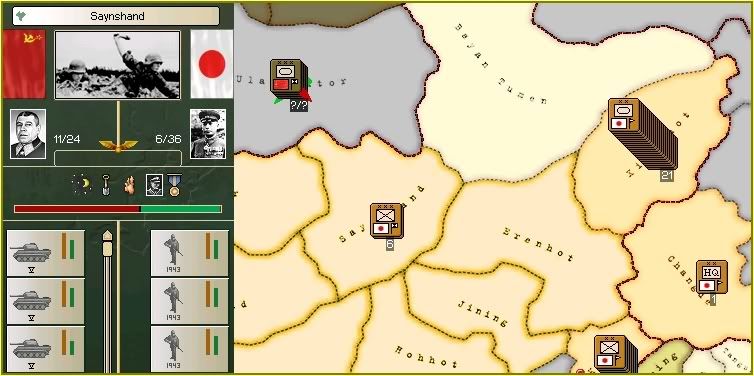 Saynshand province would also be abandoned as six Japanese divisions withdrew towards Jining. Higashikuni was deliberately allowing the Red Army access to Erenhot province as it was an ideal place to counter attack and was also in range of Dive bombers operating from Beiping. Soviet armour would be the primary target as the Red Army advanced into both Bayan Tumen and Erenhot.​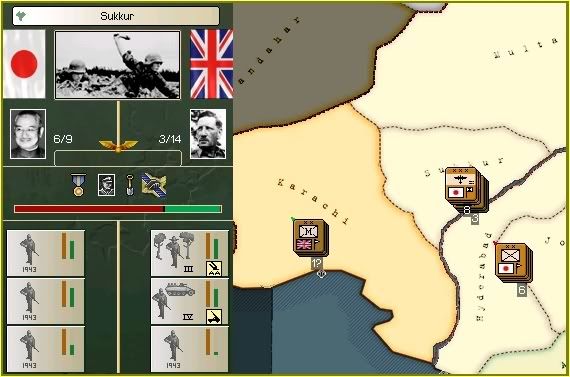 General Abe was ordered to attack Sukkur in India on August 24th with Tactical bomber support. The bombers did not target the Mechanised division which would prove stubborn enough for Abe to call off the assault after a few hours. The bombers would switch targets to Karachi shortly afterwards where enemy troops were providing a moving target.​
0200 August 24th 1946.
Kwantung Army Headquarters. Harbin, Manchukuo.
Terauchi's problems were also growing fairly rapidly. A much larger enemy force had moved into Jilin province and they were heading for the capital of Manchukuo.​
The chances of all seven divisions being destroyed by the bombers before they could arrive in Xinjing was remote. Terauchi would deal with the problem once they did arrive if the bombers could not stop them. The newly arrived Mountain division was forced to withdraw immidiately. Terauchi knew he could probably attack Jilin and force the enemy to retreat but it would mean using a large part of the defensive force in Harbin, which would almost certainly result in losing the province.​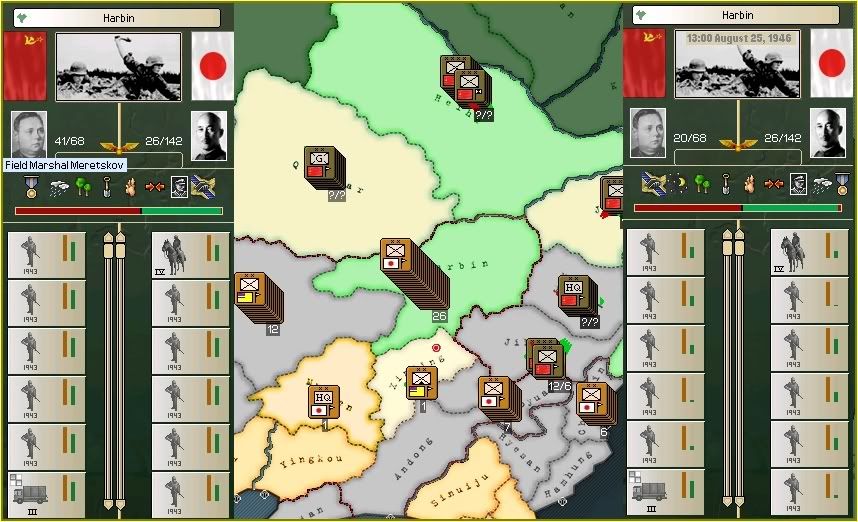 Field Marshal Meretskov proved that point on August 25th. His forty one divisions attacked from multiple directions at 0200 hours leaving Terauchi to hold for eight hours before dusk. Rain would assist the defence during the daylight hours and by 1300 hours the battle began to turn in Japan's favour. Meretskov would be forced to abandon his attack two hours later as his casualties mounted. Terauchi had also suffered more losses than was normal which would result in action being needed back in Japan.​
Ginjiro had already received permission to counter the growing manpower problem and he did not hesitate to act. The Yok Paratroop Brigade stationed in Bandjermasin, Borneo, was the first division to be disbanded as the manpower reserve dropped to only three thousand. Losses in Manchuria and the repairs to both the Imperial Japanese Airforce and Navy were placing a larger strain by the day.​
Last edited: