0000 July 1st 1946.
Imperial Palace. Tokyo, Japan.
"Good morning your Majesty, Gentlemen. We have two months worth of reports to get through today as there was no meeting in June for operational reasons." Hideki began the meeting. "Diplomacy first please."

"Your Majesty, Gentlemen, good morning." began Mamoru. "I have an update on our puppet Nations to show what they are currently up to."​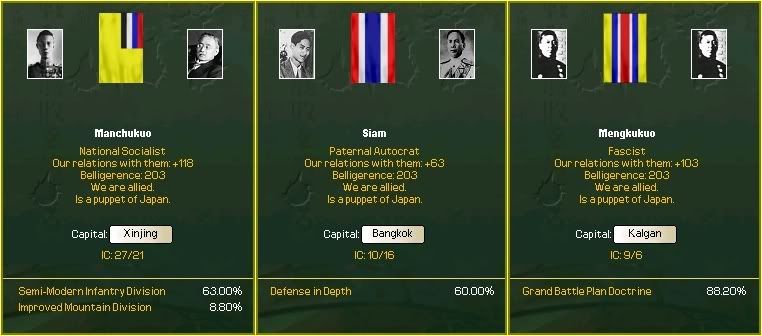 "Manchukuo continues to be our largest puppet in terms of production and contribution. They have a good industrial output and are providing troops to our cause fairly regularly. They are researching a new model of Infantry which will allow us to carry out our own research quicker once they provide us with the blueprints. We have no Mountain troops of our own so that topic is directed towards their own forces.

Siam has an energy shortage which we are not aiding them with as we have our own problems in that department. Mengkukuo has more production than normal because they claimed the former Mongolian territory. Both of these Countries are providing us with a limited amount of ground troops on occasion and they are researching their own Land Doctrines. Nothing more from me." Mamoru concluded.

"Industry next please."

"Your Majesty, Gentlemen, good morning. Our production is largely unchanged with just one new Naval bomber squadron added to the May list. This is to replace a lost squadron." Ginjiro began.​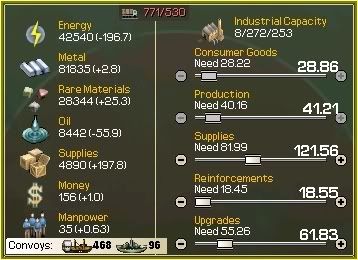 "Transport Capacity is still very much overstretched although not as badly as it has been. We do not anticipate capturing much territory with high partisan activity in the near future so it should remain fairly steady. The Soviets lack of progress in China means that we still have to control the unrest across most of that Country.

Our resource stockpiles are in fairly good condition but we are once again losing a lot of energy on a daily basis. There are very few friendly Countries that we can trade with to obtain even small amounts of this commodity. Oil is also dropping but the Imperial Japanese Navy has concluded most of its operations so should be using less of this for a while. We can obtain more from some Countries by exchanging supplies. Both Rare Materials and Metal are growing and are of no concern. We are a little short on Supplies and I am trying to increase our stockpile to allow for offensive operations which are using large quantities right now to hold the Red Army at bay.

Manpower is my biggest concern and it is dropping quicker than I would like. Should we get involved in a major battle in Asia then we could easily use up most of our reserves. The current reinforcement requirements are for five of our manpower pool, mostly for the Imperial Japanese Navy which sustained some damage in the Pacific.

Our convoy system is handling all overseas supplies with a healthy surplus and we could possibly halt production of new merchant ships soon as we may not need many more for some time. Losses have dropped to zero since our advances into the Pacific and the loss of territory in the Middle East.

Upgrades are exclusively for Interceptor squadrons at this time. We are currently researching a new model of these aircraft which will require another level of upgrade in the next few months but this last upgrade should provide us with a longer ranged and modern Interceptor that can handle enemy bombers a lot easier.

Current production includes three Destroyer Flotillas, two Light Carriers, three Convoy Transports and one Naval bomber squadron. We will need to modernise the entire Imperial Japanese Navy over the next few years but this process also requires research into more modern ship variants. I can begin production of new Aircraft Carriers as we are fairly well advanced in this area but any other ship types are too far behind modern vessels being used by our enemies. With a new model of Close Air Support aircraft almost researched I would like to upgrade these before starting on new builds."

"New Carriers can wait a couple of months, concentrate on upgrades for now." Hirohito stated.

"As you wish your Majesty. That is all from me for today." Ginjiro concluded.

"Intelligence please."

"Good morning your Majesty, Gentlemen." Kuniaki began. "I have managed to add some agents overseas which has made some reports a little more accurate."​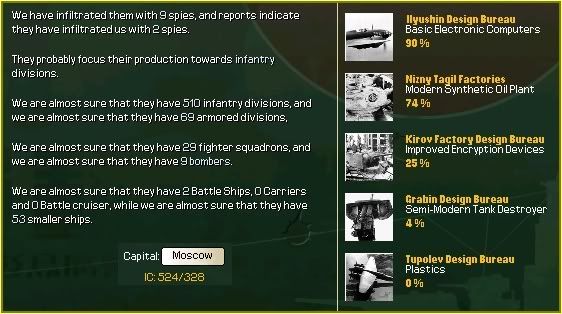 "Soviet industry has increased by one factory complex captured in Manchuria. They have completed three research projects over the last two months. A better Computer as well as improved versions of both Anti-Air Artillery and Anti-Tank Artillery.

Their Army is larger than the numbers shown in May but this is due to redeployments arriving in the east. The current numbers are thought to be fairly accurate and display the total Soviet ground forces all deployed. This indicates the loss of around fifty infantry divisions since they declared War. We do not think that we are facing all of the Red Army quite yet. An estimate would be somewhere between 50 and 70% of their total ground forces on our borders or close to them. The remaining troops may well be walking from the west and could take months to arrive.

Not much change to either their Airforce or Navy."​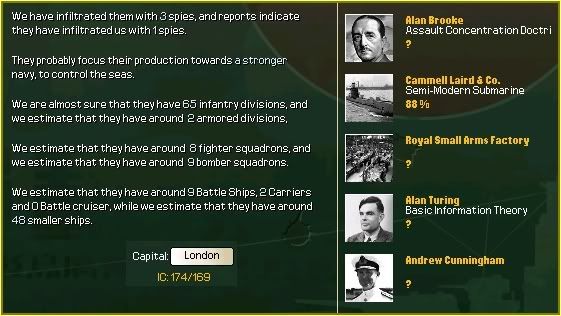 "The United Kingdom seems to be receiving some Rare Materials on a more regular basis from the United States which is allowing its industry to run a little better but it does still suffer shortfalls. I think they completed five new research projects but it may actually only be four depending on what Admiral Cunningham is currently researching.

Their Armed Forces show a slight increase in most areas with the only major question mark being against the supposed increase in Battleships. I do not think they built four new Battleships over the last two months and it is likely to be unchanged. Reports from the United Kingdom are still very inaccurate due to a lack of agents in that Country."​
"United States industry is unchanged. They completed four research projects and have switched to largely Naval research. This could well be in response to our efforts against their fleets. All of their completed projects were for brigades.

They have lost a few Infantry divisions and Fighter squadrons according to the numbers. Our efforts in the Pacific could easily account for these losses. At one stage they had five Aircraft Carriers that we knew about. We sank one and my intelligence indicates they now have eight. It looks like they produced four new Carriers in June which is not a good situation given the problems we had with the four we found around the Hawaiian Islands. On a more positive note we do seem to have reduced their smaller ship numbers which includes Transport Flotillas."​
"No new enemy spies have been destected in Japan. We have also not completed any research projects over the last two months. Close Air Support aircraft should be completed in the next week as we are using German blueprints for this project. Nothing else is likely to be finished in July. Nothing more." concluded Kuniaki.

"On to a Military briefing then. You Gentlemen have been busy."

"A little yes Prime Minister. Good morning your Majesty, Gentlemen." Tanigawa began. "All of our planned operations have concluded successfully. Operation Mystery was the last to be completed as it required the ending of Operation Obsolete to supply the forces required. Hawaii was its objective and we now hold all of that island chain. We have no plans to further our holdings in the Pacific especially now that we know the Americans have more Carriers. A large part of the Imperial Japanese Navy got damaged during operations and we do not wish to engage new enemy fleets unless we have to for the time being.

We continue to hold the Red Army very well in most areas. They are making small gains but in the main we are containing their aggression by using repeated attacks against their forces as they try to muster across the various Fronts. The forces in north western China in particular are not being pressed as hard as thought. A large part of the enemy force that was on this border when War broke out seem to have left for other areas. We have killed quite a few divisions but not enough to account for the numbers currently facing us. I will hand you over to Minster Satoru for a more detailed briefing." Tanigawa concluded.

"Thank you Minster Tanigawa. Good morning your majesty, Gentlemen. I will begin with our current position and thinking for Asia." Satoru began.​
"This map shows the current Front against the Soviet Union. It has not changed much at all since April. Small gains for them in north west China and Manchuria with mengkokuo gaining Mongolia in the center. I will break the Front down a little to show more detail."​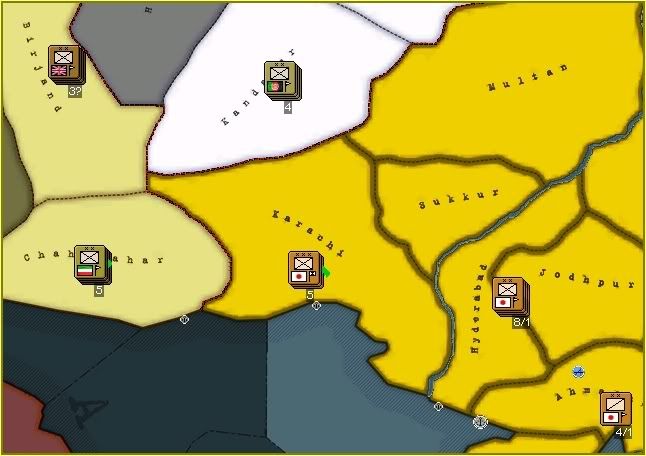 "India has seen an awakening of the British forces in the west. They are slowly advancing on Karachi under constant bombing from our Tactical bombers. We do not anticipate any real problems in this area and the enemy forces are very likely to be totally destroyed before they can advance passed Karachi. We have eight Tactical bomber squadrons operating from Ahmadabhad."​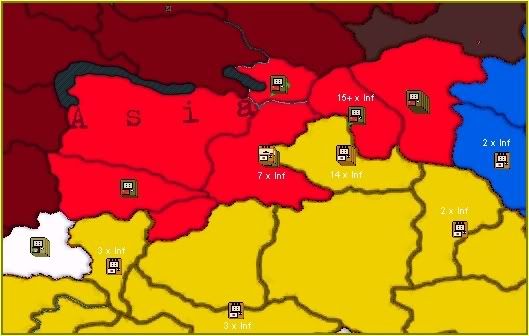 "Sinkiang in north west China is holding up pretty well although I think our forces are still badly outnumbered. Our troop strength is shown as is what we know of the enemy strength. Our main holding point is Urumqi where we have been using the fourteen divisions there to force any enemy troops to retreat that we can. A large force is now occupying Altay to the north of Urumqi which prevents us from attacking there. Should we try to attack elsewhere this force could also counter attack us so we are at a stalemate for now. Our eight Close Air Support squadrons continue to kill enemy formations as and when they can.

We intend to continue to force the enemy back whenever possible particularly in Khobdo in former Mongolia which is the province next to Mengkokuo territory on this map. Should they gain a strong foothold in this province then they could easily overwhelm our light forces to the south and east which would in turn force us to abandon Urumqi to prevent it being isloated. The enemy has made absolutely no attempt to attack in the south and advance into northern India."​