January 1st 1836, Lhasa, Tibet
Tibet, a land which had once been a large regional power in Asia, was now nothing more than a mere shadow of its former glory. It had once stretched as far north as Mongolia and as far south as Bengal, but was now under heavy influence of both China and Britain, and had to struggle to maintain autonomy. But it was in the darkest hour that Kedrup Gyatso ascended to the golden throne and became the 11th Dalai Lama of Tibet. The new Dalai Lama was a man with visions and saw in his dreams a Tibet larger and stronger that it had ever been before.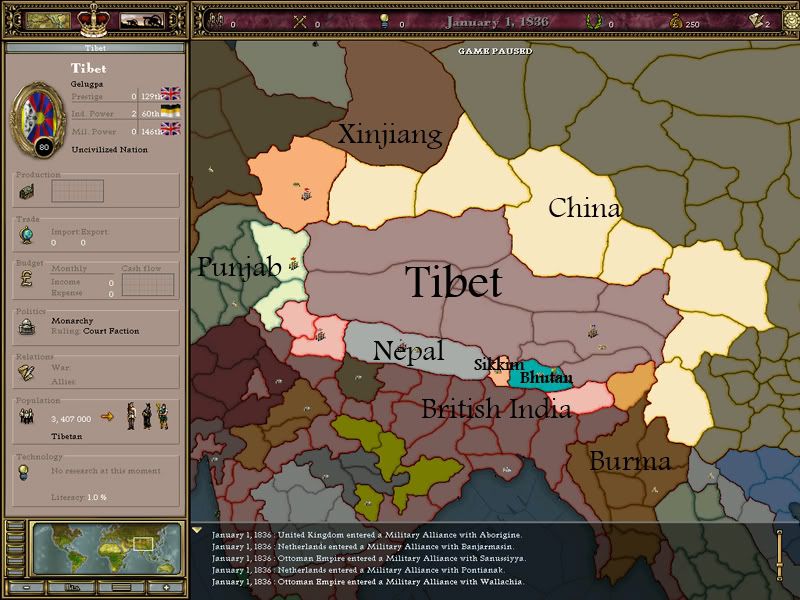 Tibet is a landlocked country, bordering many nations, both strong and weak. China and British India are two of the strongest nations in Asia and Tibet won't have much to stand up against them at the moment. Punjab and Burma are not so strong, but still much stronger than Tibet. Nepal, Sikkim and Bhutan are small and weak nations and possible targets for an expansion if Dalai Lama so wishes. Xinjiang is a satellite of China, and a declaration of war against them will mean a war against China.
Tibet has about 3,400,000 citizens, mostly Tibetan but with a small Chinese minority. However, many Tibetans live under Chinese rule in nearby provinces, and Dalai Lama seeks to free them from their oppression. Only about 1 percent of the population knows how to read and write, and this is a serious problem for further development.

Tibet has no techs researched and with that horrible literacy we will seriously lag behind in the tech race. This is not looking good for the future.

Despite the population being 92.5% liberal, Tibet is being ruled by a conservative party, the Court Faction. Dalai Lama has no intentions of changing this at the moment though, since the Court Faction is a pretty good party and Laissez Faire plus Free Trade would definitely kill our weak economy.

The main source of income in Tibet is yak. In fact, it is our only source of income.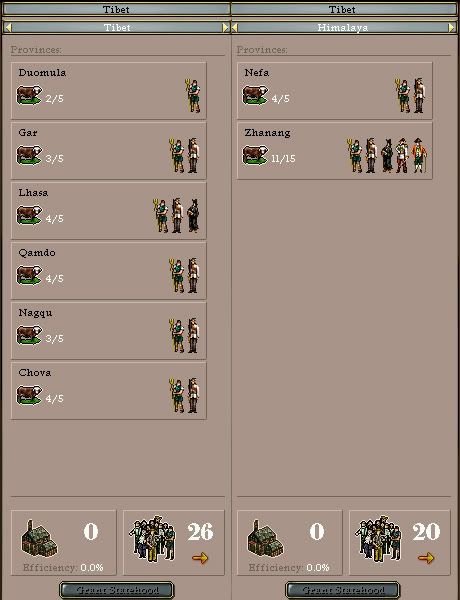 Yak (cattle) is quite valuable and we would have been far worse off economically if our provinces were producing something worthless like grain or cotton.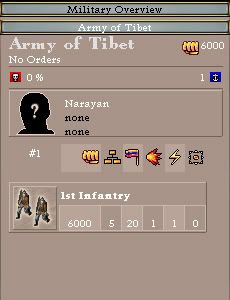 This is the Army of Tibet. It consists of a single irregular native unit at 60% strength, under command of an unknown general named Naryan. This unit would probably die of attrition before conquering any province and even less likely win any battle. If Tibet is going to be able to expand at all, it needs a reformed army.
Next chapter: When things finally happen (sort of).