King Girdenis II
Saulė

(the Sun) – the goddess of life and fertility, warmth and health. Saulė was kidnapped and held in a tower by powerful king and rescued by the zodiac using a giant sledgehammer. Saulė and Mėnuo (the Moon) are ex-wife and husband. She has daughters Žemyna (Earth), Aušrinė (Morning Star/Venus), Vakarinė (Evening Star), Indraja (Jupiter), Vaivora (Mercury), Žiezdrė (Mars) and Sėlija (Saturn). Her brothers are Ryto žara (white horse, the morning glow) and Vakaro žara (black horse, the evening glow). Saulė's feast is celebrated during the summer solstice.


​
Unlike his conqueror father Girdenis I, Girdenis II was very popular charismatic ruler who was renowned for his charity and diligence*. Some say that Girdenis I expansion was made possible because of Girdenis II, who was his father's right hand, was able to consolidate his father's vassals and keep the strongest foreign powers at bay.
Nonetheless, in 1377, Girdenis II conquered the Duchy of Estonia and on the next year following a quick war against the Kingdom of Bulgaria, Lithuania's borders reached the Black Sea.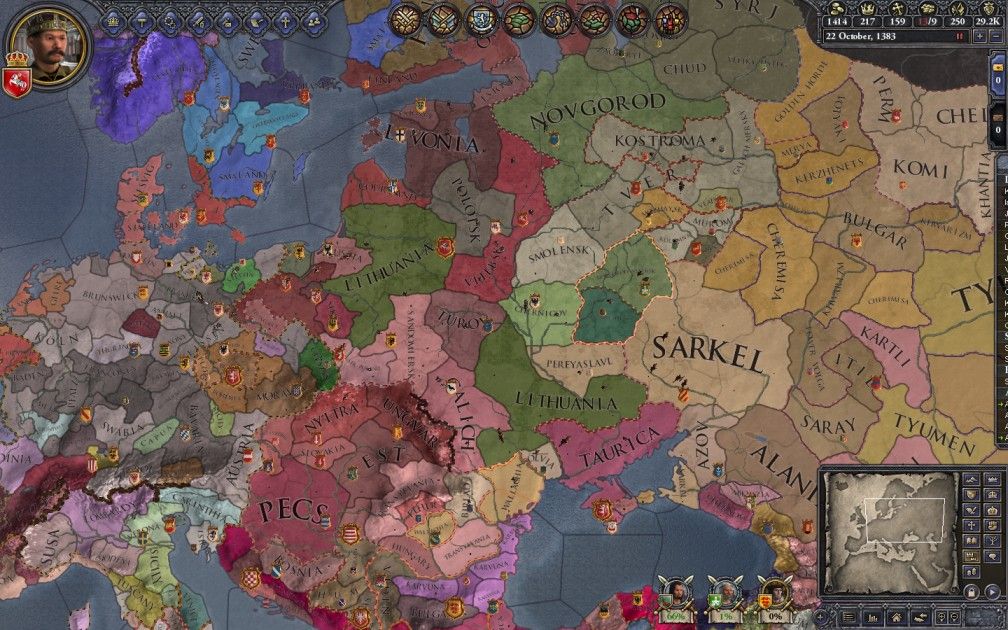 In commemoration of the victory against Bulgarians and gaining access to the Black Sea, Girdenis II organised a Grand Tournament in which Girdenis II proved his melee fighting skills and won it. Two more Gediminaitis won the second and third places.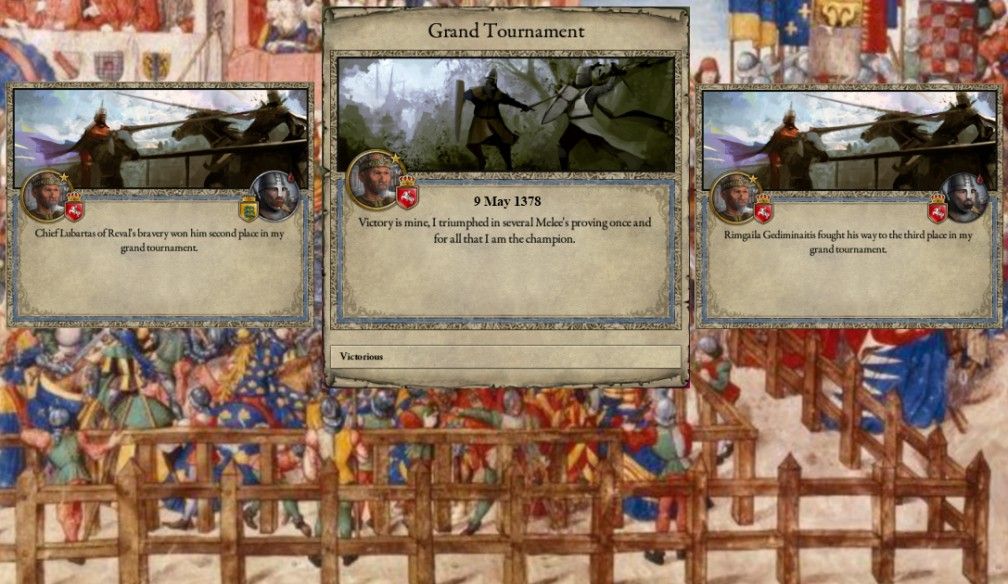 In 1381, Girdenis conquered Pereyaslavl. However, two years later he died on 21 October 1383.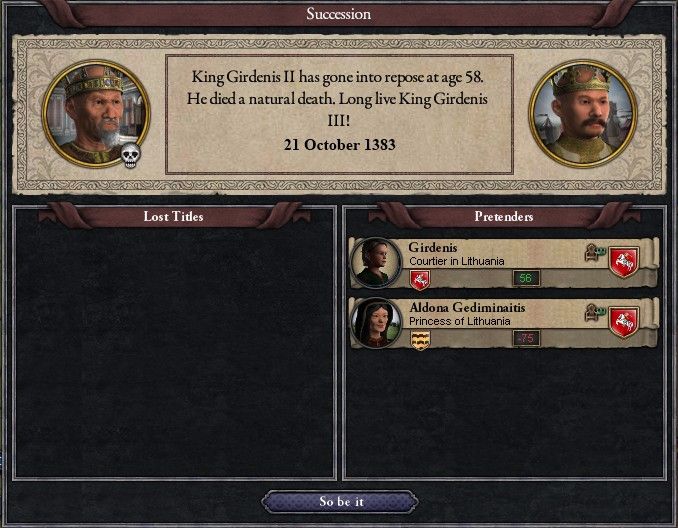 Unlike his farther, Girdenis I, who had 9 children (the last, Gintaras, a child of his second wife, was born after his death), Girdenis II had just two daughters and one son. His daughter Danilla married the heir of Hungary Bruno Gotthardfi Meinhardiner. His son Girdenis married the youngest daughter of the Queen of Hungary, Klementia which forged a strong dynastic relationship with Hungary.
The King of Hungary, Theodorich who revolted against the Byzantium rule was killed in a battle 1373. His two sisters divided his kingdom into Croatia and Hungary. The oldest sister Beatrix got Hungary and the second sister Elizabeth got Croatia.
Due to the HRE emperors (Dietpold II and later Ordulf) help Beatrix defeated Byzantines and rebels, and became independent. Her sister Elizabeth was not so lucky. She was defeated by Empress Thekla and was blinded. Empress Thelka then died in 1383 and her son Akakios became the next Emperor of Byzantium.
As it was mentioned before, Beatrix's the only living son Bruno married Girdenis II daughter Dannila. Bruno was so impressed by his father-in-law that he accepted Girdenis II invitation to his court in Vilnius and renounced Christianity.
In 1375, King Azur III of Anatolia cut his ties with Sweden and created an independent kingdom.
After almost 3 decades of fighting in England between Crusaders and Cathars, Cathars prevailed. Luckily for Cathars the HRE emperors were busy fighting Empress Thekla of Byzantium and then the rebellious Kingdom of Bohemia were not involved therefore in the Crusade.
In 1381, Khagan Timur the Wise invaded and conquered with his horde Khiva.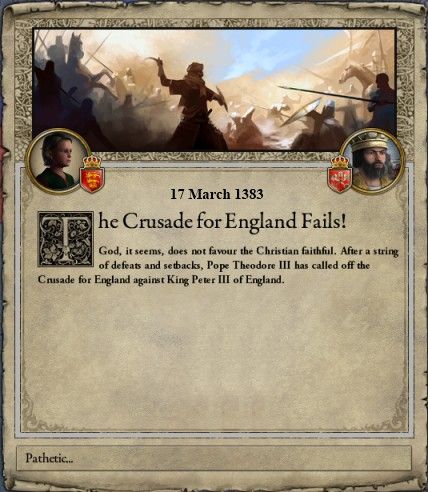 ​
* Girdenis I had Diplomacy 11 but Martial 14, but his son Girdenis II had Diplomacy 29 and Martial 8. It looks like Diplomacy came with Mongolian blood. His grandson Girdenis III had Diplomacy 27 and Martial 6. No surprise, Girdenis II rule was very stable.
Last edited: