Second Lieutenant
43 Badges
NOTE: This AAR using HoI2 1.3 with SMEP.
A. THE QING RESTORATION 1936-1937
I. THE MARCH ON NANJING: DECEMBER 1935
On December 2nd 1935 the Emperor Puyi of Manchukuo requested an urgent meeting with the Japanese government. His wish was granted, and on 3rd December he simply asked whether the Japanese intended to unite Manchukuo and China as a reformed and independent Qing Empire. The Japanese responded by telling Puyi in no uncertain terms that he would never inhabit the Forbidden City again.
Puyi walked out of the conference, and later that day made a radio broadcast ordering the Manchu army to mutiny and march on Nanjing, while abdicating as Emperor of Manchukuo. Roughly 50,000 men, half of the Manchukuo Army, mutinied against the Japanese and joined Puyi. Meanwhile the Japanese appointed Kenkichi Ueda of the Kwantung Army as a more loyal 'Premier' of Manchukuo.
Puyi's army escaped Manchukuo with only minor skirmishes with the Japanese, before battling merely to pass through the Shansi Clique's lands. By 16th December the Emperor's forces, now numbering 60,000 with the support of local pro-monarchy citizens, had passed through Beijing and controlled Yantai.
However all gains in Shanxi were lost as Puyi, who had actually ridden anonymously in the middle of the pack for most of the journey, led his men on Christmas Day into the city of Nanjing, demanding to meet with Chinese Republican dictator Chiang Kai-Shek. Chiang accepted, his army as ever in disarray, with the nearest force large enough to fight the monarchists only to reach Nanjing in a week's time.
On 28th December Chiang and Puyi locked themselves away in a small room for nine hours, stopping only to request water, wine, whisky, vodka, etc. Only at 10pm did they emerge, slightly drunk and holding a scrappy piece of paper in their hands. On the paper was a draft constitution for a reformed Qing Empire, with the new constitutional-monarchist government to form on the 1st of January as an 'Emergency Coalition Cabinet' to last until the Emperor and the majority of the Cabinet voted in favour of its dissolution. Until Beijing fell again into Qing hands, Chengdu in Szechuan would serve as temporary capital.
This was the makeup of the Cabinet that convened on January 1st 1936:
And these were the borders of the Empire as defined by the Constitution: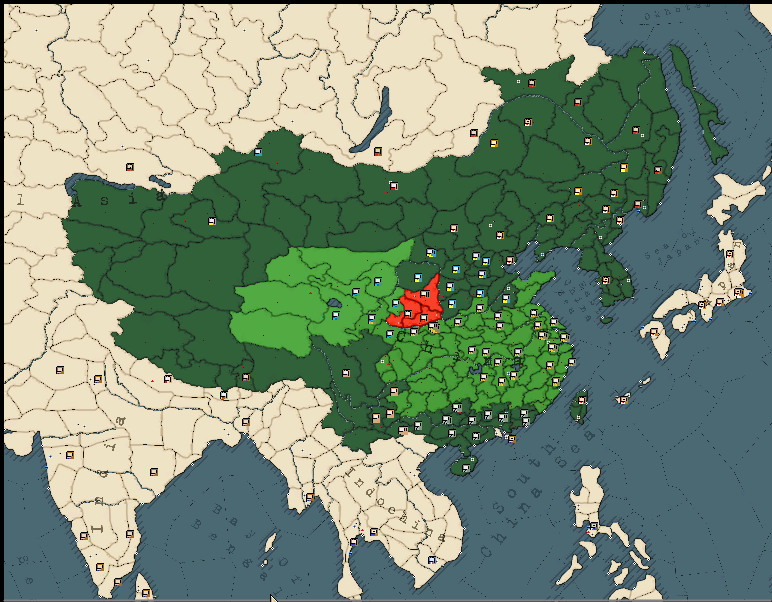 The Qing Empire's Cabinet decided firmly in favour of pursuing a self-strengthening project before engaging in any wars of unification. This would focus primarily on military expansion and exploration of the doctrine of Mobility Focus. The mastery over the Ma Clique was also ended, as a show of pacifism to the warlord states.
Last edited: