Disclaimer: This is my first attempt at an AAR, so it will probably end horribly...
As every other country in Victoria is called by its English name, I shall do that same here.
Played on Victoria 0.3 with VIP 0.3. No particular aim; suggestions welcomed.
-----------------------------------------------------------------------------
It was 1836. Brunswick was a dreary, run-down state full of dreary, run-down people. Only 6 years previously the current Duke, Wilhelm, had forcibly replaced his incompetent brother, only 15 years after the small state had come into being. Most of the ancestral lands of the Braunschweig-Lüneburgs were now under the governance of Hanover, and the country's faith in itself and prestige was non-existent.
Worse still were the rats.
Rats were everywhere. They devored the crops and spread disease amongst the peasants. They got everywhere to such an extent that most of the time the merchants of Brunswick found that they was importing and exporting rats on the world market instead of the goods they intended...
Not least due to this, the economy was in a very poor shape - not only was the country making no money, it was making a negative amount of no money...
The Duke was pondering these problems when there was a quick knock on his door and the minister for health hurried in.
Minister: [breathlessly] Your Highness, I bring news of strange goings-on just across the border, the Hanoverian border, in Hamelin...
The Duke: Well?
Minister: A chap turned up this morning, some piper virtuoso, or magician. They say he killed every rat for miles around in an hour!
The Duke: That's ridiculous. What's the evidence he isn't another travelling fraudster?
Minister: Our informants in Hanover assure me not one rat survives. But he's bankrupted the town for his fee.
The Duke: Hmm [scratching chin], still sounds like an unscrupulous sort to me. But I suppose we ought to speak to him, on the offchance. If there's any remote chance he'll deal with the rats - Lord we need it. Leave no stone unturned!
Minister: Certainly, your Highness! [Leaves]
------------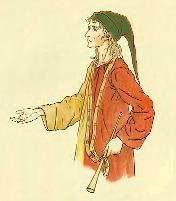 That night, a strange, foreign-looking thin yet sprightly man in a green hat and ragged cloak was ushered into the cabinet room. After discussions lasting several hours, this travelling performer offered an agreement that no sane man would conceive of - to rid the whole Duchy of rats before the next day. Standing up, he spoke quickly but incisively.
"You shall see it done with your eyes; you shall feel it, let there be no doubt. I shall of course want payment for my service, but do not say I do not understand your unfortunate economic difficulties. This is my proposition: I am still a young man, but I can get no younger. I must go out and see the world, play to the world whilst I can! I shall first rid you of your rats, then discover the earth. But I shall return. On the first of January, 1850, I shall return and claim my fee."
"But what is your fee?" asked the chairman of the cabinet.
"That will depend on what you can offer me. But mind it is not too low, or you will feel the consequences. Make your country great and you will have nothing to fear."
With that, the piper walked quickly out of the chamber, out of the palace gates and disappeared into the night.
-------------------
The next morning, Brunswick was in chaos! There was not a living rat in sight! However, every imaginable river, stream and pond was so packed with dead and decaying rats that the country was entirely without water, as if in a drought.
Luckily, the stocks of beer were more than adequate to sustain the nation from thirst.
Various factions proposed various ideas. None of them made any sense. The longer they drank only beer, the less sense they made. Eventually, after a few days, the minister for defence, rather worse for wear, stumbled into the Duke's chambers for an audience.
Minister: Shour Highnesh, I shink I have a sholution to sher water problemsh!
The Duke: Go on, *hic*, minishter
Minishter: We musht ready our armiesh! We musht marshonnnanover *hic!* Thesh water Thesh!
The Duke: Marsonnn... marsonn..nnn.. nannannover *hic* you shay *hic*. Sholly good ideash shouse shave there! At onesh!
The minister stumbled out whilst the Duke was being sick into the blue Ming vase on the chest by his private bureau.
-----
Brunswick's population in 1836:

Soldiers were quickly fitted out with clothes and three divisions of cavalry with Hussars were recruted, and they were ready that October. A drunken diplomat was dispatched to Hanover with a declaration of war. In fact, he was so drunken he managed not only to annoy the Hanoverian court, but also the British, who decided to join them.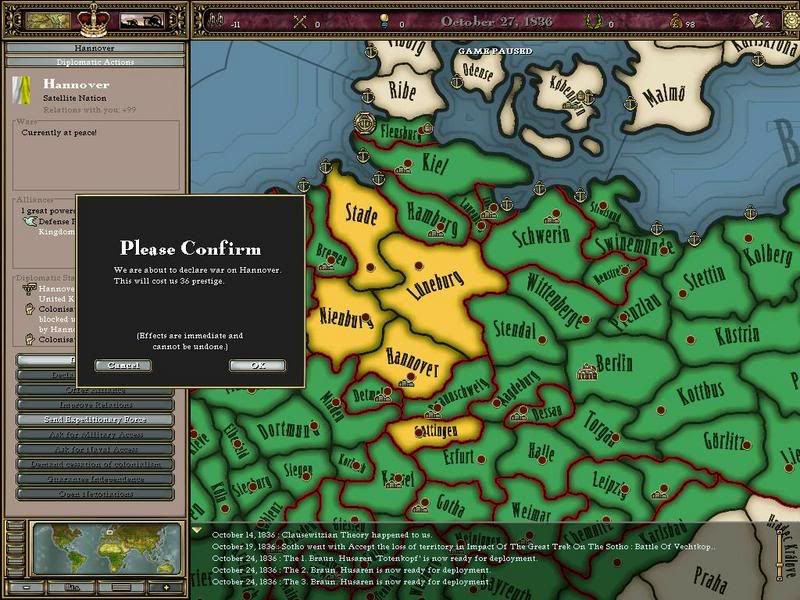 The war was short. The ineriated divisions of Brunswick walked over the place, finding it very poorly defended. There were only a couple of battles, and the British were nowhere to be seen. Eventually, being completely occupied, Hanover accepted peace in return for Satellite status to Brunswick in April the following year.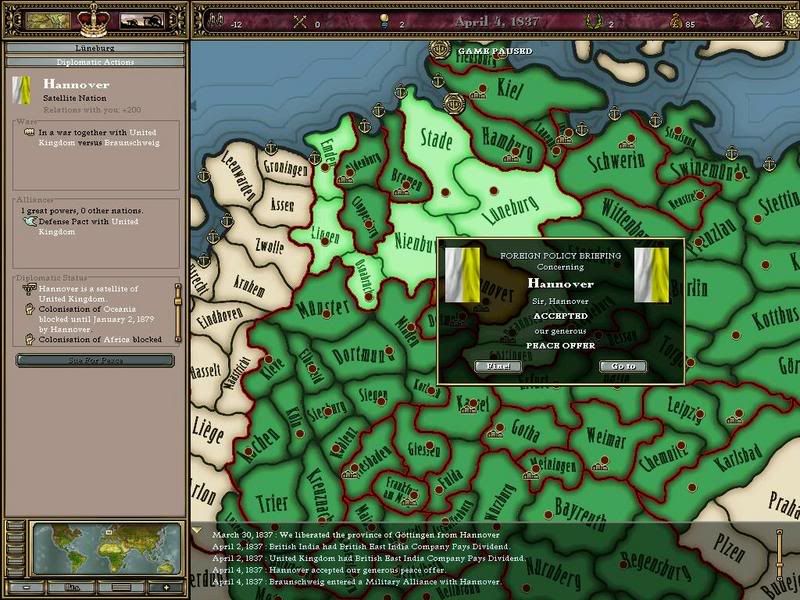 The Duke, a previously shy and retiring man, was suddenly filled with confidence. As he watched his army parade back to the capital he was taken by the beauty of the spectacle. Another 17 divisions were ordered, mobilising the workers in his new hanoverian territories. If it takes wars for an excuse for such a show of grandure, then wars there must be!
Supplies were bought, and populations trained and clothed over the next year. Meanwhile, the economy wasn't looking great. But who cared! At least there were no rats!
--------------------
It was decided to attack Hamburg with a coule of divisons, the others quickly annexing as many other small allied states as honoured their defensive treaties. The war, this time fought sober, lasted about 2 years, and Duke Wilhelm was not disappointed with the result...
... although his banker certainly was.

And thus a year or so of doing nothing much ensued in order to try to balance the economy. And tax the peasants to death, of course.

Meanwhile, the Duke was riffling through his blocking-of-colonisation treaties one afternoon when he was surprised to realise that he didn't have any. Still aware of the need to make more money, he ordered that settlers should build an outpost by the mouth of the congo, in order to eventually access the rich resources there.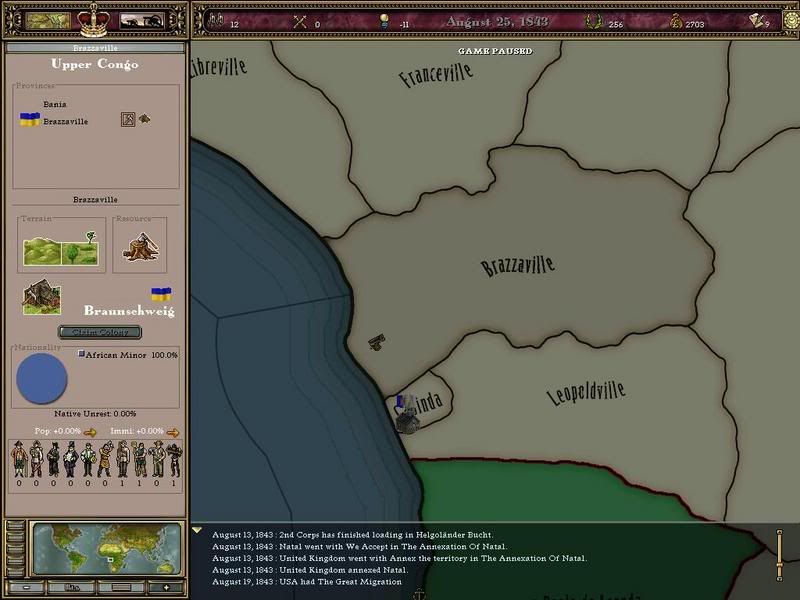 Mindful of the prospect of overseas expansion, five clipper transports - the Duchy's first ever navy - were also commissioned at around the same time.
To be continued...
Last edited: