The Other Big White Blob
A Mombasa AAR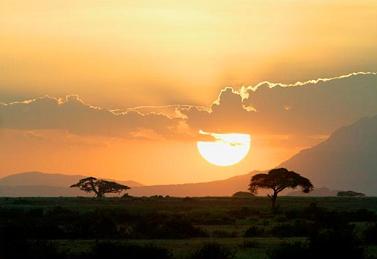 The First Tale: 1419
The Monkey in the Mangrove Tree
​
A long time ago, Best Beloved, among the twisty mangrove trees by the wide Indian Ocean, in the days when it was all criss-crossed from end to end by the swiftest of Arab dhows, there lived a monkey in a mangrove tree. I do not know what kind of monkey he was, Best Beloved, for he might have been a vervet monkey, or a Sykes monkey, or a black and white colobus monkey, but his name was Tumbili, and he lived in a mangrove tree.

Tumbili sat in the sun, and he looked east from his tree, and he saw the waves on the wide Indian Ocean, and the stickly prickly coral reefs and the sandy beach where the little crab Kaa played in the sand. And he looked west and saw the grass-tops rustling in the plains where the fearsome beasts hunted to and fro.

"What do you see, away up there in your mangrove tree?" said Kaa the crab, who was playing in the sand, but was rather bored.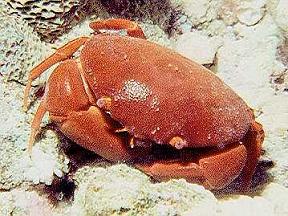 Here is Kaa the Crab playing in the sand, just before he got bored and started talking to Tumbili the Monkey.
He was a very small crab, but he had quite a loud voice, which is why Tumbili could hear him from the top of his tree.​
"I see the waves on the wide Indian Ocean", replied Tumbili, "and the stickly, prickly coral reefs, and I see your esteemed self, Master Kaa, playing in the sand, and I see the grass-tops rustling in the plains where the fearsome beasts go past in search of the zebra and the antelope and the wildebeest and the kildebeest and all manner of tasty prey."

"Oh," said Kaa. "Perhaps your eyes are not very good, then."

"My eyes are the best in all of Africa, and you are certainly not one to talk!" replied Tumbili, somewhat offended. "Why would you say a thing like that, Master Kaa? If I were you I should stick to playing in the sand!"

"Well it so happens," said Kaa, "that only the other day I was talking to Kilwa the baboon, in his mangrove tree, and I asked him the exact same question, but he said he could see a great deal more than what you have just described."

"Is that so?" replied Tumbili, and I don't mind telling you, Best Beloved, that by this time he was getting distinctly offended. "And what was it that Kilwa the baboon could see from his mangrove tree that was so interesting?"

"He told me," replied Kaa the crab, "That when he looked east he could see not just the waves on the wide Indian Ocean, but islands far out beyond the waves, and when he looked west he could see Mamba the crocodile by the banks of the Tana River, and Twiga the giraffe, eating the most succulent leaves from the very tops of the acacia trees, and he could see the smoke rising from a hundred native villages, and finally, he told me, he could see the wondrous tropical snows on the summit of mighty Kilima Njaro. But perhaps he has better eyes than you do."

"It is not that he has better eyes than I do!" shouted Tumbili, who by this time was in a rage, "It is just that he sits at the top of a taller mangrove tree than I do! And it so happens that I am going to pay a visit to that baboon Kilwa, in his high and mighty mangrove tree, and I am going to tell him that I am moving in, and I will sit on the very tippy top branches and I will see all the things that he can see, and much more."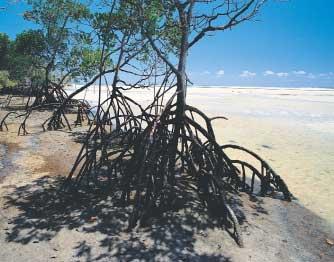 This is a picture of the very mangrove tree where Tumbili was sitting, by the shores of the wide Indian Ocean,
and as you can see, it really wasn't a very tall mangrove tree at all.
Kaa the crab is playing in the sand just out of the picture.​
So Tumbili clambered down from his mangrove tree, and he ran and he ran, and he didn't stop until he reached the place where Kilwa the baboon still sat smiling at the top his tree. And it was true that Kilwa's mangrove tree was very much taller than Tumbili's. When Kilwa saw Tumbili running along the beach he started throwing macadamia nuts down at him, for he was a very rude baboon, and his mother had never taught him any manners whatsoever.

"You get down from that tree this instant!" shouted Tumbili, all in a rage. "I am coming up there to sit at the top of that tree, and I do not want a rude baboon sitting up there with me!"

But Kilwa the baboon only laughed and laughed at Tumbili.

"Well, Tumbili," he said, the tears running down his cheeks, "it so happens that this is my mangrove tree, and I am sitting in it, and I don't want to share it with a very stupid monkey! Go back to your own mangrove tree, Tumbili, before I fall out of my tree with laughing."

But he was only joking about falling out of the tree of course, Best Beloved, for baboons are extremely good at laughing while staying firmly put in their tree. Tumbili jumped up and down in a rage. He knew that Kilwa the baboon was only joking about falling out of his tree, but it had given him and idea.

"If I can make you fall out of that tree," he shouted up at Kilwa, "then the tree is mine - agreed?"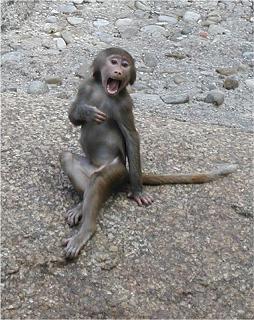 This is Tumbili the monkey sitting at the bottom of Kilwa the baboon's mangrove tree
and he is certainly all in a rage​
"Oh, yes, for sure, for sure!" laughed Kilwa the baboon, "And I'm sure it will make me laugh to see you try, but it will not cause me to fall out!"

So Tumbili ran off to make his preparations, for he was absolutely set on getting rid of Kilwa the baboon from his high and mighty mangrove tree.
Game notes
The nation is, of course, Mombasa in the AGCEEP, and I am playing with the 1.08 patch. For those who are not familiar with this mod, or this obscure corner of Africa, Mombasa in 1419 looks like this: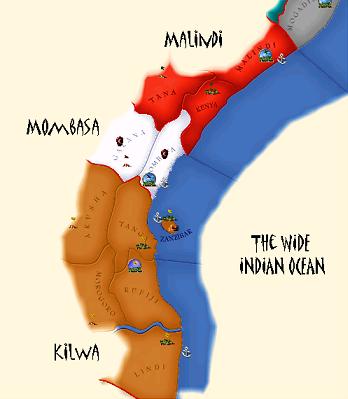 Not the easiest of nations to play, but then again, not (quite) the hardest either... Mombasa has two provinces, Mombasa Province, which contains the capital Mombasa, and Galana which is a level 3 trading post. Mombasa is uncomfortably sandwiched between two more powerful nations, Kilwa to the south, who have a core on Mombasa, and Malindi to the north, who do not. All of these nations and their provinces are Sunni and have Swahili culture. This means that there is room for an ambitious province-hungry player (who, me?) to do some expansion before the Europeans arrive in force. The only trick is to ally with one of the more powerful neighbours against the other. The first couple of experimental starts I made, Malindi quickly got into an alliance with Kilwa - not good news for Mombasa! No prizes for guessing who I ended up in an alliance with, and who I ended up going to war against...
Oh, yes - goals! Well, basically the title sort of sums it up. Aside from basic survival, and becoming quite a bit bigger than a city and a trading post, here are a few of what we'll call "dreams" rather than "goals":
- Take over all of Africa
- Unite all Sunni provinces
- Get more VPs than the usual Big White Blob
- End up #1 in the VP table
As always, however, the main goal is to have a lot of fun playing and even more fun writing it all up!
Last edited: