The Origami Empire
Part 1: Introduction
Good evening, ladies and gentlemen, and welcome to this short lecture, "Reminiscences of a Shogun". First let me - oh, yes
* bows *
Let me introduce myself. My name is Ashikaga Yoshimochi - what's that? Spell it? Using which alphabet? Hmm - never heard of it. Where are you all from anyway?... Never heard of that either... Texas? Is that an inland province of China? Well, I'm terribly sorry but I've never heard of any of these places. Perhaps now would be the moment to reveal the depths of my ignorance and show my first visual aid...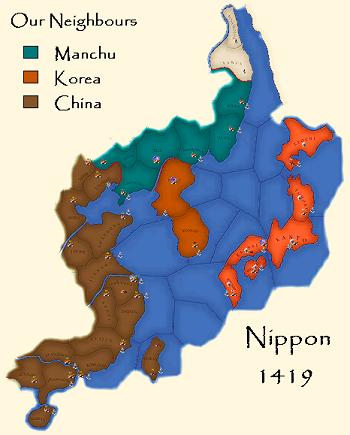 So - hands up anyone who's from Manchu? No-one. China? Korea? Hmm - I see I have my work cut out here. Perhaps these reminiscences aren't going to be quite as short as I thought...

Well, perhaps the best thing is if you have a question, just interrupt... Yes - at the back there... Well, I wouldn't call these "funny clothes" - you're the ones with the funny clothes if you ask me. Anyway, let me take you back to the year 1419. It was the year that His Imperial Majesty Go-Hanazono was born, he who was destined to become Emperor of Nippon at the tender age of nine years old.

Yes, it may sound rather irresponsible to let a nine-year-old run an Empire, but that's because you don't know anything about our Emperors. Basically they don't have to do anything much except sit on a throne in a big palace in Kyoto and get waited on. Pretty boring for a nine-year-old, of course, but harmless enough.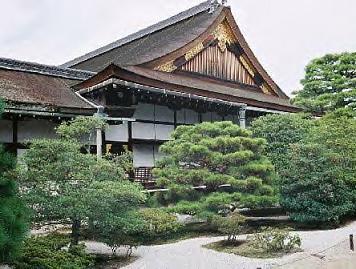 The Imperial Palace in Kyoto
A question - yes... Well I was coming to that. Who really runs the Empire is of course the Shogun, and the Shogun is me, Ashikaga Yoshimochi, or it was in 1419 anyway. So, to continue my tale, the Emperor back then wasn't nine years old, of course. Then we were ruled by His Imperial Majesty Shoko, who was eighteen years old at the time. I was 43 then, so it's as well it was me who was making the important decisions.

I had a number of decisions to make, and I spent many days consulting my advisors behind the closed doors of my private council chamber...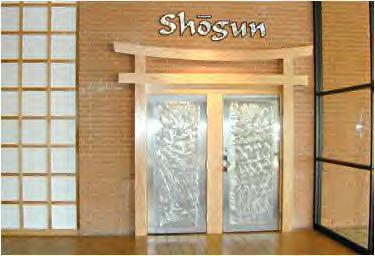 We had no particular friends among our neighbours, nor any enemies for that matter, but all that was sure to change. We knew that the Chinese hated the Manchurians for one thing, so it seemed imperative to choose which side we should be on ourselves. I had my eye on those regions to the north of Manchu, thinking they would make a nice addition to the Empire. Having Manchu as our ally would make that safer, perhaps, but having them as our enemies might enable us also to expand into their territory at the same time.

You'll have noticed that I was something of a warmonger - well our army was certainly large enough. 30,000 samurai infantry and 10,000 mounted samurai knights, with a sizeable navy based in Edo on the eastern coast. Yes - a question... DP slider settings? I'm sorry I haven't the faintest idea... wait - ah, my technical advisor has just gone off to find the relevant visual aid. Thankyou - is this what you wanted?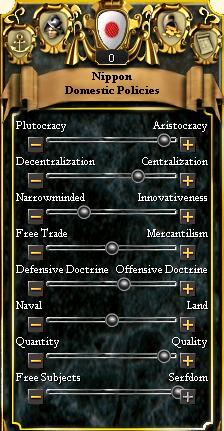 Good, well I'm glad that's settled. Oh, and he tells me we're playing 1.07 at Normal/Normal with the EEP. I see some nods, so obviously you understand even if I don't.

And now, before I begin my tale in earnest, are there any other questions?
Last edited: