Hello all, generally I am beginning this single player AAR (as a new player generally, so forgive my mistakes) as Japan. Why Japan? I tend to enjoy the opportunities that came its way during this period of time.
That and it was the first nation I clicked out when PON was released.
Then I left it to the wayside, relatively untouched in the 1850's.
To spare everyone the long buildup, I decided to wait until Meiji came to power before I would start this... well, that time has come, Meiji has recently became the Emperor of Japan in Late February of 1867. [Followed by me writing this and dropping like a rock in my bed]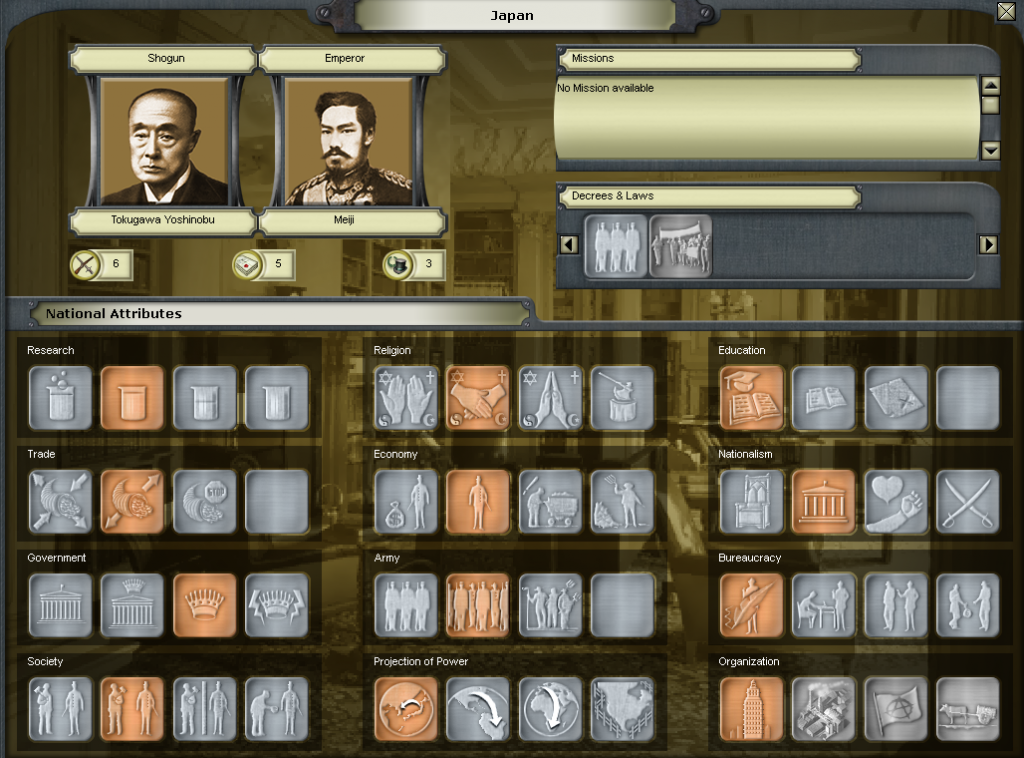 (Future note: Going to make these smaller)
​
This chap shall rule henceforth until 1912, so the story goes, lets make it an interesting one.
Feel free to ask for any screen shot of where I am currently as we go as for now I will just give an overview.
Economy
Initially at the beginning of the game, I lured European Traders into the North Asian Maritime Zone with promises of Rice and Silk, focusing on this I further went to expand such industries until I could no longer expand on the mainland. Some time later, the ability to construct railroads became known and thus after an experiment I learnt that I could import Steel from the traders. [I was a 'Closed' country, and thus assumed importing anything was a silly thing to even try.]
This lead to the construction of the first railroad being placed in Edo (present day Tokyo), in order to improve the Manufactured Goods factory already present, as well as improve the output of the Silk Plantation and Rice farms.
Later, it was to be discovered that the traders LOVED Tobacco, and thus this industry was developed and exported to further the Private funds to use in expansion.
Using excess Private Capital and MfG's lead to the expansion of my trade networks in Europe and the Americas...
Shipbuilding was promoted initially in Yokohama, but spread to Nagasaki and lastly Hiroshima (where private merchant initiatives loved building their merchant fleets)
Eventually this lead to a STRONG export economy where for the longest time the biggest imports was Steel and Coal, initially from America but as the Trade Network expanded, from North Germany (Prussia).
Before the beginning of the 1860's, all of the Japanese provinces had railroads connecting them, even the mountainous regions, initially only Toyama (for the eventually expansion of the Nitrates) and Fukushima (due to the only place that made Steel aside from Craftsmen, the Arms Shop).
With the 60's came the introduction of the Steel furnace, which was built in Sendai to lessen our dependence on imports of Steel from Germany.
As (red) events eventually locked me out of unit building due to low loyalty in the 60's, this lead me to develop the economy a bit more.
It was discovered that Luxury factories are a great business, and easy to export the excess.
Following the economic crash from France (to be done many times), the Civil War, and a war erupting between Great Britain and Austria (due to a crisis from a Diplomat's hurt feelings), the Textile industry was free game.
It was tentative at first, but as the Sepoy Rebellions raged and the Anglo-Austro-Hungarian war stagnated, the Textile industry was slowly expanded to supply a growing demand on the world market.
Following the end of the American Civil War which took the lives of 700,000 Americans, the merchants of Japan decided to invest in 3 Oil fields around San Francisco, 2 of which were seized following the events in '64 where an American Legation was attacked.
Foreign investment was halted in general, until a spree of Private Capital, from the textile trades lead to investment of Tropical Fruits and a Railroad in Okinawa leading to a huge expansion of investment into the American Tobacco , with the building of 5 plantations, and Coal , with the building of 4 coal pits, industries.
Further warm relations with America are likely to ensure this investment stays with Japan.
Overall, I have 38 factories located in Japan, mosst of it concentrated in Edo, Kyoto, Yokohama, Nagasaki and Hiroshima.
Military & Research
I have 1 Guard Corp stationed in Kyoto, and 3 Infantry-H Corps, located in Nagasaki, Edo and Sendai.
I had nothing else to spend my state funds on, so I focused a lot of it on tech research... as such, these soldiers as equipped with Breech Loaded Rifles and Iron Breech-loaded Cannons...
I neglected my Navy, and on the side put a lot of state funds into industries that would further my exports...
v
On a side note, 'Industrialized Silk Farms', to this day, I only have upgraded 3 of, which only caused a minor collapse of silk prices. To this day I have not upgraded any more silk farms lest the price which has normalized should crash again.
If one has a monopoly, milk it.
This was generally off the top of my head, events and general things I remember leading up to Japan in its current state.
If you have any questions on the world, feel free to ask, I am more than happy to oblige.
The missions I once had were to, lead the world in the production of rice and fish. Rice was easy, since it exported so well and thus allowed more Rice farms to be built.
Fish, was left to be preserved or rot... Even after building all the possible Rice farms, and railroading most of the production sites, somewhere was better than Japan.
Fish, I stopped bothering and decided that efforts were better spent elsewhere... that and Fishyards were getting more and more expensive. In an area like Japan where the only flat place is Edo, and the rest is Hills, Wooded Hills and Mountainous... yeah, the costs were getting quite high considering that fish did not export well enough.
Only recently have those fishyards been exporting well. Trend started in '65, with the 3rd World Economic Crisis started by France, although the missions have since long been over.
Last edited: