Best Character Writer of the Week: November 20th, 2007. For the character of King Konstantinos II "The Crazy"
Best Character Writer of the Week: July 14th, 2011. For characters in general.
______________________________________________________________________________________________________
Hello, all.
This is my first AAR. Before we begin, I have to inform you of some things. First off, I am an amateur modder. Really all I've done is created new kingdoms (one of these is the Morea, which my AAR is about, and others you may see as the story progresses). I am not very good at graphics modifications, so I have "recycled" the COAs of others titles for my kingdoms. However, I have tried to avoid using other kingdoms' COAs, and have "recycled" the COAs of counties and Duchies. Sometimes I couldn't find a COA that was perfect, so I used something that I felt fit the title. So don't be surprised by my COAs.
Second, this AAR will begin in the 1066 scenario, with one minor change. I have made Georgios Palaeologus (the Prince of Peloponnesus) King of the Morea from the start.
Now we begin.
The Prologue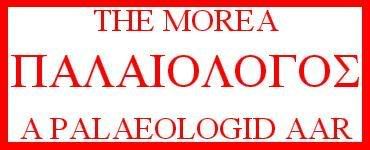 Young Georgios Palaeologus looked out the window of his castle at the beautiful sunrise. This was his first morning as a king. Yestermorn, Christmas Day of 1066, the Roman Emperor, Konstantinos Dukas, had given him the Kingdom of the Morea as a Christmas present. He didn't know why. All he knew was that now he was a king, king over the whole Peloponnesus and Crete. It felt good to be a king. His father in the north would no doubt be proud to hear of this. He was a king. Sixteen years old, and he was a king...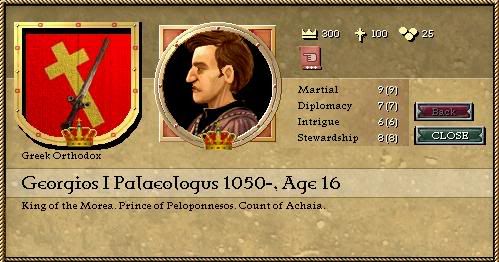 _______________
THE KINGS OF THE MOREA

The Kings are shown in the order listed below.
THE ACHAIAN DYNASTY
Georgios I the Pious
(1066 - 1103)
Athanasios I the Cruel
(1103 - 1122)
Georgios II the Great
(1122 - 1163)
Stephanos I the Lazy
(1163 - 1166)
THE KORINTHIAN DYNASTY
Konstantinos I "Achilles"
(1166 - 1167)
Konstantinos II the Crazy
(1167 - 1169)
THE EUBOIAN DYNASTY
Petros I the Deliverer
(1169 - 1186)
---
Beginning with Georgios III, the story becomes deeper and more complex, and henceforth shall be divided into unoffical "Event Cycles". The links will now connect you to each Event Cycle, as there will be many in the remaining reigns.
---
THE EUBOIAN DYNASTY
(cont'd)
Georgios III
(1186 - present)
FIRST EVENT CYCLE - THE FIFTH CRUSADE
SECOND EVENT CYCLE - THE CONCILIARIST HERESY
I am currently working on a table of contents for all of my chapters. At present it will begin with 1223 and go on from there, but eventually it will include all previous chapters, too. From 1223 on begins what I will call "Book IV". The time between 1066 and 1223 shall ultimately be divided into the first three books.
Table of Contents for Book IV - The Shifting Tide
​
Last edited: