PART I: The beginning​
It all started on the 25th of August, 1830, when the people of Brussels rebelled against Dutch rule. Under the leadership of Prince Frederick the Dutch Army was unsuccessful in retaking Brussels from the rebels. By the end of September a provisional government was formed and in the beginning of October Belgium declared her independence from the Netherlands.
Almost a year later the Dutch king, Willem I, sent his army, under the leadership of the Dutch princes, to retake Belgium by force. The successful 'Ten days campaign' saw the defeat of the Belgians at Hasselt and Leuven. Only the appearance of French forces could stop the Dutch advance in Belgium. The successful campaign put the Dutch in a favourable negotiation position, but reluctantly Willem I continued the war.
The European powers, in the aftermath of the Napoleonic Wars, were divided by the Belgian cry for independence. When France, under the July Monarchy, declared her support for an independent Belgium, the other powers declared their support for the United Kingdom of the Netherlands. Russia, Austria, Prussia and even Britain support the Dutch king in fear of the annexation of an independent Belgium by France. However, all proved not willing or able to support the king by force.
It wasn't until 1836 when the conflict saw large scale actions again. The Dutch threw all their forces to the west, capturing Ghent, Brugge, Antwerpen and besieging Tournai. With the apparent successes, the Dutch king refused to sign the Treaty of London, which would grant independence to Belgium. Britain, now supporting Belgium, and France sent troops to support Belgium, and in response Prussia and Austria fully supported the Netherlands and declared war upon Belgium, France and Britain.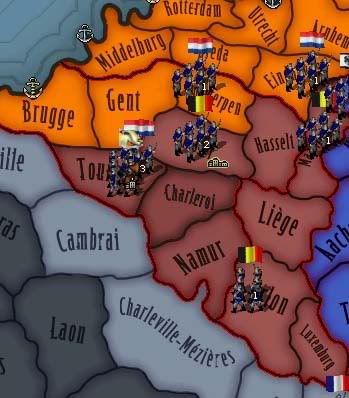 Belgium conflict in July​