The Ducal Rebellions
On the second day of 1183, I offered the Duke of Vestlandet the chance to be my vassal once again. As a backup, I had my marshal ship out with almost six thousand men to Agder, at a cost of almost a hundred ducats. I also led about six and a half thousand men as we shipped out to Bergenshus, which was nearly a hundred and thirty ducats for the journey.
Later in the week, our spymaster died of old age. The new spymaster would be Lasairiona Ui Canannain.
Two days later, my marshal who was on way demanded money to stay in the court. As I had an impending war, I felt I had to accede to his demands and gave him a bag of gold for his trouble.
On the sixteenth of January, I was advised that the Duke of Vestlandet did not want to be a vassal in my kingdom. This would not do – Vestlandet was part of my kingdom.
I asked the count of Agder and the bishops of Vestfold and Bergenshus to mobilise their forces so I could bring the Duchy back into the fold. The next day, Malcolm the Count of Agder mobilised his forces, eight hundred men were standing by.
On the twenty-third, Hakon the Bishop of Vestfold mobilised his forces, and had thirteen hundred men at the ready. Two days later, I received word that Andrew the Bishop of Bergenshus had declined to mobilise his forces. I now had a claim to his title.
We were ready for war, and on January 27 declared war on the Duchy of Vestlandet. Both Malcolm's and Hakon's forces marched towards Telemark, which was under the Duke's control. Guy of Atholl would lead an army of fifteen hundred men out of Caithness to Agder, costing thrity ducats to send them there.
The Bishopric of Argyll, a vassal and ally also declared war on the Duchy. The Bishopric of Sticht who had a claim on Argyll made now to be the perfect time to declare war on the Bishopric of Argyll. Subsequently, I declared war on the Bishopric of Sticht in defense of Argyll.
Then on February 19, the Duke of Orkney also declared independence. It was bad enough having part of Scandinavian Scotland trying to break away...but Scotland proper – not on my watch! Orkney would pay for his audacity.
On March 5, my sixth daughter, Elayne was born.
By March 17, Light chain-mail had started being used by armies in Lothian. Malcolm and Hakon's forces also arrived in Telemark to do battle.
After almost a fortnight of battle, our armies were victorious and began the siege of Telemark. On April 10, I noticed that the Duke of Argyll's loyalty had taken a severe hit, so I cut the scutage for vassals to three ducats.
Finally, on May 8, Telemark was back under Scottish rule.
The next day, I offered the Duke of Vestlandet peace, stripping him of his Ducal title, but letting him hold onto his home county. Of course, he would still have to swear fealty to my crown. The man now known as the Count of Telemark knew he was beaten and acceded to my demands. I sent Malcolm, Hakon and their armies back home. The next day I rewarded Malcolm for his loyalty, handing him the Duchy of Vestlandet.
As I still had an army en route to Bergenshus, I re-routed them home to Caithness for the inevitable war with the Duke of Orkney. It cost seventy five ducats to turn the boats around.
Guy's army that was en route to Agder as a backup, are now told to turn tail and head to Sticht to support the Bishopric of Argyll's war (not to be confused with the very disloyal Duke of Argyll). That change of direction was almost as expensive, costing seventy ducats.
At the end of June, Guy's army arrived in Sticht and began their siege.
On July 23, Erik the Duke of Iceland sent word that he would like to become a vassal of my kingdom and fall under my protection. Erik was located to the east of Vestisland, in Austisland. I graciously accepted his request. With Erik now part of the kingdom, my realm covered the whole of the Western Approaches.
Within a week, the peaceful expansion of Scotland played well worldwide, increasing my world renown.
On August 15, Sticht had been turned over to Scottish rule. The Bishopric made peace the next day, the Bishop of Sticht yielding his claim on the Bishopric of Argyll. We were no longer at war with Sticht. Guy and his army are disbanded.
On August 24, Musical instruments began being used more widely in Moray. I meanwhile had arrived with my army in Caithness. I had also heard rumours that the Duke of Argyll could not be trusted and was completely disloyal.
I decided to give the Duke of Orkney one last chance before going to war, so I offered him vassalisation.
Nearly two weeks went by before I finally found out that the Duke had decided to stay independent from my kingdom. So, on September 5 we went to war with the Duke of Orkney. I marched with my army to Orkney, costing nearly fifty ducats for the ships. The same day my loyal ally, the Bishopric of Argyll also declared war on the Duke of Orkney.
Only ten days into the war with the Duke of Orkney and the traitorous Duke of Argyll declared war on me. In Atholl, my marshal led an army of three and a half thousand men towards Strathclyde. Another three and a half thousand men from Fife would be led by a local man named Fergel towards Carrick, while a local named Guy from Lothian would lead two thousand men there also. I'd had enough of disloyal vassals.
A month later, my marshal's army arrived in Strathclyde. Guy's army also arrived in Carrick. It wasn't until October 25 that Fergel's army joined Guy's in Carrick.
The extra men from Fife would prove the turning point in the Battle of Carrick, victory being claimed the very next day. Both armies joined together to lay siege.
On November 2, my marshal and his forces gained the upper hand in Strathclyde, and thus the siege had begun.
Ten days later, Fergel and Guy and their armies had turned Carrick back over to Scotland. Now that Carrick was under my rule, both armies marched onward to Strathclyde, arriving a month later.
Two days after Christmas, my army and I had beaten Orkney's forces and began the siege.
A day later, my three armies in Strathclyde had liberated it from the Duke of Argyll.
The next day I offered the Duke of Argyll a peace deal. He would lose his Ducal title and the County of Carrick, but remain a vassal. The deal was signed. On new years day, I handed both titles to the Bishop of Argyll.
On January 17, 1184 I had liberated Orkney and it was now under my rule.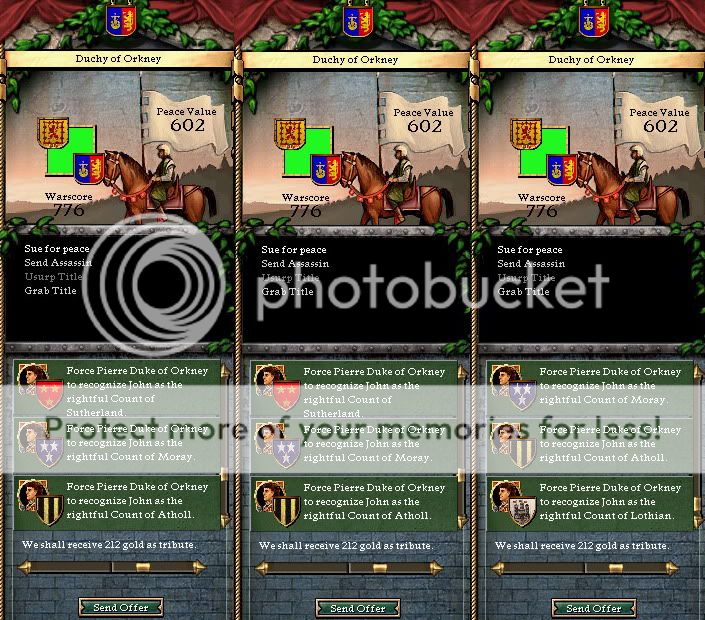 The next day, I offered the Duke of Orkney peace, in return for his Ducal title. Of course, he agreed to peace. I sent all our armies home for we were no longer at war.
Meanwhile, I had decided that Dubessa would be raised by a local noble.
On January 20, I decided to make the loss of the Duke of Orkney just that little more humiliating. I granted the title to Thomas Loarn, the Count of Shetland. Thomas is the former Duke of Orkney's second son, and about fifth in line to inherit his titles.
On January 26, I marry my daughter, Arianhod to Malcolm Loarn, son of my cousin, David Loarn. Malcolm (1167-) is the son of David Loarn (1150-), son of Gilleroth Loarn (1131-1163), the second son of King Aed. Malcolm is second in line to the County of York.
On February 1, I cut the scutage to nil, and made Guy of Atholl the new Bishop of Caithness. Later in the month, the new Duke of Vestlandet is pleased with my rule.
On May 18, I decided that Elayne will be raised by nannies.
At the end of May, brickwork structures spread to Moray and at the end of June large ships began being built in Lothian.
On July 6, the Duchy of Lithuania inherited Dorpat.
In August, the water wheel was discovered in Moray, and I decided not to call the Estates General, even though the kingdom was still almost seven hundred ducats in the red.
In September, Catherdral schools were discovered in Moray and Fergus came home from the Duke of Albany's court.
By the time October had arrived, the new Duke of Vestlandet seemed even more pleased with my rule, and my armed forces in Sutherland began using banded mail as opposed to chain-mail for their armor.
On October 23, I was offered a chance to sabotage the enemy's war effort, but I decided against it, as I felt we should ideally no longer be in debt.
On the first day of November, my first son graduated from barracks as a knowledgeable tactician. Hopefully it would put him in good stead for when he becomes King.
Later that month, I heard rumours that the priests in El Bierzo were practising celibacy. Again, my steward asked me to call in the Estates General – a call which I rebuffed him for. The kingdom now owed a mere five hundred ducats.