Vine-Regent of Dorwinion
68 Badges
A pre AAR note, I have tried AAR's before, and the story was never good enough for me, mostly because I have very critical opinions of my own writing. Anyway, I am going to attempt to do this and make it a good story along the way. In the immortal words of Heath Ledger, And here we... go.


The Last Saxon
Immigration towards new lands has always been a draw, for those seeking to escape and old trouble, or current threats. Yet what is rare to occur is for an entire civilization to literally pick up from their homes and move to a new land. However this is the exact thing that occurred with the last king of Saxony; the tribal Germanic kingdom on the borders of Charlemagne's empire. In a shocking move, the entirety of the Saxon people picked up and moved from northern Germany, across the sea to the British Isles, under the rule of one who is now called "The Wise". Although there are not many historical records, traditional sagas prove this king to be less of a scholar and more of a warrior.

Before we being, it should be known that most, if not all, of the tales of Wichimann Theodricing, that do not paint him a some great hero, come from the now deceased Anglo-Saxons. With that in mind, we being our tale of the last Saxon. The year is 769 A.D. by the Christian calendar. For just over three centuries the whole of western Europe has been controlled by petty kings all vying for power. Each of these kings seek to restore the glory that was Rome. While these kings fought, one sat on his throne in his hall, mulling over the state of his kingdom. Theodric, as the sagas tell it, had ruled the kingdom of Saxony in an unprecedented time of peace. While raiding and looting other nations still occurred, the kingdom itself was stable and content. Living in willful ignorance of the outside world had worked out well. However nothing stays the same, and things were forced to take a drastic turn with the untimely, and unfortunate death of "Emperor" Peppin III (The Short) of the Frankish Kingdom. He left his two sons to rise to power, dividing the kingdom between them.

The northern half of the Frankish Kingdom came under the control of Karl, King of West Francia. Although Karl was not the most learned of men, he was a master of military pursuits. Forged in the fires of combat with the Umayyad Caliphate, now the Sultanate of Al-Andalus, he quickly learned the ways of war. While he had the desire for power, he controlled little soldiers, a blessing in disguise if there ever was one. It was too the south where all of the military power truly lay.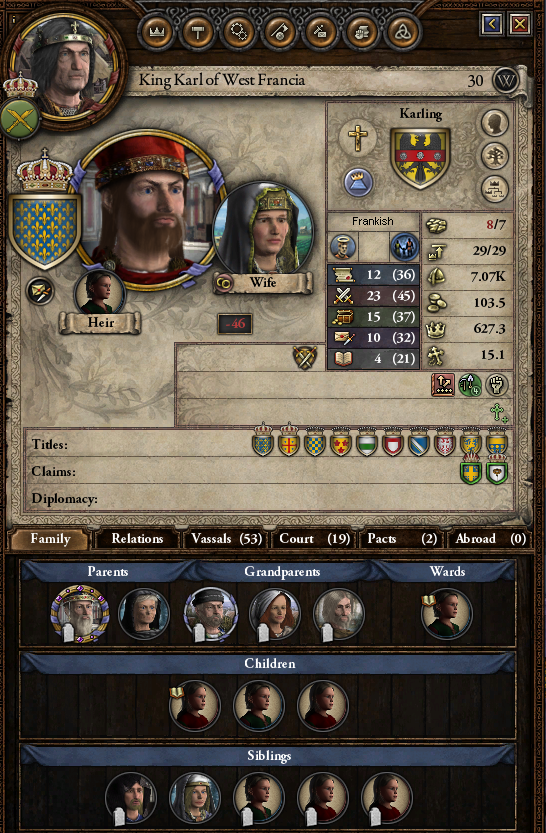 Much of the divided military power was in the fertile southern lands of the Frankish Empire. On the throne of
Austrasia was the kind, but feeble, Karloman. Unlike his older brother, Karloman never sought to expand the borders of his kingdom, perferring instead to grow the wealth of knowledge in his personal library in Paris. Today the division between the two brothers, in the way it was, whether purposeful planning by Peppin, or merely a happy coincidence, cannot be one-hundred percent certified. However, whether Peppin wanted to curtail Karl's ambitions, or keep Karloman safe from his brother's desires, it matters not, for fate had other plans in store.

King Karloman had always been feeble, ever since childhood. Some of his courtiers blamed it on his bookish nature, while others merely believed he was born weak. What ever the cause, health was never of Karloman's side. Although being frail, Karloman did sire an heir before Karl. Unlike his father, Peppin, named after his late grandfather, was and active and playful boy. It is known that Karloman was not concerned with his dynasty's continued existence, knowing that his son would continue to rule in his death. Yet, as men try to write their own destiny, it is often that the fates weave a different tale for all men.

As time passed the hatred between the two brothers grew. Karl hated Karloman because, being that he was the oldest son, the entire Frankish Empire should have gone to him. On the other hand, Karloman hated Karl because he feared his ambition and what he would do with the full might of the Frankish Kingdom at his back. This hatred came to a boiling point when their mother, who is said to have favored Karloman for his tempered behavior, in contrast to Karl's mannerisms, demanded that Karl hand over the crown of West Francia to his younger brother. It was at this point that Karl severed all ties with his brother, creating one of the worst family feuds in all of history.

Then, in the year 771 it seemed the dice of fate landed on sixes for Karl, as his brother passed away. At the time many believed that Karl had murdered his brother, although looking back it was unlikely since Karl was an extremely pious man. Upon usual succession, the Kingdom of Austrasia should have gone to Karloman's son Peppin. However Peppin's mother, believing the rumors that Karl had murdered her husband, fled to the kingdom of Lombardy, seeking protection with the Alachislings. Without an heir present, the title of King of Austrasia fell to Karl. Then everything he had worked for, suddenly came into being. He was now the sole ruler of the Frankish Kingdom. Seeking to expand his domain, he immediately declared war for the Kingdom of Saxony.

Theodric had not been resting on his laurels. While the Karling brothers feuded, he carefully built up his power. On the day that war was declared, Theodric was drinking mead in his hall with a large host of warriors. While the revelry was occurring a messenger from the court of Karl entered into the hall.

"Great Chief Theodric, I come bearing word from my king. He declares that our great nations are now in a state of open war. Prepare your armies, for we shall meet on the field of battle." Once the messenger stopped Theodric nodded slowly.

"I see, do you bring any other news?" Theodric looked at the messenger, who shook his head slowly. "Very well." Faster than anyone in the Mead Hall could have imagined a man in his fifties to do, Theodric picked up his battle axe and threw it with all his might. Before the messenger could even react, the axe buried itself deep in the man's skull.

"Someone cut off that man's head, and sent it back to Karl of West Francia in a box with a note." Theodric returned to his mead horn. While he sat drinking one of his housecarl's spoke up.

"What should the message say?" Theodric looked at the housecarl for a moment before responding.

"It shall say this, 'Come then, face Saxon Steel!'." With that every man in the mead hall cheered and left to go call all men to war.

When Karl arrived on the borders of Saxony, he was shocked to find nearly ten thousand angry Saxons ready to face him. However this did not daunt him, pushing his army forward, he fought the ten thousand and pushed them back. While the Saxons lost the first battle their moral was far fro shattered. Coming back even stronger than before the Saxon force broke the Frankish battle line and thoroughly routed the entire army. After that the battle quickly turned in Theodric's favor. Castle after castle fell to the Saxon onslaught. By the end of it, the Saxons had sieged most of the German territory in Francia. As the last castle fell another Frankish messenger came riding up to Theodric.

"I bring word from my king. He declares defeat. You have bested his armies on the field of battle and he wishes for peace to reign between our two kingdoms." Theodric only stood there for a moment. As he stood there his breath became more and more shallow until he burst into full on laughter.

"Bwahahaha! The great Karl of the Frankish Empire admits defeat to Theodric of Saxony! Do you hear that men? We are victorious, Victory! We have victory!" Theodric shouted at the top of his lungs to the nine thousand men at his back.

"Go back and tell your king we accept his peace." Theodric waved the messenger off, and with a curt nod, the messenger rode off, back to Paris.





The war took just over a year, and at the end Theodric called his son Wichimann into his personal study.

"Son, I am old, I may not look it but I feel far older than I am. My bones ache, my eyes are sore, and my heart falters. I am not long for this world. I have had a great vision of our future. Our people, will be lead from this place, to a new land. There we will forge a kingdom that will last over a thousand years, and our dynasty will go on to rule in ages yet unseen. I beseech you, lead our people West, to the Isles of Britain. Conquer them, and forge our new destiny!" As he finished speaking, Theodric passed away.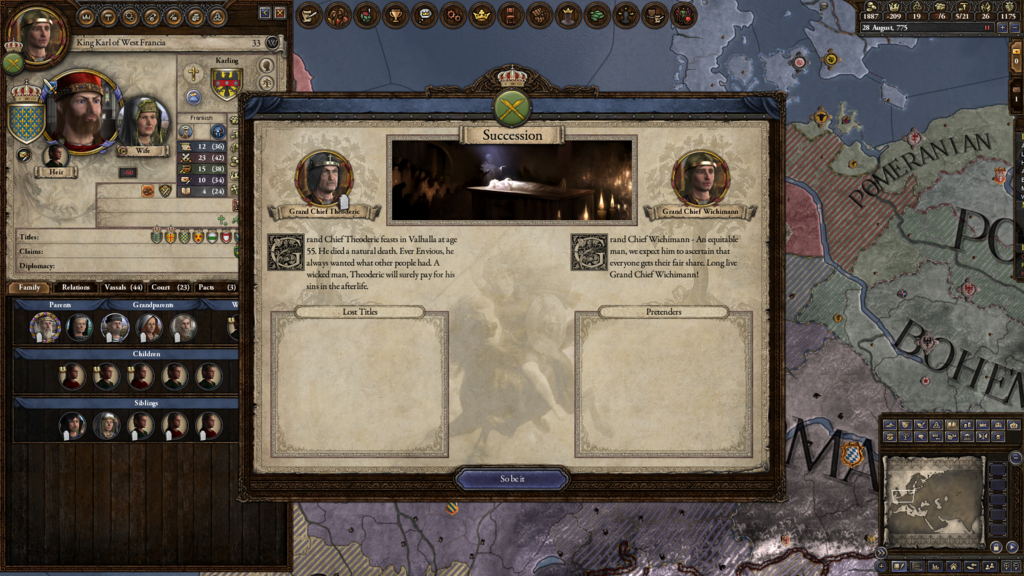 Thus began the rise of the Saxon kingdom, and a dynasty that would shape the world.

Last edited: