Debased coinage
35 Badges
Okay, for this AAR I'm keeping things simple. If you want fancy dialogues and epic narratives then go read something else. If you want lousy dialogue and snarky comments, then look no further!
Although, to be honest, there probably won't be any dialogues at all, but we will see.
I will be playing as the Count of Zachlumia, a one province vassal of King Petar Kresimir of Croatia. My goal is to ultimate place a Kosaca on every throne in the game, while keeping a hold of the crowns of Croatia, Serbia and Bulgaria.
BUT...I can only act within character - thus, if I have an honest, just ruler I will play to these traits, meaning no grabbing claims unless I can justify this in a realistic way. That is why I'm hoping to get a line of vengeful, deceitful, proud, arbitrary tossers.
I will also not use any cheats, exploits yadda yadda yadda. Anyways, on with the show.
Index
The Zachlumia Chronicles
Ragusa
The Peasant Lady
Clippy
The Civil War
The Metallic Chronicles
The Weird Update
The Pictorial Update
Tales of Aladdin's Lamp
The Tower of Beer
The Kosaca Chronicles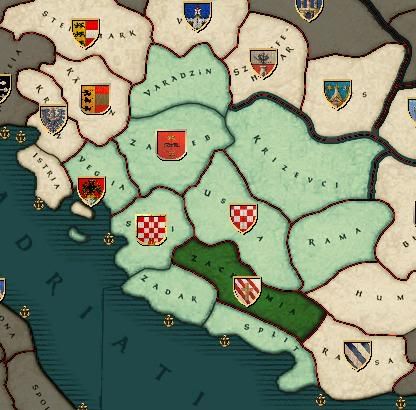 Ah, Zachlumia. A land of so many wonderful...ehrm, wonderful...um, hang on, wonderful...hills. Okay, I'll 'fess up, I don't know much about Zachlumia. But it has an interesting name, so I decided to give it a go.
The starting position is not that great, but it could be worse. The province is reasonably well off, but Zachlumians look over jealously at their neighbouring province of Usora and their comparative wealth. But no, Zachlumians, like hobbits, are simple folk, who just want a quiet life, growing crops and growing old in the Shi...I mean county. But they have a problem - the guy who lives up in the big castle
*cough*
has plans...
This guy has pretty good stats, and is very good at making the simple hobbits of Zachlumia make him money. Boris likes money, more than he likes his young wife, who, let's face it, isn't going to win the Miss Zachlumia beauty pageant, even if the only other other contestant was a mutant turnip grown by one of the peasants.
Boris is only in her for the stats...ehrm, never mind.​
On January 8th 1067 Doreteya gets pregnant, to the joy of all concerned, especially Boris. Things are rather quiet in this opening few months, and I notice that the Chancellor has the same last name as my ruling guy, so I marry her to the Spy Master. She's a bit past it, but Simeon might be able to squeeze a few heirs out of her, more courtiers means more minions.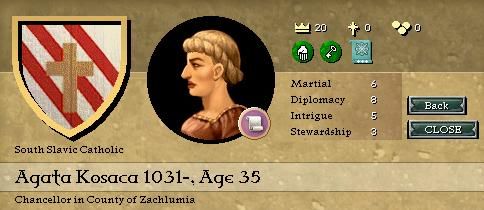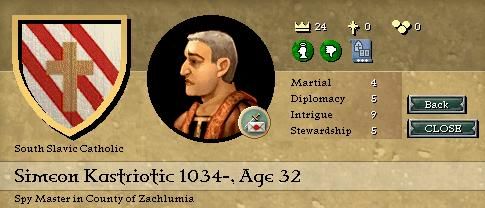 It's love (aaah!). Later on, in September of 1067 the enterprising subjects of Zachlumia develop the stonepit, and on October 14th the wait is over...it's a, oh yes, it's a boy! Boleslav. Boris cackles manically, before realising that all his courtiers are staring at him. But when Boris inspects the baby, he discovers a terrible secret; there is a birthmark on his head, that looks like numbers, dreadful, terrible numbers. Boris shakes with fear, for the numbers are:
4 2 8 8
"NOOOO, only 2 diplomacy! Only 4 martial," shrieks Boris, his face flushed with anguish.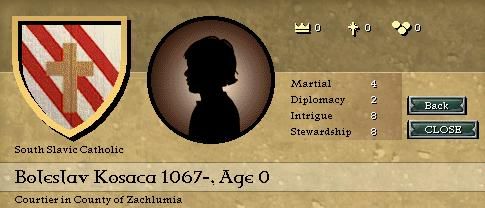 Aah, he's not that bad I suppose, but the low diplomacy score is troublesome. This is why the next day the laws of the realm were changed, introducing Semisalic Consanguinity (and also Feudal Contract, but that is unrelated). I keep ecclesiastic balance as it is.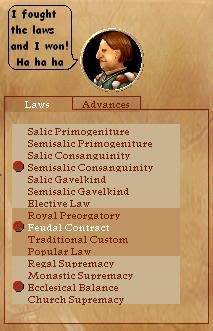 On October 29th a noble warrior appeared at Boris's mighty castle.
"Hi, man. I'm a noble warrior, fleeing from a distant land!"
"Ooh, that's so cool," said Boris. "Which distant land is it- ooh, no, let me guess. Is it Usora?"
"No."
"Ragusa?"
"No."
"Veglia?"
"No!"
"Ooh, ooh, is it Reglisia?"
"N- what? I've never even heard of Reglisia!"
"That 'cos it doesn't exist. So, where are you from?"
The noble warrior shrugged. "Dunno, the event didn't specifiy."
The warrior, called Blaz, was made Marshall, and was joined by his mates Daz, Baz and Gaz, also fleeing from a distant land which turned out to be, of all places, Romford.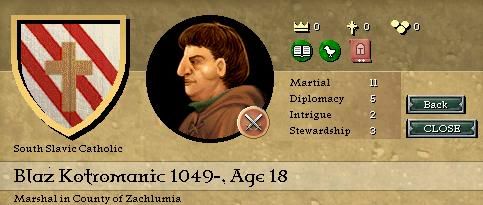 A wise coward. That's just great, for my top fighting guy.​
On November 16th, something I did not expect happened; I was made Duke of Croatia by King Petar, who I've always said was an all right sort of guy. Very decent fellow. This also made Bernadin Draskovic, count of Usora my vassal. A province twice as rich as Zachlumia...Vassal? Pfft, who needs vassals?
The Duchy of Croatia, December 1067
​
Last edited: