The Kingmaker ~ A Burgundian AAR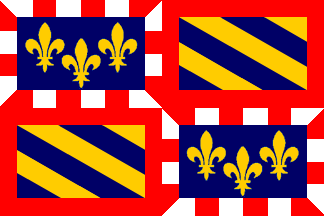 The Flag of the Burgundian Duchy

Burgundy has an interesting history. It has been held by various powers through-out it's exsistance, but it's true golden age began in 1364 when John II of France bestowed the fief on his son, Philip the Bold, thus founding the line of Valois-Bourgogne. Philip and his successors would later expand the meagre duchy to include the Lowlands the then extensive duchy of Luxembourg, Picardy, Artois, Lorraine, Alsace, the Franche-Comté, Nivernais, and Charolais.

In the early fifteenth century, the duchy held a key part in French politics. France, then ruled by the mentally unstable Charles VI, was divided between two parties--the Armagnacs and Burgundians. The Armagnacs would lose all power in 1418 when the Burgundians took control of Paris and aligned themselves with England. The rement of the Armagnacs would flee south of the Loire with the French Dauphin, establishing a rival state to reconquer France and restore order.

It is now 1419, and Burgundy lies at the cross-roads. Indeed, she supports England in her conquest of mother France. Of course, there are things to gain for being a English lapdog. But there are perhaps even greater things to gain by playing both the Dauphin and England off eachother. Thus, Burgundy is the Kingmaker. She can make Kings; or she can kill them. But perhaps it now time to lay such a title aside, and to claim the crown for herself?
​
If you haven't guessed, this is a
Burgundian
AGCREEP AAR. My goals include the cementing of Burgundy in European politics. I do have designs on conquering the entire French state, but if I do decide to become France, that is adopting the flag and color, a new monarch file will be designed with the original Burgundian monarchs. I will do this because I believe if the Burgundians WERE able to overcome both England and the Dauphin, they would take the crown themselves. I will most likely move my capital to Brussels as well, for that Dutch culture. But the Crown of France event will be changed so I gain more than cores. As for Lothgaria. Perhaps, but it all depends on Austria.
Settings:
Difficulty: Easy (Still getting used to the game)
Aggression: Coward (To avoid the AI murdering eachother)
Independent Wales: Yes
Fantasy Events: Yes
The First update will come later tonight or tomorrow.
Last edited: