Second Lieutenant
2 Badges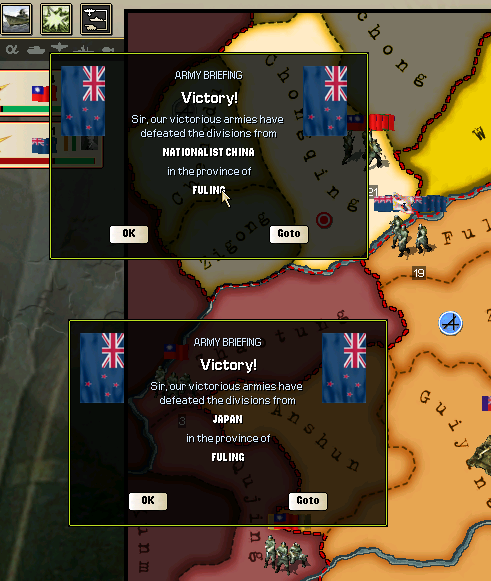 Freyberg:
YES! PHEW! That was bloody close.
Such a gamble... but now this fight is won, it's the beginning of the end - for China and Japan both.
Savage:
VICTORY! Yay! But seriously, how? I mean, I know we always win, but how did you pull it off this time?
Freyberg:
It's the exact reason why I wanted to take Fuling so bad! See the terrain?
Savage:
Hm, it's mountainous terain and has a river on two sides!
Freyberg:
Yes! By this, the attacking strength of the Chinese in Chongqing (22) is reduced by mountains (to 11), and by the river crossing (to 5.5). Same with the Japanese, they are reduced as well (from 17 to 4.25). Troops from Enshi are affected by the mountain (from 4 to 2), and we have another 6 divisions attacking from Huaihua (reduced to 3). With this, even though they have 49 divisions, they only fight like 15. The chinese have horrible doctrine, and I'm sure they don't have properly trained officers to command those armies (command limit without HQ). So, all in all, they fight maybe like 10 divisions and take forever while our huge airforce pounds them in the open field.
Carr:
I pwnd them
Freyberg:
Pound, not pwnd :glare:
Carr:
LOL
Savage:
Wow, cool! So that means, no matter how many troops the enemy sends, they can't dislodge us from Fuling?
Freyberg:
Exactly! And you know what's best?
Savage:
What?
Freyberg:
We are blocking the only mountain pass connecting industrious Sichuan to the troops in the south. Which means they are cut off from supplies!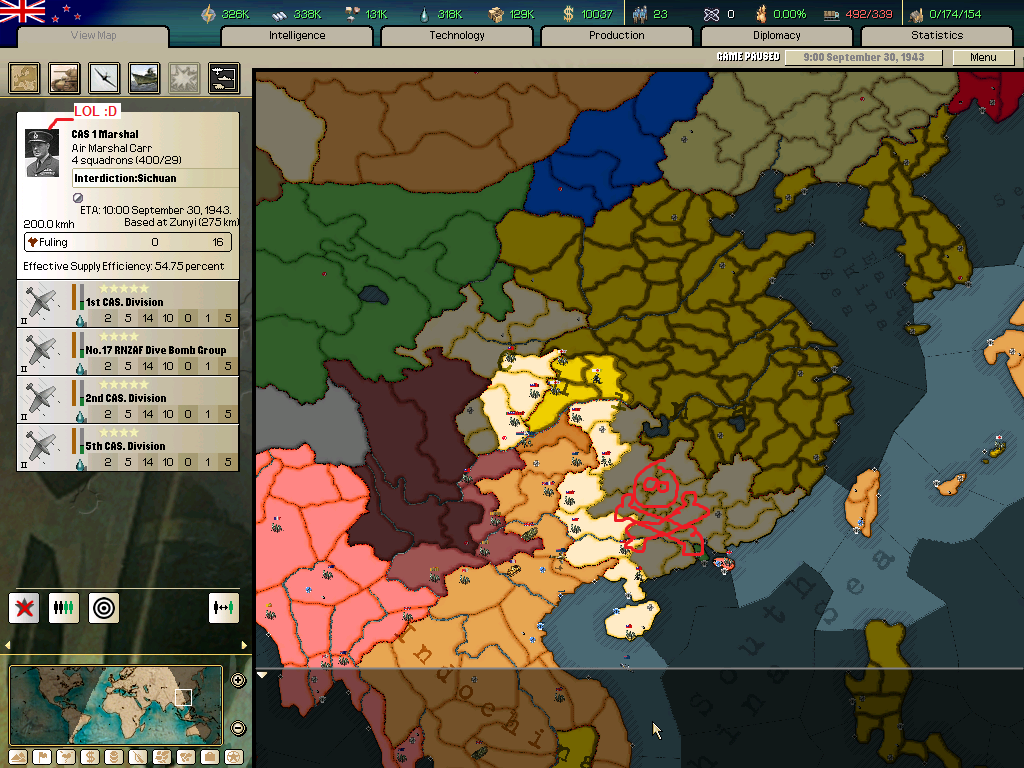 Savage:
This is, huh, wow! Very good Freyberg! 50 divisions in southern China are starving! And they can't break out because the Japanese would attack them from the back! Muha! I give them maybe 2 or 3 months, then they will have no choice but to surrender! Yes, surrender to the glorious Kiwi Empire! HAHA! AAAAAAHAHAHAHAHAHAHAHAHAHAHAHAHAHAHAHAHAHAHAHAHAHAHAHAHAHAHAHAHAHAHAHAHAHAHAHAHAHAHAHAHAHAHAHAHAHAHAHAHA!