Second Lieutenant
72 Badges
The Grand and Illustrious Maldivian Empire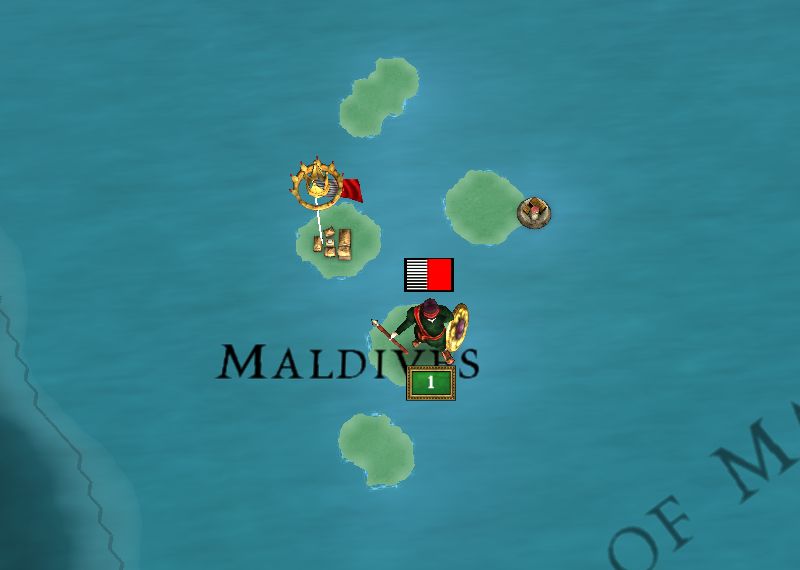 I've long been a follower of the AAR's here on the forums and, for some years now, planned on doing one myself. Given that EU IV is in the works now and people will soon be moving on, it seemed like a good time to get going on an AAR before it's too late. The nation I selected, and for quite some time have been planning to do, is the tiny island nation of the Maldives.

​


Basic Information:
-Version: Divine Wind, no mods
-1399 start date
-Difficulty is on Normal
-All other options are the default selection
-Lucky Nations is historical


House Rules:
-I will not reload and shall simply play it through (though I may be forced to do so in the first year or so for the first update). Should some strange circumstance make it worthwhile to reload I will state that I did so in the following update.
-I shall avoid running my badboy up beyond the limit.
-I will remain a Sunni state.
-I will not look at Europe or the rest of the unknown world until such portions of the map are revealed to me in-game. As the nation is located south of India I cannot see Europe even at the loading screen so long as I do not scroll, and I think the mystery of just what to expect from that continent will be fun.

-The province of Maldives shall remain my Capitol throughout the game.




Structure, Goals and Intentions:

Long ago I played as the Maldives and was eventually able to conquer nearly the entirety of Asia, and ever since I've wanted to make an AAR for the island nation. Since then, though, Divine Winds has come out, and I fear the position of the Vijayanagar has been rather strengthened. Still, they tend to focus their initial expansion on the nation of Deccan to their north and, with this little window of time, I hope to sufficiently establish myself so as to be able to fend off the inevitable invasion.

As for the presentation of the AAR itself, I plan on relating the events through various "historical documents" written by the participants. In addition to that, I shall include the occasional transcript of conversations between key individuals, and when I speak out of character I will do so using the (()) convention. I should note, though, that I plan for this to be a rather silly AAR infused with a good deal of humor as, in my experience, it makes the narrative more fun to both write and read.

This will not be an interactive AAR (at least initially), but you're free to offer suggestions as I move forward which I will consider. My plan is for the foreign policy and such of Maldives to reflect the personalities of its leaders and advisers which, in turn, will be derived from their in-game attributes. As such, do not be surprised if my actions seem entirely illogical at times.
​



The goals I have set for myself are listed below:
1. Don't die
2. Maintain the Hilaalee Dynasty: While this may be out of my hands, keeping my prestige and legitimacy high whilst forming as many royal marriages as possible should help to keep the dynasty going.
3. Expand north into India
4. Convert India to Sunni Islam
5. Form Hindustan: This goal involves simply meeting the requirements as I plan on remaining "Maldives" for the duration of the game.




That's about it, then. I do not have a planned timeline for updates and they may be sporadic but, having been a long time reader of AAR's myself, I know how frustrating it can be to constantly check in on a seemingly dead AAR. As such, I'll do what I can to keep anyone interested up to date on what I'm up to and when they can expect the next update.

Finally, I should share that while I feel I'm fairly well versed in much of human history, there is perhaps no region about which I know less than the Maldives. Aside from some early involvement by the Portuguese and Dutch, the majority of their political history is unknown to me. I'll therefore be referencing some fairly general and unreliable histories of the region (predominantly Wikipedia I imagine), so if I get something wrong feel free to inform me.

I've already begun to work on the first update, and I hope to release it soon.​