The year is 1936.
Adolf Hitler has been the German Chancellor for three years. During this time, the Nazis have established a totalitarian regime in Germany, and they have begun rearmaments efforts at an accelerated rate.
Europe worries. The French hide behind their forts, the British huddle on their Islands, the Czechs and Slovaks imitate the French with worse fortifications and less wine, and the Russians don't do anything, they're busy enough with their homegrown crazy dictator.
These are dark times for Europe, and one hardly sees how they could get worse.
Well, you'd be wrong to think so. After all, wanting to control all of Germany and all of its armies all of the Nazi party all of the time is a bit hard on your brain. And you don't even get extra cookies.
So what had to happen happens:
The Führer Goes Nuts!
(and he's contagious)
Whoops, wrong Führer.
Better fix that before Adolf notices.
The Führer Goes Nuts!
(and he's contagious)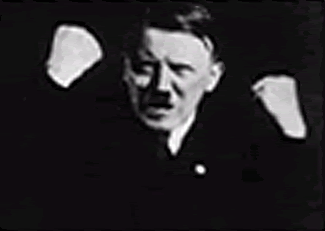 Wait, it could be "The Furry Goes Nuts!"
Sounds cool
*purrrrrrr*
Mein Furry, your dialogue sucks
On second thought we'll stick with the original. He talks nonsense but at least he
TALKS
*FFFFT!*
Outch! And he hasn't got claws!
Go away! Stupid cat!
AWAY I SAID!!!
​