Foreword to Huiver Bagge's Historical Panoramas, Volume IX: The House of Dobczyński by The Hon Rev Diogenes Aenaeas Huiver-Bagge, MA (Ox) PhD (Tver) KG, KB
London, September 1830
Yes. I arrive.
We live, sturdy peoples of the world, in a dark and dangerous age. The barbarians encircle the last fortresses of civilisation.
The Imperial Commonwealth of Tver
, the largest and mighties realm upon God's earth (save the globe-spanning righteous might of His Most Britannic Majesty's Empire, of course!) bears down upon the surviving nations of Europe much as the Duchess of Norfolk bears down upon a cream cake.

In spite of this ravenous blue-grey spectre, and its clear intention to crush all opposition on its path to global domination, many have expressed admiration for this so-called Commonwealth! Many in Old England's green and pleasant land have a disturbing interest in the culture, customs and people of Tver. And it has fallen to I, Diogenes Aenaeas Huiver-Bagge, historian, explorer and wordsmith, to write a series of best-selling tomes on the subject of the Empire of Snow.
Not for me, though, the well-worn paths of the warfare and politicking that has permitted the rise of the Imperial Commonwealth. Instead, I, the most renowned Huiver-Bagge, shall, as always, venture with buxom valour into uncharted territory, and tell tales not of their leaders, the Czars, Czarinas and Lords Protector. Instead, I shall weave a spellbinding saga of their most faithful servants, the power behind the Imperial Throne: the House of Dobczyński.
The Dobczyńskis are reputed throughout the Imperial Commonwealth and beyond as soldiers and counsellors beyond compare (all exaggerated of course). They are widely believed to have been just as responsible for the rise of Tver as their famous monarchs – and it is thus that I have screaven this mighty tome. Nothing has been left out, no fact or secret escaping my hawk-like sight.
In pre-summary, sturdy peoples, it is a drier topic than many imagined. The story of the House of Dobczyński is low on interest or intrigue, and a tale purely of foolhardy, reckless gambles that somehow paid off to that House's favour. All rumours of darker chapter in their story, of factions, dishonour and kinslaying ahev proven nought but speculation.
But this matters not, because it is my bountiful prose for which you purchased this thunderous tome, and that stand ye ready, is what ye shall receive.
Signed (pertinently)
DAHB
Portraits!

Chapters!​
Prologue: The Most Miserable of Men I
Prologue: The Most Miserable of Men II
Trojden Dobczyński, Duke of Silesia​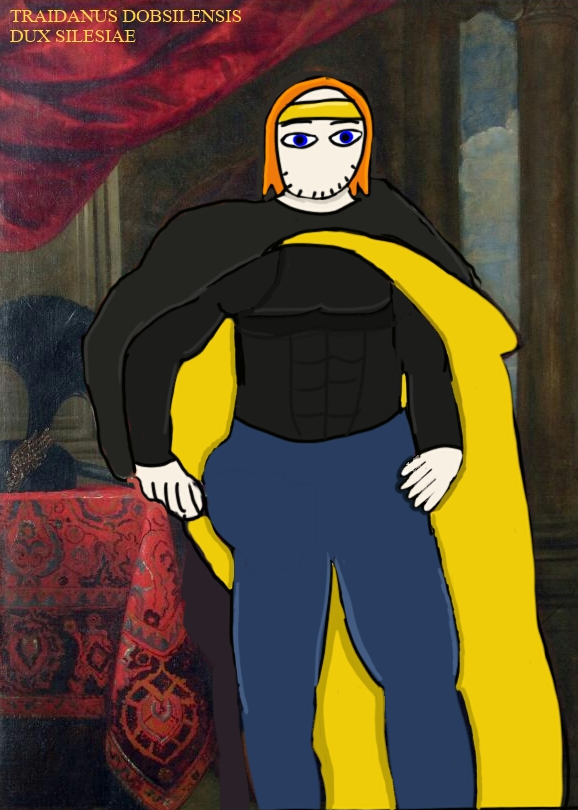 Chapter I: Warta, Son and Holy Spirit
Chapter II: Sins of the Warta
Chapter III: Warta In And Warta Out
Chapter IV: Warta Of Us All
Last edited: