Strategy GuidAAR
26 Badges
The Die Is Cast
A Roman Rebels AAR
​
Welcome! This will be a primarily gameplay AAR with some historybook style, and even perhaps a little narrative (though I really don't know when I'd have the time to do that!). Take my EU 3 AAR
Sforza!!!
as a model. If you're looking for a more detailed AAR with a narrative style, I shall recommend Comagoosie's
For Rome's Honor
!
I am starting with v1.1 in 705, at the Alea Iacta Est bookmark (The Roman Civil War!). I shall be taking command of the Roman Rebels, as Consul Gaius Julius Caesar.
Let me say, first, that the Roman Rebels do not start in an advantageous position! Their economy is barely above subsistence farming (I'm exaggerating…
slightly!
)… I mean, they have basically three provinces of any importance. The rest are just this side of barbarianism.
The military situation is also not enviable. The Romans have more legions, more resources with which to build more legions, better and richer characters to buy more legions, and control of the lion's share of the world.
Fortunately, the Roman Rebels do have horses, and plenty of other resources with which to build a great army! Nothing to compare to the Roman Loyalists, but it will do.
I'll tell you up front – I haven't played all that much ahead, and so I have no idea how well I'm going to do! I may fall flat on my face, and the Senate will bury Caesar, and will carry on the Republic for another century. Who knows! I'm here to find out, and to provide you the interesting story of this struggle, be it ultimately won or lost.
I'll also note that, since I authored the Strategy Guide for EU Rome, there will be quite a bit of supplementary material here, in the form of my comments and explanations of what I was thinking, so you can see my strategies in practice.
You also may well see idiocy in practice! I've never played a perfect game yet. I sometimes don't follow my own advice. But when I make foolish moves, there is much to be learned from that, too – I'll tell you when I've done something stupid (or, just as likely, YOU'll tell me I did something stupid!
), so you can learn from it.
Anyway… On to the setup…
Because I have access to horses, I will use this as the center of my long-term military strategy…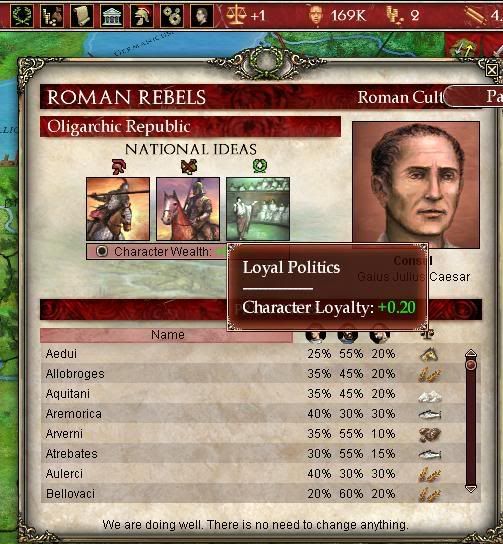 I take a mis-matched (not according to Roman tradition) set of National Ideas, emphasizing cavalry tactics – Horse Lords for +10% Discipline for cavalry, and Cataphracts for +100% cavalry offense!
The last National Idea I take is Loyal Politics, which I hope will serve me well in time of civil war.
And… Speaking of those characters of variable loyalty…
My most loyal subjects…
And my least loyal subjects…
Popularity is also a consideration, especially during a civil war, since it affects their ability to raise support for themselves against you…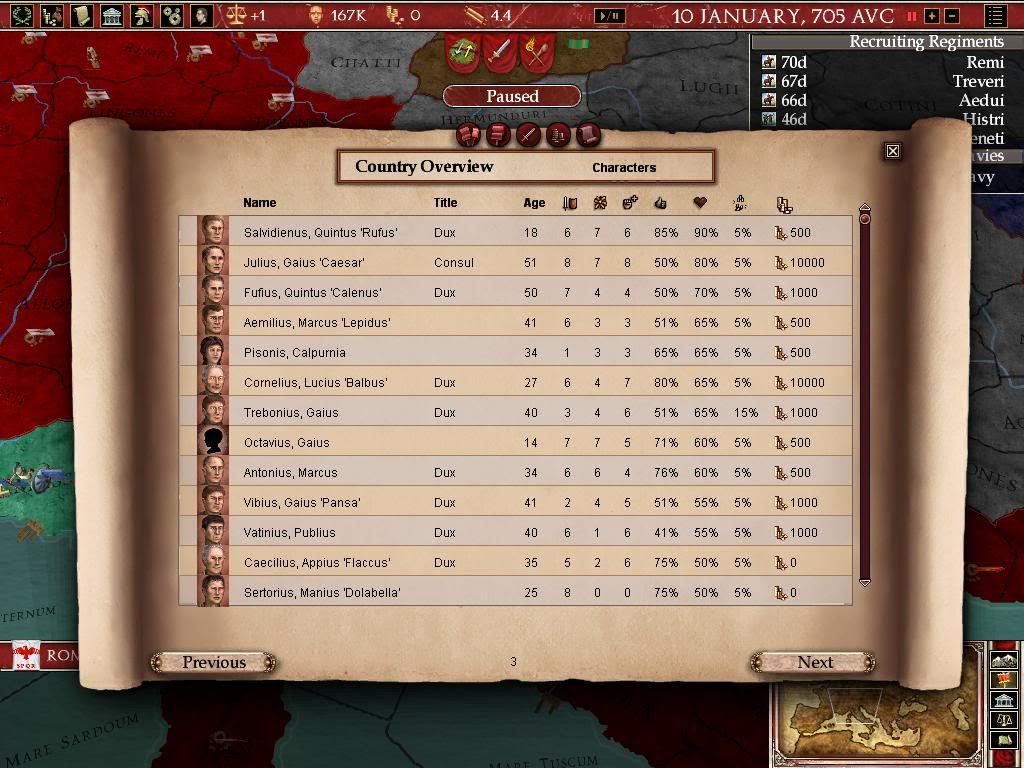 My most able administrators…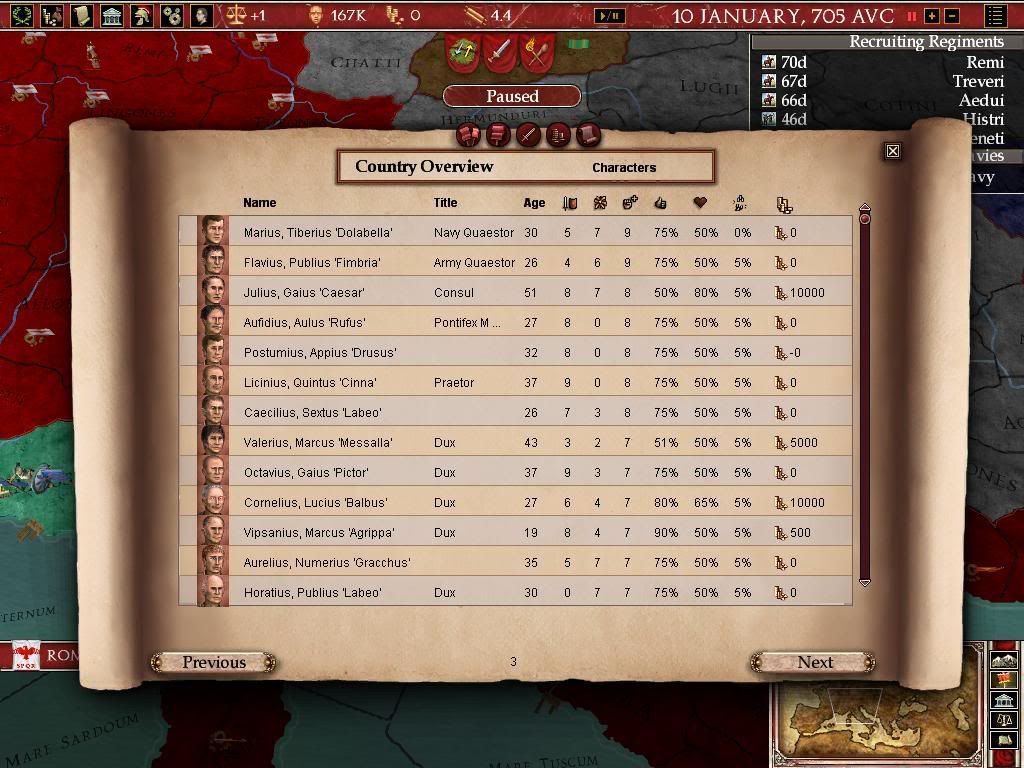 My most able diplomats….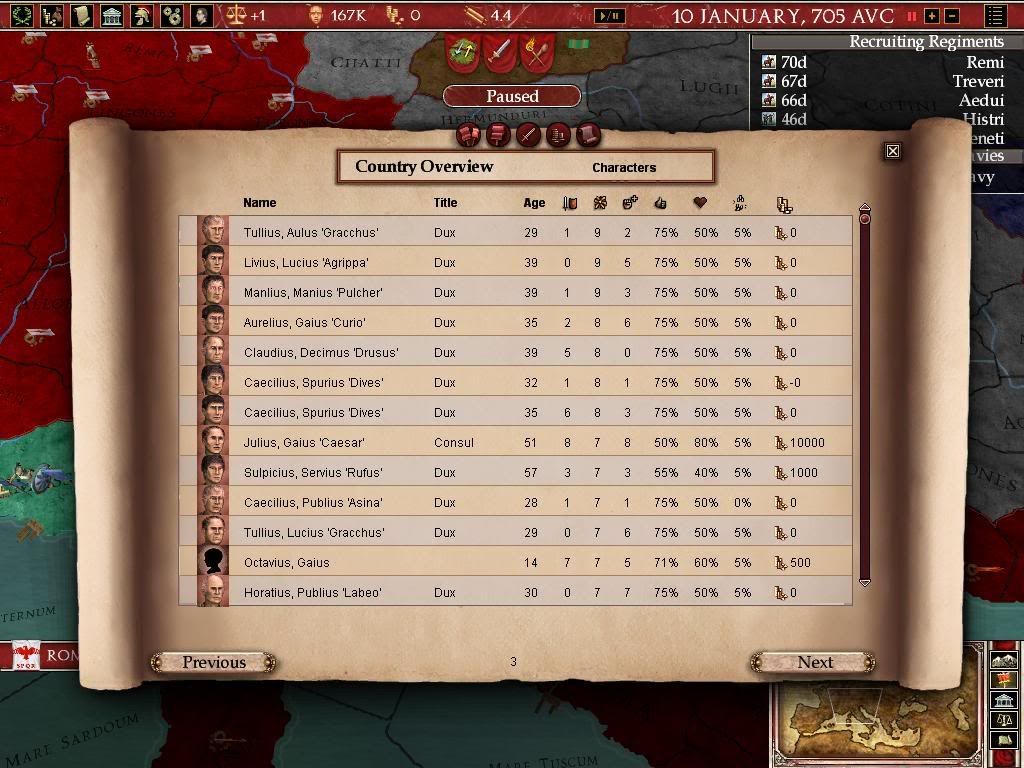 And, last, but certainly NOT least…
I'm fortunate to have access to some very talented generals. I will need them!
Remember these names! Or refer back here, occasionally. I will mention when some of these characters start to impact the gameplay, and I think you may find it as fascinating as I do to watch and keep track of.
Here is my starting situation in Italy. Decimus Cornelius Cotta will descend upon Etruria to draw first blood, and to hopefully soften up the enemy, while Julius Caesar moves south to pick up a second legion, and then moves into position to threaten Rome.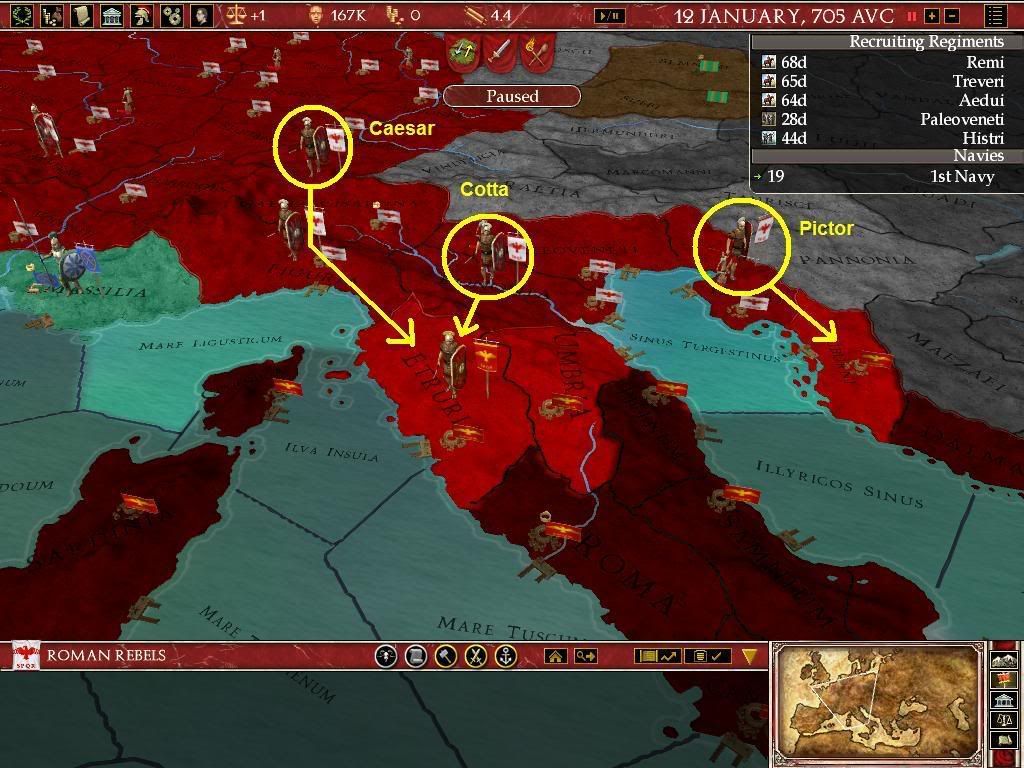 Meanwhile, in Illyria, Gaius Octavius Pictor will hold down that front. I happen to know (I was recently Consul, don't you know!) there is at least one legion, and probably two, hanging out in Greece. This will be a hard front to hold. And that's just what I intend to do – mount a holding action here.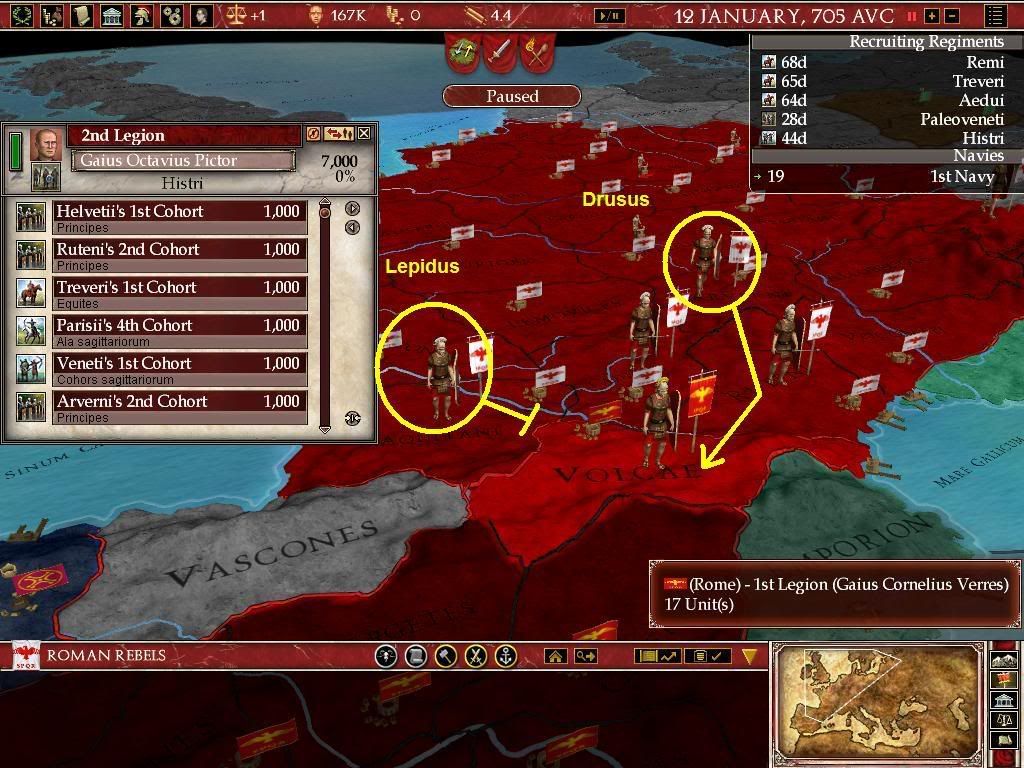 In Spain, Marcus Lepidus will take command of the western legion, and will probably have to hold off an attack by the main enemy force. Meanwhile, Appius Postumius Drusus is going to collect a couple of legions, and prepare to come around the enemy's flank.
Thanks for reading! Please leave comments – you're welcome to leave comments even if you're not caught up (if that's the case, just tell me what you've read most recently, so I can put your comments in context).
More updates to come!
Last edited: