Chairman of this board
68 Badges
30 May 1453
Dear Diary
My name is Muhammed IX and I drew this myself.
I went for an avant garde style painting; I should have been an artist.
My advisors also suggested that I include a more conforming painting. I told them they were all narcs but they forced me to draw it. So now I'm sulking in my room writing depressing poetry. Sometimes diary I think you are the only one that understands me.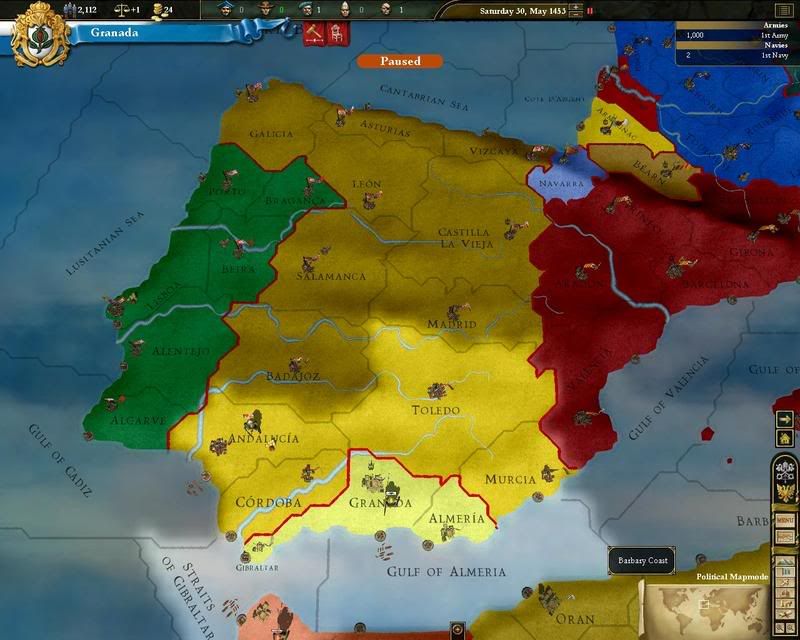 2 June 1453
Our neighbors Castille are coming to visit us; with their army... But I'm really hurting right now so I don't feel like meeting anyone. I'm going to go on a vacation on the Canary islands; I need to get away. The advisors are so demanding. They want me to build an army and manage the state's budget but I don't feel like it. Why can't they understand. I left them in control of those boring things.
23 October
OMG OMG OMG I love the Canary Islands!!!!!!!! In fact I'm keeping them. I ordered the entire army to come with me on the boat and seize it for me.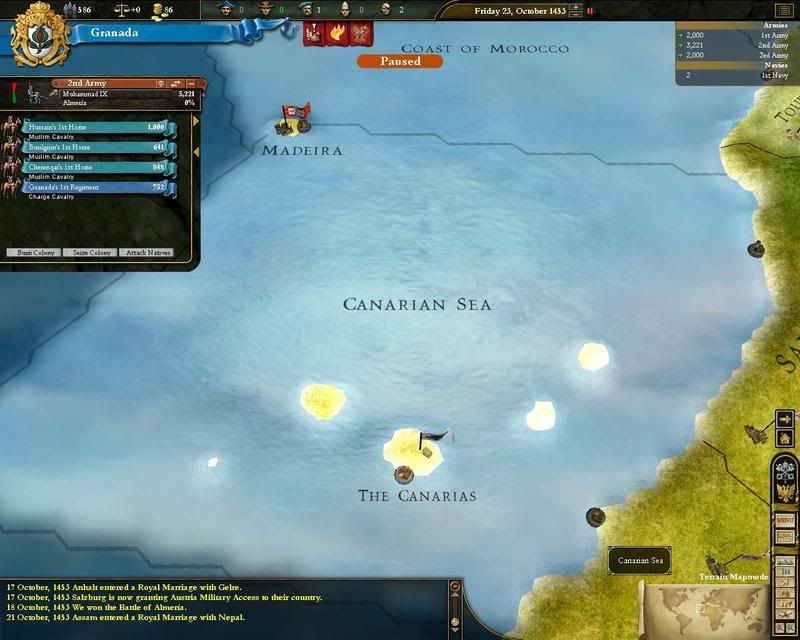 Meanwhile back home:
Advisor 1
: Holy Crap, Castillians are coming out of every orifice!
Advisor 2
: Quick take a loan and raise an army!
<100 gnomes appear with two bags of money each>
Advisor 1
: Wow that went quick.
Advisor 2
: Yeah I have them on speed dial.
Advisor 1
: Now we really need an army, but where can we find the manpower?
Advisor 2
: Aren't you forgetting something? The king has captured the Canaries for us! We have all the German tourist manpower we need. In fact we can pay them in beer. Which is excellent since we don't drink it.
Advisor 1
: We don't know how to make it either genius.
Advisor 2
: Well then we have to import it, in any case get the drunken tourists here now.
<4000 drunken German tourists appear with their horses>
Advisor 1
: Do you have them on..
Advisor 2
: No...
German Tourist
: If zere iz zumsing zat travels faztehr zan ze zpeed of sound itz an offer of ze free bier ja.
Advisor 1&2
:
Voiceover
: By keeping the Germans in a drunken rage the Granadans pushed back the Castillian invasion in a matter of days. Once beer was running out the Granadan Muslims convinced the Germans there was beer inside the Castillian fortresses and Castles in southern spain. The disheartened defenders could not hold out for long. When there was no beer to be found the Germans exacted a horrible revenge.... on the spaniards.
Overly excited historian fellow:
The Castillians although superior in numbers could not compete with the sheer feriocity of the drunken rage charges of the Granadan troops. This was a completely new style of warfare and it took the Castillians completely by surprise. Disheartened they retreated to the mountain provinces. Foolishly bringing their liqour and beer supplies with them.
Unbeknownst to them is that a full grown German male can smell beer from two medium sized provinces away. The German horsemen would feriociously hunt down the Castillian soldiers and put them to death. It must've been a grisly sight.
In the war the Kingdom of Castille was utterly defeated and subjugated by the *ahem* Granadan troops... anyway the Castillians decided to offer peace for pretending to not think that some of the Granadan provinces were not theirs and some dirt poor plains provinces. That was not to be however:
Granadan Diplomat: Give us Andalucia, Cordoba and Murcia. AND Vassalization!
Castillian Diplomat: NO! How about León, Viscaya and we'll pretend you are the rightful owners of Granada and Almeria?
Granadan Diplomat: What are you nuts? Why would we want core reduction from you? We want you to attack us remember?
Castillian Diplomat: Oooh. Well how about León, Viscaya and we'll pretend you are the rightful owners of Granada and Almeria?
Granadan Diplomat: Are you even listening to me? How about just Andalucia and Cordoba?
Castillian Diplomat: Nah not really. How about León, Viscaya and we'll pretend you are the rightful owners of Granada and Almeria?
Granadan Diplomat: Fine! You want to play hardball?! We want all Andalucian provinces!
Castillian Diplomat: Dealio! Yay, I'm a whizz at negotiations!
Granadan Diplomat: *sigh*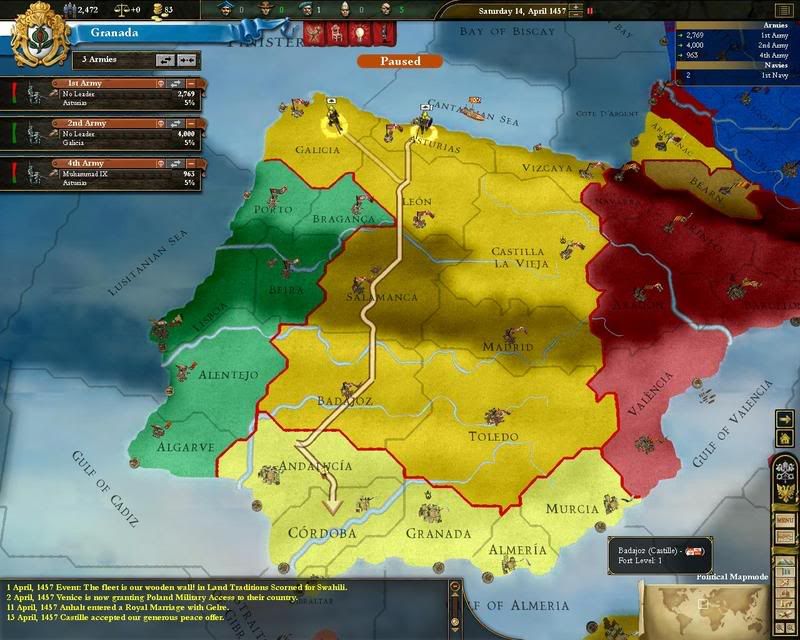 --------------------------------------------------------------------------
For those of you who have been following my progress in the normal EUIII forum, this is an entirely new one since I do not have enough screenshots from the old one.
Last edited: