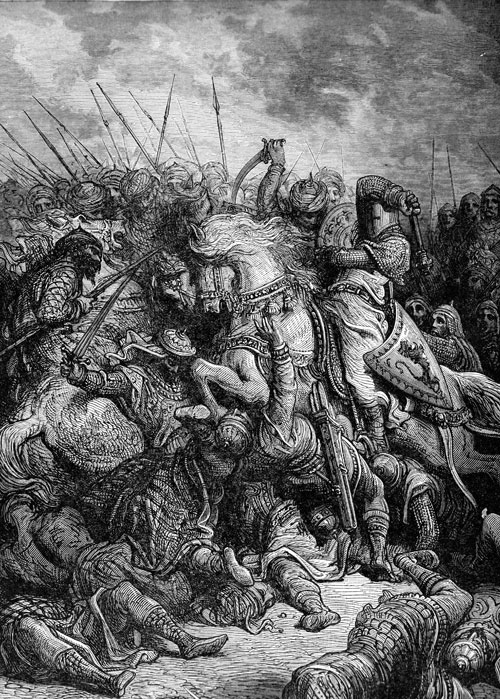 Welcome chaps to The Crusades, 1105. As you might have guessed, the game is set in 1105 in the Near East, focusing on the conflicts between the crusader and their enemies. It follows the model of XVG's series of historical games, with a focus on characters rather than nations. It's recommended to research the period at least a little, and if you need any help I'm happy to do what I can.
Signing up, a.k.a How to Join
The game is character-based, so to sign up please post a character sheet outlining your character and who they are. Playable characters are crusaders, Armenians in Cilicia, and Muslim lords in northern Iraq, Syria and Egypt. This is to try and focus the game on the Levant and the Crusader States themselves.
For example:
Name:
Age:
Culture/Religion:
Family: (relatives, such as your wife and children)
Biography: (Short background story for your character, and a summary of his life and deeds as the game progresses)
Location: (Where your character currently resides)
Stats
There are two types of stats: realm and personal. These should be mostly self-explanatory. Realm stats cover the revenues, expenditures, and military capacity of each realm, with that realm's lord having (mostly) control over them. Personal stats are the same but for individual characters. Revenues are incoming wealth as tariffs and tolls on trade, general taxation of the population, and incomes from state monopolies on such things as salt and timber. Expenditures are the costings of the realm/character, for maintaining armies, operating courts and law & order.
Concerning warfare, armies are broken down into several types of unit. Unit types are kept relatively simple; each type has its own strengths and weaknesses, and can perform better or worse depending on the terrain in which they fight. The availability of each unit type varies according to which culture a character belongs to and in which region they reside. Each unit type has a different cost, and mercenaries can be expected to charge more for their services than home-grown troops. Unit types are outlined below:
Militia (feudal levies, town militia, ahdath etc.)
Professional infantry (foot sergeants, ghulams, mamluks, ayyār, ghazi etc.)
Light cavalry (turcopoles, horse archers, tribal cavalry etc.)
Heavy cavalry (knights, mounted sergeants, mounted ghulams & mamluks etc.)
A note on ships - the crusaders will find it almost impossible to construct a fleet of any worth, and instead will have to rely on the support of friendly Christian realms to contest the seas.
Orders
As like many forum games, the Crusades 1105 is played via orders each turn. Each player has one normal order per turn, and each turn covers two years in game. These orders can cover anything not related to war and the military. This includes such things as assassination, establishing castles, trade deals, and attempting religious conversion of populations. These are just a few examples; as long as your order is reasonable (both in scope and for the setting), anything goes. Normal orders are limited to a single action, and shouldn't be more than a couple of sentences.
Each player can also send one military plan each turn. This is used to detail military manoeuvres, war plans and recruitment (including mercenaries). Any war plan will preferably include the names of the commanders of each flank and the composition of forces. The army's leader will generally, but not always, command the centre, and outlines the overall battle plan. Flank commanders, if players, may send orders covering the plans for their flank. War plans are not limited in length, but are asked to be succinct.
Orders should be sent to me via PM, and in the subject include the game's name, your character's name, and the current turn for which the orders are for. Many actions, such as marriages, political alliances and negotiations with NPCs can take place via IC, the results of which can also be resolved in updates.
Updates
The results of your orders will be published in updates. The first type of update will be the main biennial update, containing the results of orders and any other events of interest over the turn. The second type of update are events, which will highlight a specific event such as a military campaign or the death of a major character.
IRC
We have an IRC channel for OOC discussions and direct conversations between players. It's use isn't mandatory, but it is recommended as it can make things much easier to organise.
Network:
http://www.coldfront.net/
Channel name: #TA
Instructions:
1) Go to ColdFront using the link above.
2) Choose the Flash or Java Client
3) Create a screen name
4) The client will auto-add you to #coldfront. Leave this channel.
5) In the command box type "/join #TA"
You should then be logged in and ready to go.
Thanks and have fun!​