After the corruption of my first attempt, I have restarted. I have re-organized my plan of attack and my start is a lot better than last time. Caution: image heavy.
For those who did not see the first, and those who need a refresher, here is my challenge, as presented by forumite, Herbert:
Name of the AAR: BYZAAR!

Start in 1399 as

Venice

, all standard, no lucky nations and low aggressiveness. You can set the game to hard if you want, but that is not the point, the point is fun.

Home rules: you stay a republic, always. You can change into other forms of republics, of course. You go full naval. You don't expand beyond the goals below and what is given to you from missions. You never go red on infamy. Yellow is ok, but only when strictly necessary. You are normally allowed within the green zone.

You should complete the following goals in the given order, but you can make small exceptions, like conquering provinces in Egypt (belongs to goal 2) in order to get the Thalassocracy (belongs to goal 1).

1st goal:

enact the Stato da Mar and Thalassocracy decisions. That's your easy "get-to-know-the-country-before-twisting-it" warm-up. Remember, have fun.

2nd goal: form Byzanthium

, of course. Which means that you have to change religion to orthodox, change primary culture to greek, and get yourself the required provinces. Oh, and kill off the pretendent guys in Costantinople. As Venice, you did it already once. This is your twisted path to your manifest destiny, have fun through it.

3rd goal:

extend to

plausible borders

, meaning Anatolia, Greece, Bulgaria, Egypt, and the Roman bits of the Middle East. Grab Mecca, and the south of Italy including Rome. You can get yourself a land connection to the Shatt-el-Arab and plant your flag there, if it makes you tingly inside. Get the Pentarchy modifier and enact the Theme System decision. This is when you power up and feel good, but not yet crushing all opposition with your death star.

4th goal:

then it strikes you, you are not the Empire, you are the Republic! You are the good guy! So the obvious thing to do is to

colonize the North American continent

, as well as Colombia and Venezuela for exclusive possession of your new pond, and move your capital there. A new beginning, a new hope. A new Rome, a new Capitol Hill. Relax and breathe, Anakin.

5th goal:

you cleared your doubts about your identity, you are finally ready to do good. So you liberate people, right? First of all you rid yourself of your european and asian holdings, releasing vassals. BUT, you have to find a way to

create orthodox Greece

on the greek lands. Of course orthodox Ethiopia must rule the whole of the Nile. You have to liberate Italy, too, so you can conquer-and-gift the required provinces to your vassal. You can do what you want with the asian coast, have fun.

6th goal:

since you are the Republic (and the roman republic to top it) you need to take care of your arch-enemy, the Empire!

Disband the HRE

and liberate it as you see artistically fit. It's done, you walked through the sixth fold path, you carved your name on the far end of the world!
Settings:
-Very hard
-low aggresiveness
-inflation on - standard
-everything else standard too.
-Lucky on
So, here I go... AGAIN!
--------------------------------------------------------------
Here we have Venice's starting situation: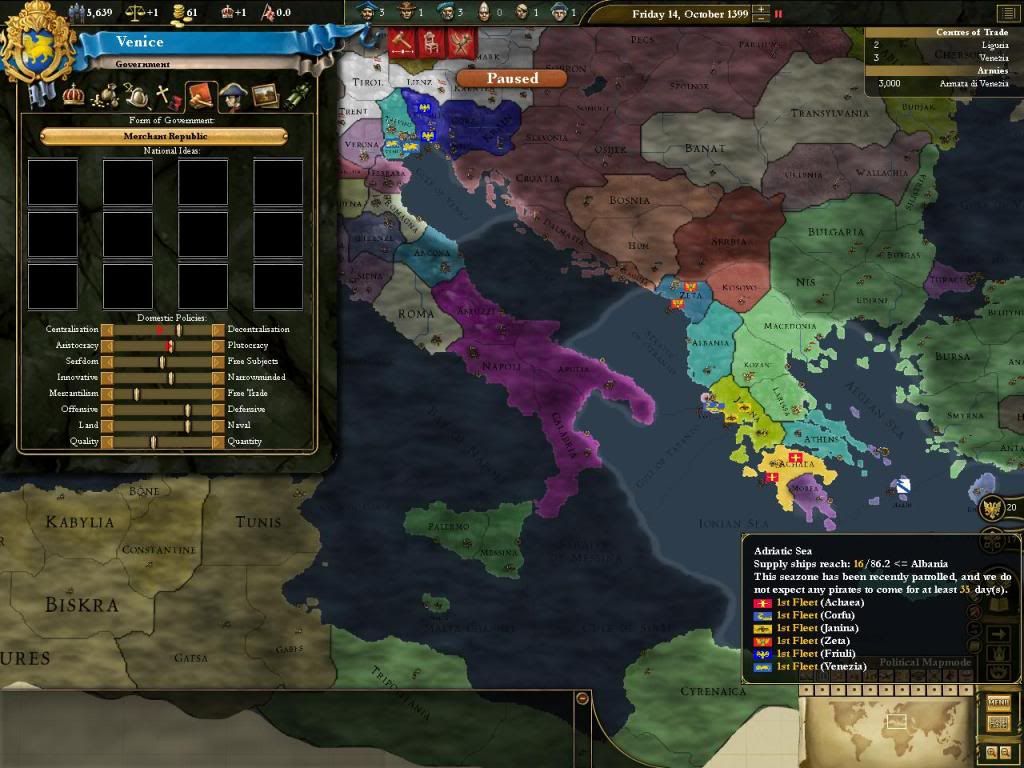 -I go one more towards naval slider.
-Gave Milan, Austria, Aquileia military access to at least give me an insurance against their aggression, and to raise relations: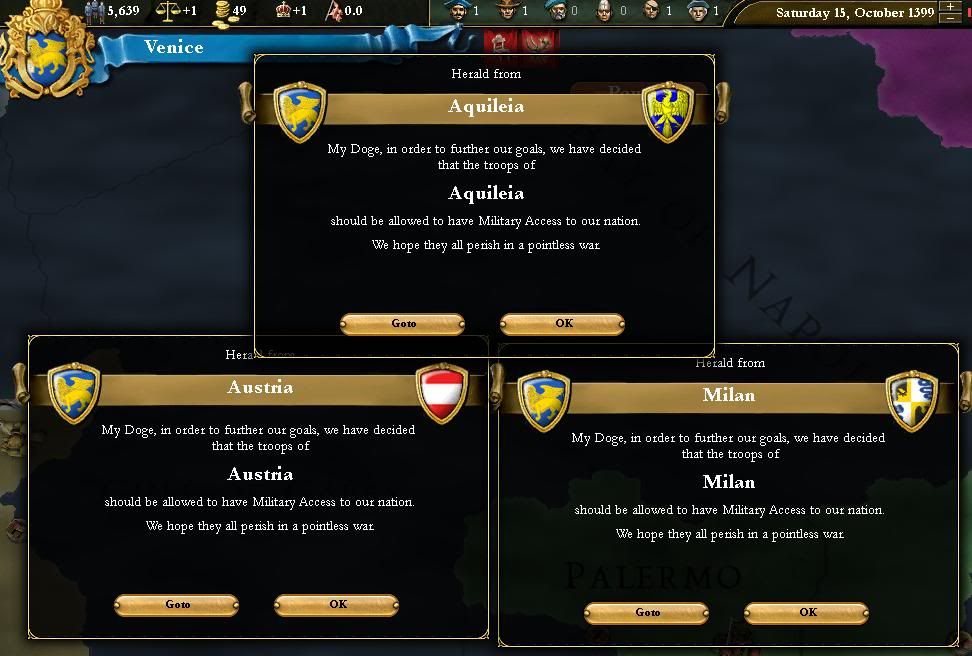 -Sent two merchants to Venezia to get 5 merchants in
-I am going to stay mercantile this game, as a change of pace. I found out that merchant republics and others like to embargo merchant republics. So, after much aggravation, I realized free trade stinks for MR's
-
In my attempts to gain vassals to freely increase wealth and forcelimits without affecting my teching and stability costs. I ally Epirus, because I know Naples loves taking them early. I was too late to guarantee them, so I was forced to ally them and declare an intervention war. Ferrarra was dragged into the war. Naples+Janina is exactly 98% warscore. Perfect!

-naval victory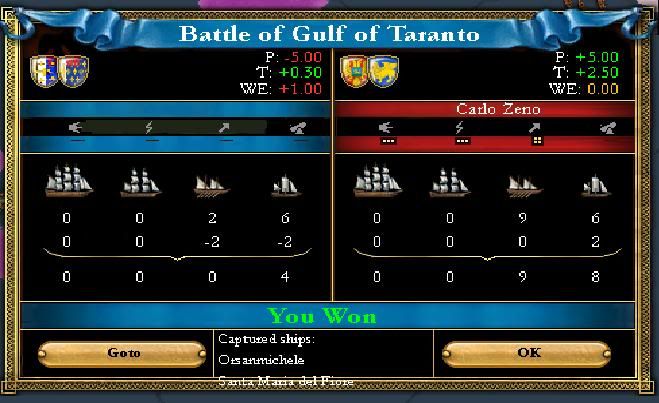 -outcome of war not so awesome for Naples
-Naples and Ferrarra gets vassalized:
The 8 infamy is quickly burned with my new leader...
-new leader
-Even newer vassals
They have a cool flag, their lands suck, and now I don't have to defend it, AND I have to conquer fewer "overseas" provinces for Thassalocracy
-I expand Bureaucracy
I wait until Gov't tech 4 to obtain my first NI - which is press gangs for (-)50% ship costs! Thassalocracy (20%) + Naval (25%) + Press gangs (-50%) gives (-)95% ships costs!! Of course it does not work exactly like that, but carracks now only cost 12.9 and transports 5.4!!!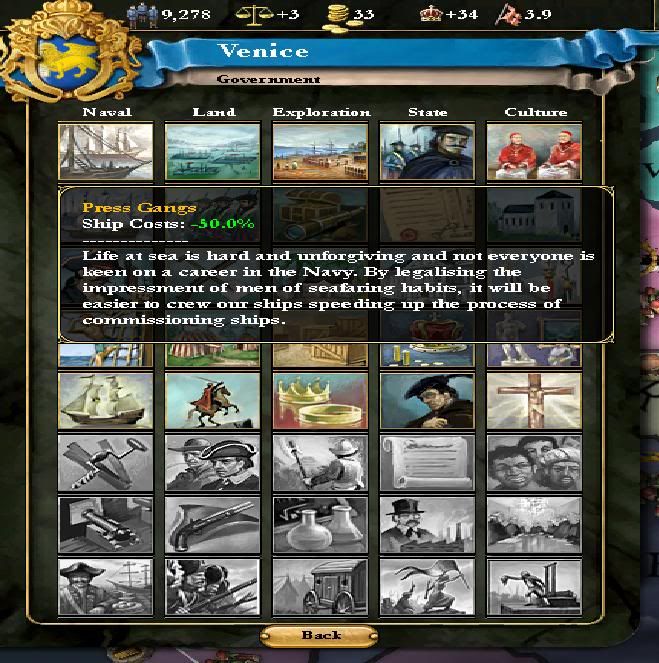 -a cool event I got last game, and an awesome event!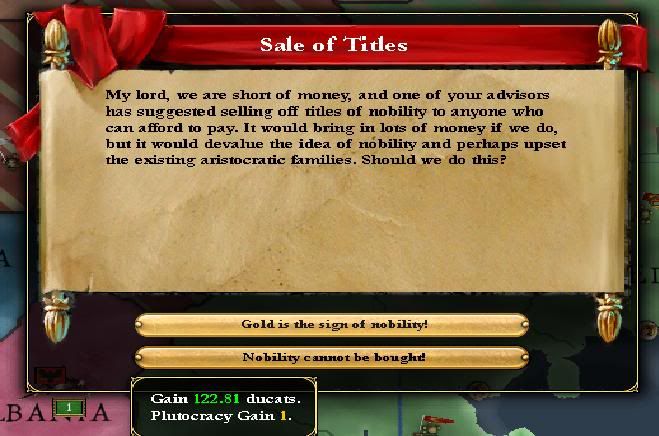 -I declare war on Libya, which brings in Algiers. I eat 4 infamy and take constantine from Algiers. This brings up holy war CB's for in 5 years! Because of my not taking too many provinces, stability cost is low. I get war taxes for a bit as well, and I can stem Castile's Africageddon for a bit.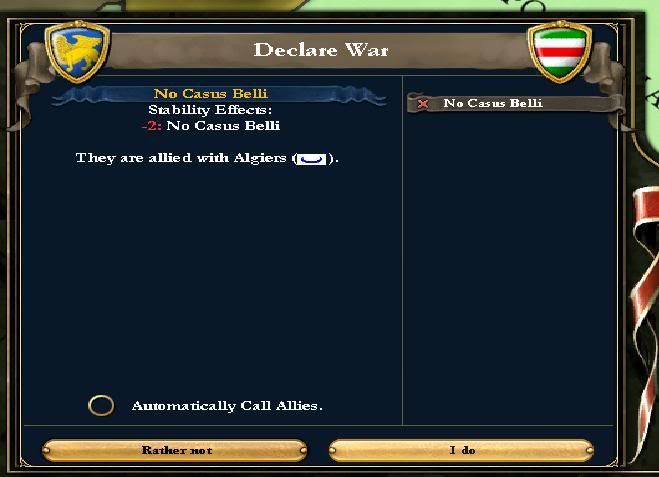 -I fight some pretender rebels for them =/
-I made Libya give up one of Algiers' provinces! suckers!
-peace deal
-Next, I see Castile declares on Tunisia, so I must get it before them, so I declare holy war on Tunisia, which is my new next door neighbor, which brings in Morocco, and thusly, Ottomans
-Since Castile had already one Tunisian province from earlier, I had to make do with 2 "overseas" provinces from annexing Tunisia. Luckily Ottomans were busy elsewhere and we could get a white peace:
-Something here is a little ironic... or it will ironic in a few years hehe
-a chance to go innovative. I'm looking forward to getting printing industry national decision
-after 20 years, I finally get an awesome leader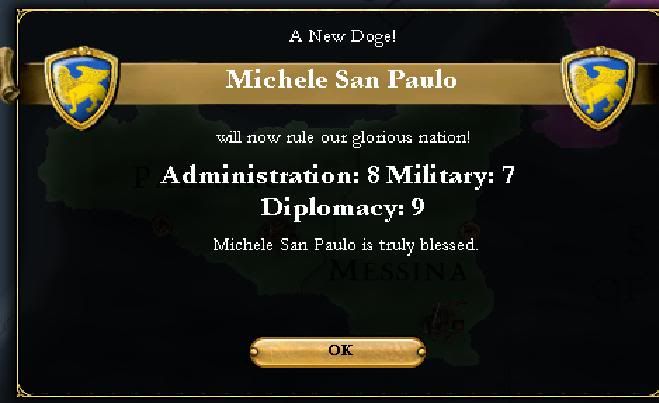 -I declare on Algiers, Ottomans join in, but Mamluks do not. Fortunately, the Ottomans were busy in Asia, so I plopped my navy in the sound and forced Ottomans to a 48% war scores and got 435 ducats from them, and them to join my league:
-gaining Oran, I get my 4th "overseas" province and :
It is such an awesome decision and very useful.
YAY!
[/COLOR]Other things I did throughout this:
-commissioned a lot of paintings to get my master of mint, and I continued gaining cultural tradition to gain high ranking missionary advisors to sell abroad for extra cash.
-2nd slider move to naval again
-3rd slider move was to centralization-took stab hit
-went production tech 4 right after gov't 4, for constable.
I hope you guys enjoyed, and I hope to gain some readers.