Prologue: October 2199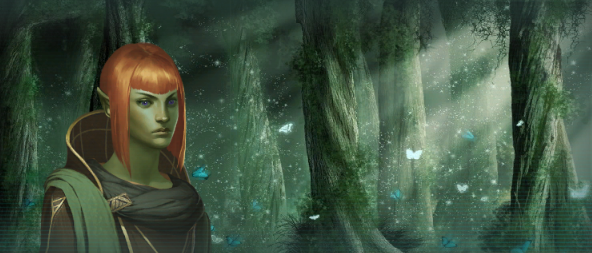 In her greenhouse, High Queen Hazel Faylinn removed her root-feet from the moist soil and stretched, allowing her chloroplasts to catch a few last rays of sunlight. As much as she loved to relax in the greenhouse, she knew today was far too busy for such relaxation. She made her way through the halls of the Royal Sanctum to the Great Balcony, flanked by a dozen chambermaids who tried to keep pace and tidy her up. From there, she would deliver the speech that would change the Dryaden species forever.
Even as she got to her podium and organized her notes, a sizable crowd had already gathered below her and craned their heads skywards towards their queen. As usual, it was a beautiful day, and Soari was brightly shining. Unwilling to wait any longer, Hazel tapped the microphone, playing the harsh feedback across the speakers.
"Citizens of the Communes," she began, "today is perhaps the defining day in the history of our civilization. For centuries, we have pulled up our roots and dared to explore the vast forests of Vernus Aeterna, admiring the idyllic handiwork our Patrons have created for us. Today, we do so once more, only this time in the great vastness of space.
"Two years ago, the great scientist and my personal friend Elvin had a flash of insight and quickly devised a method to traverse the aether itself. She stumbled upon the gravitic lanes that connect all systems, Soari included, and may be used by voidships to travel faster than light. Today, after painstaking effort, we have finished the construction of Saori Station." Behind her, a holoprojector on the palace wall showed an image of a large station, over a mile long, in orbit of the blue-white corona of Saori. "This will be the center of our burgeoning space program, capable of producing the voidships we will use to spread our peaceful influence to the stars, and whoever may be out there!" The crowd began erupting into jubilant cheers as the projection faded. "Today, the Patrons have shown us the way forward into the unknown! The stars themselves are finally within our grasp!"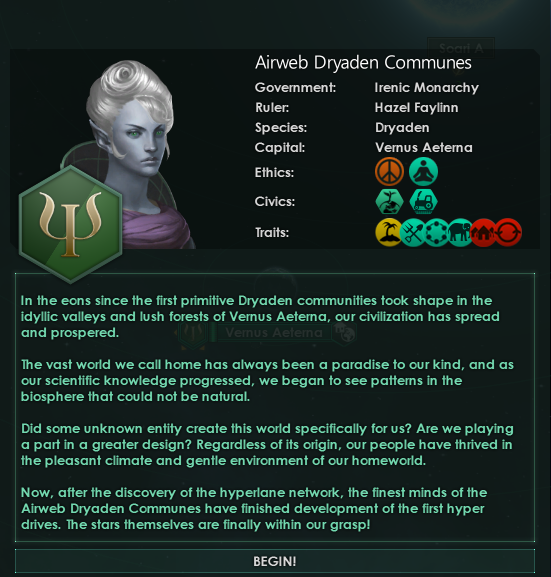 The cheering intensified as Hazel returned to her chambers, as eager as her subjects to explore the distant stars (hopefully) in peace and tranquility.
***
Welcome to my first AAR here on the forums! I've read plenty of excellent examples here and decided to start my own, with an empire combination I've had in the works for a while. This is a game I started some two months ago but finally got around to finish writing about. It's my take on the classic "one-planet challenge" before 2.2/MegaCorp apparently makes it less viable; a drastic change from my usual wide playstyle of aggressive expansion and conquest. Instead, I will be focusing inwards, trying to generate lots of unity and hopefully psionically ascend as befitting a tall empire. As such, expect me to make mistakes, get roflstomped by Fanatical Purifiers, and/or complain about how nearby empires have great systems that I have no ability to conquer or even liberate. On that note, if we do indeed get exterminated, then so be it.
(ignore the continental world)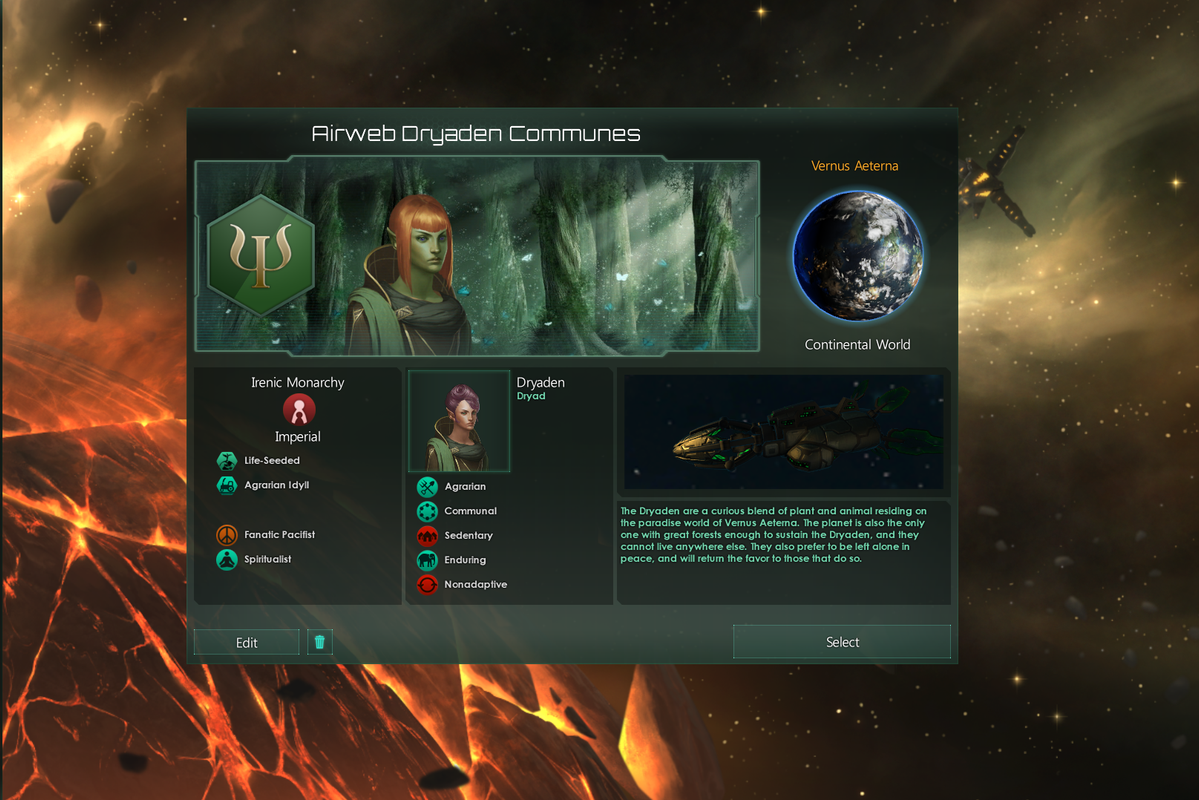 I was actually going to go Xenophobe + Inward Perfection at first, but realized I would have a harder time banding with others for defense (the bio sort of reflects this). So I went Spiritualist instead.
I boosted the amount of primitives because Planetary Diversity (see below) severely reduces how many spawn. Other than that, pretty much everything is what you might consider normal.
Also, I am playing with all DLC enabled, up to and including Distant Stars.
I have
way
too many mods installed to list, but I'll just list some of the more notable ones. If you want, they're all on the Steam Workshop, so just search for them:
Planetary Diversity (adds many new planet types)
Guaranteed Spawn: Reign of Mankind (forces the UNE and Commonwealth of Man to spawn for story reasons)
Guilli's Planet Modifiers
Dryad Portraits
Nature Room Backgrounds
Immersive Galaxy (a large pack of planet texture and map changes)
More Frequent Observation Events
Stellaris Music Extension
Just More Flags
Just Name Lists
Dynamic Political Events
Banned! (lets you disband annoying 10% happiness factions)
Claims Decay
Hyperlane Generation
Astronomical Emblem Pack (historical and pop culture emblems)
Back to the Drawing Board (allows you to reset technology options 10 times without cheating)
Human Variety (more clothes for humans)
Larger Sector Names
War Name Variety
Last edited: