Debased coinage
35 Badges
The Beaumonts of Leicester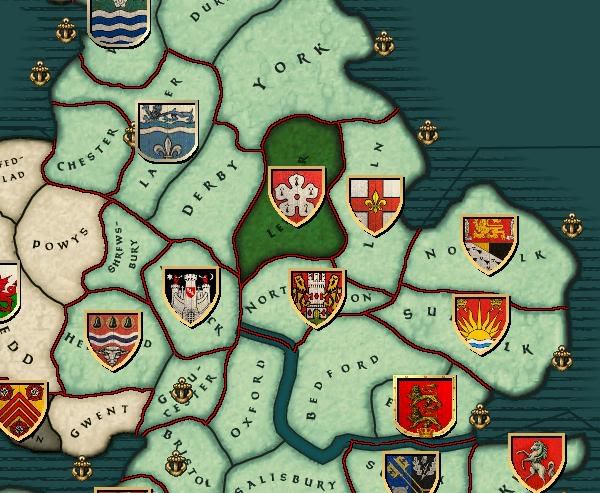 With the defeat of the Saxon king Harold Godwinsson and the crowning of Duke William of Normandy as King of England, a new power, on the very edge of Europe, was born. The days of the Heptarchy, when seven Saxon kings ruled over England were well and truly over.

The realm that William now governed was large, with a population mostly hostile to his rule. The native Saxons regarded the Normans with nothing more than disdain, and a great uncertainty about the future of their land hung over them like a great black rain cloud. However, the bastard Duke William was no fool, and saw that the land was too large maintain effective government without dividing it into smaller parcels, each chunk of land having it's own local ruler who would raise arms for and swear fealty to the crown, in return for the King's protection. Thus, English feudalism was born.

Much of the land was granted to those nobles who had fought most bravely during the conquest, as William believed that those who showed the most courage and valour under his colours would be the most loyal to him. The only areas to remain under Saxon overlordship were the lands of Cumbria and Lancashire, who rulers had supported William in his bid for kingship. However, the rest of the country was now in a situation where Saxon subjects were ruled by Norman lords, and this was potentially dangerous.

The Beaumont family had been one of the most loyal, and indeed most valiant of the Norman nobility, and William had granted the city of Leicester and the surrounding countryside to Robert de Beaumont, and his younger brother Henry had been made Earl of Warwick. Both were young and very loyal, but of course like all noble families certain vague ambitions lay in the backs of their minds, the desire for power, triumph and glory ever the powerful force.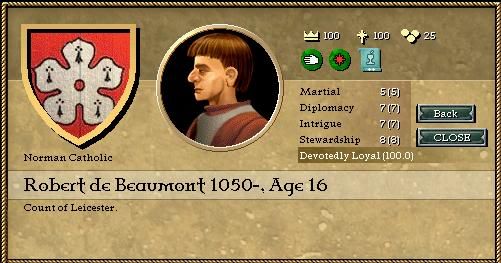 Robert was in London, attending his liege lord at his court in Westminster Abbey as the feudal system obliged him to do. He had yet to make the journey up to Leicester, and was, despite his youth, very placid. Unlike his brother Henry of course, who was filled with childish excitement at the prospect of taking lordship of his new lands in Warwick.

"Brother, I can barely wait to see this town of Warwick! I'm sure my subjects will be the most productive in all of England, for if they are not, I will make sure they are." Robert glanced over to Henry and smiled vaguely.

"Of course, my brother. But my peasants will be twice as hard working as yours."

Henry started a retort but Robert raised his hand. Across the Hall a very finely adorned man had entered, followed by what must have been his children. He leaned over to Henry.

"Do you know who that is?"

Henry nodded.

"Yes, that is the King of Denmark, and his retinue" The brothers continued to stare, and as he did Robert caught only the slightest glimpse of a girl, who glanced in his direction before hurrying away. From that moment, Robert was smitten. He nudged Henry.

"Did you see her?" Henry shrugged.

"Who? You mean one of the King's daughters? Father told me that they follow their father everywhere he goes, even all the way to England!" He glanced at Robert, who was staring dreamily into space. Henry punched him jokingly and laughed, causing Robert to cry out in pain.

"Bloody hell, that hurt! So she's a Princess, you say? Then I have decided; I shall ask for an audience with the King of Denmark and ask for her hand in marriage, with my lords blessing of course."



**​


The King of Denmark agreed to the union, the girl turning out to be Princess Ingrid. Being the second youngest, and with assurances from King William of the quality of the Beaumonts, the marriage took place on January 17th in Westminster Abbey, with Henry, his father Roger and the Kings of England and Denmark in attendance. He found Ingrid to be a confident but quiet young lady, very much spoilt by her doting father. She was both beautiful, pious and intelligent, and Robert was rather put out to discover that she seemed to be cleverer than him. She was surprised, but not too disappointed by this sudden union, and quickly became enamoured with the idea of being the wife of an Earl.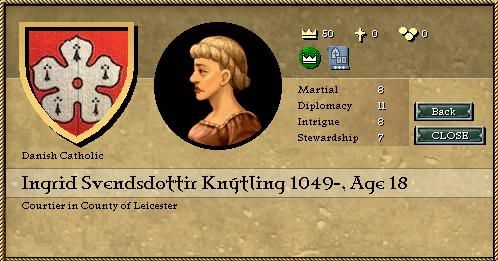 It was now time for Robert to head north towards Leicester for the first time to take up his lordship as Earl of Leicester. Many of the vassals of William had been fine warriors, but Roger, father of Henry and Robert, had decided not to became a feudal lord, instead allowing his sons the land instead. He himself stayed in London in the court of William, and as Robert begun the long journey north he wondered what lay ahead.