The Right Honourable Merchant
112 Badges
The Battle of Religions -Rise of Islam​
The Family​
We have all heard stories about the great crusades and how the Catholic world fought against the Islamic world over the control of the Holy Land and Jerusalem. We have heard how the Armies of Christ defeated the Muslims in Jerusalem and established a Kingdom of Heaven where Muslims and Christians lived in perfect harmony. That is one side of the truth or the truth that Christian world has made us believe. Few of us know the true stories behind the crusades and how it all began in the old city of Baghdad where the Abbasid dynasty ruled.
Abdallah al-Qa'im Abbasid Emir of Abbasid and Sheik of Baghdad and Karbala.​
Once the Islamic world had been ruled by the Abbasid Caliphate spanning from the Western edge of Sahara to the steppes of India. Now due to the rise of Seljuq Turks and the rise of Shia it had been reduced to the old capital of Baghdad. There they had remained as loyal subjects to the Seljuqs and acted as their help in the matters of the state. Al-Qa'im I had successeded his father thirtyfive years ago and had ruled Baghdad since.

Abdallah al-Muqtadi Abbasid Marshal of Abbasid armies.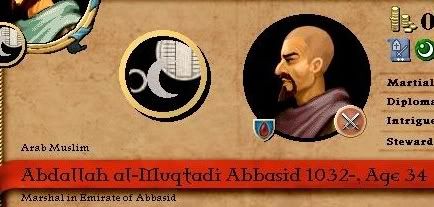 al-Muqtadi was the eldest son of al-Qa'im and was destined to rule Baghdad after his fathers death. He had served fifhteen years as the Marshal of his fathers forces and had become a skilled warrior. He also had a son of his own Ahmad al-Mustazhir.