The Right Honourable Merchant
117 Badges
June 6th 1944 the Allied led by United States of America launched the most daring invasion of all times, Invasion of Normandy. The sole point of the invasion was to gain an foothold in Europe in order to defeat Hitler's war machine and liberate Europe. The Allied forces managed to take the beaches of Normandy but soon they realized that the liberation of France and Europe would be harder than they had thought.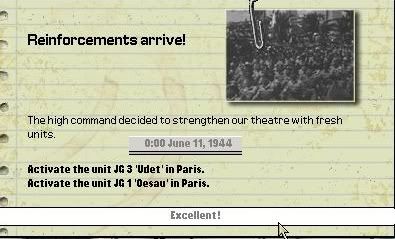 Few days after the Allied had landed in Normandy, Luftwaffe reserves in Paris were called to duty to fight against the RAF.
General Fröhlich was ordered to continuously bomb the allied lines in Caen and all of Normandy to prevent them advancing futher south before the German armies would be able to put up an defensive line.
The German armies continiously tried to push the allied forces back and hold the lines but the allied were well supplied and full of fighting spirit.
When the Allied advanced as far as Angers Hitler realized the Panzers hidden in France to cut of the allied lines.
Thanks to the Panzers allied divisions were cut off and routed in Angers.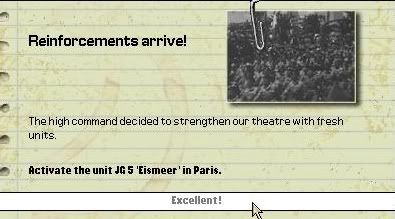 More Luftwaffe planes were brought in to defend the air superiority over Normandy.
By June 23th the Allied invasion had been driven back to the channel but the RAF continued to bomb the Atlantic Wall and several Airborne assaults were made but all failed before they even started.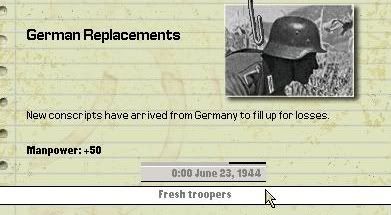 Freshmen were brought in by the High Command to ease the burden of the Veterans.
Fearing that the Allied might try again Hitler ordered the release of the 15th army.
The success in East made it possible for the France armies to be supplied with oil.
The Allied forces had suffered an devastating defeat in Europe and they have proven that Hitler's war machine cannot be defeated. While the Allied forces need to recover German armies concentrate on the Eastern Front with full force.